How Border Patrol Is Changing Its Policies After Another Migrant Child Died In Its Custody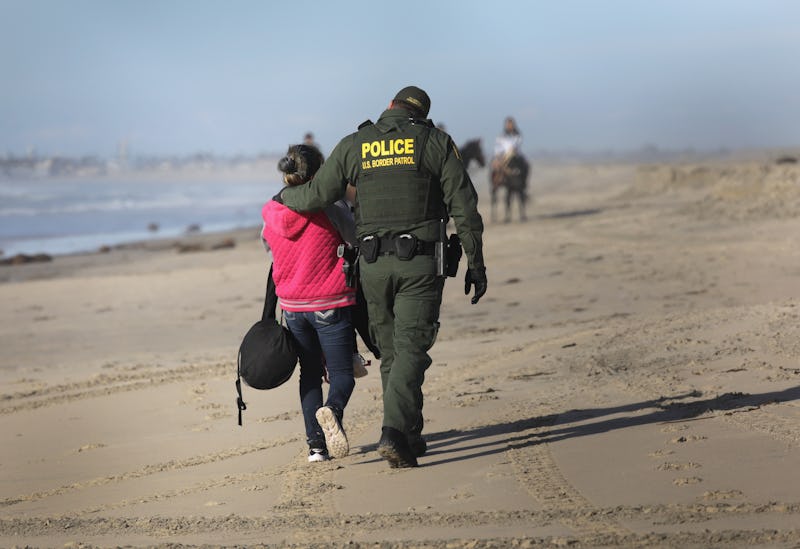 John Moore/Getty Images News/Getty Images
The second death this month of a young child in U.S. custody has prompted border patrol to change its policies in order to keep other migrant kids safe, now and in the future, according to NBC News. An 8-year-old boy, who a congressman identified as Felix Alonzo-Gomez, died on Christmas Eve after being in Customs and Border Protection (CBP) custody for six days.
CNN reported that the main policy change, according to a statement provided by CBP, is "secondary medical checks" on the kids currently in the agency's custody, with kids aged 10 and under given priority. Bustle has reached out to CBP for comment on what those checks will entail.
Alonzo-Gomez is the second young child to die in CBP care in as many weeks. The body of 7-year-old Jakelin Caal Maquin, who died on Dec. 8., her second full day in CBP custody, was returned to Guatemala on Sunday. Her remains will be returned to her hometown.
In its statement provided to CNN, CBP said it will begin to work with other agencies to offer more medical attention to migrants going forward. It plans to work with the Department of Health and Human Services (HHS) and the Department of Defense, while coordinating with the Centers for Disease Control and Prevention (CDC).
The agency will also work with Immigration and Customs Enforcement (ICE) to transfer kids to long-term detention centers more quickly, or else grant them supervised release. Immigration advocates, however, have criticized the conditions even at long-term detention centers; a mother whose toddler died after contracting an infection during her three weeks in ICE detention sued in November.
Rep. Joaquin Castro (D-Texas), the chairman-elect of the Congressional Hispanic Caucus who identified Alonzo-Gomez in his statement on Tuesday, has been critical of CBP's and the Trump administration's handling of asylum-seekers. It hasn't been reported that Alonzo-Gomez and his father were seeking asylum, but lawyers for Caal Maquin's father said her family was.
"The administration's policy of turning people away from legal ports of entry, otherwise known as metering, is putting families and children in great danger," Castro said in his statement.
The Trump administration has limited the number of people who can apply for asylum at official border crossings.The New York Times reported that CBP is processing just 40 to 100 people per day. That has led to months of waiting in Mexico for some people, which immigration advocates say forces asylum-seekers to cross elsewhere — either through the desert, over a border fence, or by crossing the Rio Grande.
That can lead asylum-seekers to be detained at more remote CBP facilities with fewer resources, like Lordsburg Station in rural New Mexico. That's where Caal Maquin was held before her death. Castro criticized the facility after visiting it during a congressional oversight trip last week.
"Serious concerns were raised about the condition of CBP detention facilities, and the lack of adequate medical supplies, equipment and resources to properly treat migrants and the agents working there," Castro said in his statement.
In the case of Caal Maquin and her father, they did present themselves at an official port of entry — Antelope Wells. It is, however, perhaps the most remote official border crossing along the border with Mexico. They were still detained in Lordsburg.
Alonzo-Gomez and his father were picked up 3 miles west of El Paso, Texas, for unauthorized entry into the country. They were detained first at Paso Del Norte, and then moved to El Paso Border Patrol Station on Dec. 20. They were moved again to Alamogordo Station in New Mexico on Dec. 22, about 80 miles away from their previous location.
In his statement, Castro added that CBP must "provide the necessary medical care to anyone in the custody of the United States government." Beyond the policy changes put forward late Tuesday, CNN reported that CBP is reviewing all of its policies to focus on the care of children under 10.