Boris Johnson's First Speech Post-Coronavirus Recovery Didn't Say Much At All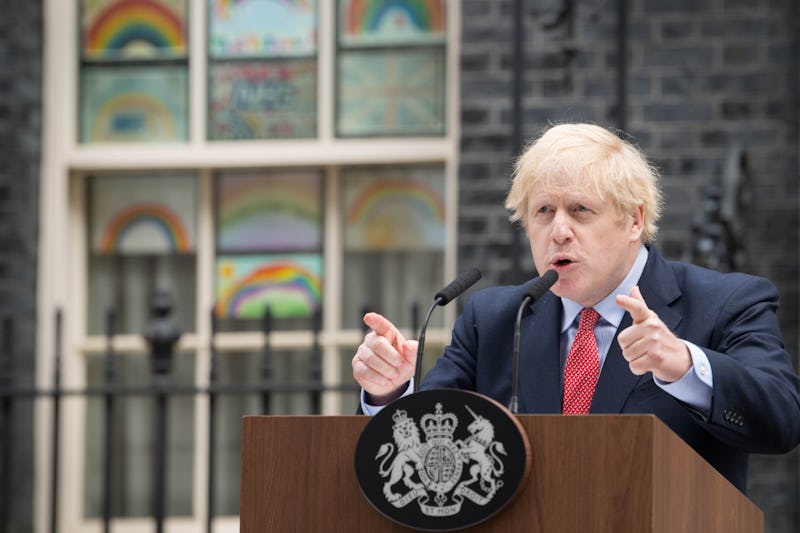 Stefan Rousseau - PA Images/PA Images/Getty Images
A month after being diagnosed with COVID-19, Prime Minister Boris Johnson has returned to Downing Street having recovered from the virus. Initially diagnosed on March 27, Johnson was admitted to hospital for a week where he also spent three nights in intensive care, as BBC News reports, before being discharged on April 12.
The Prime Minister then spent two weeks in isolation at his home in Chequers before returning to No 10 on Sunday (April 27). During his time out of office, Johnson's First Secretary of State Dominic Raab took charge of the country, leading many of the daily press conferences and Cobra meetings.
After being discharged from hospital, Johnson thanked the NHS for the care he received, saying it was "hard to find the words to express my debt" to those who cared for him, and he thanked two nurses, Jenny and Luis, in particular for their work, as the Independent writes. "The reason my body started to get enough oxygen was because for every second of the night they were watching and they were thinking and they were caring and making the interventions I needed," he said.
"So that is how I also know that across this country, 24 hours a day, for every second of every hour, there are hundreds of thousands of NHS staff who are acting with the same care and thought and precision as Jenny and Luis," he continued.
"That is why we will defeat this coronavirus and defeat it together. We will win this because our NHS is the beating heart of this country. It is the best of this country. It is unconquerable. It is powered by love."
On the morning of his return (April 27), Johnson stood on the steps of No 10 to address the nation. The Prime Minister thanked Dominic Raab for stepping in at this critical time and praised the British public for their show of "forbearance," "good sense," "altruism," and "spirit of community." He stated that, while the tide appears to be turning, we must "press home our advantage" and continue to quarantine as we have been doing since for the past few weeks. "I want to get this economy moving as fast as I can but I refuse to throw away all the effort and the sacrifice of the British people and to risk a second major outbreak and huge loss of life and the overwhelming of the NHS."
However, Johnson's speech did not offer up any timelines or facts and figures, and nothing concrete was announced in terms of an exit strategy, as some were expecting. Instead, the Prime Minister said: "We simply cannot spell out now how fast or slow or even when those changes will be made, though clearly the government will be saying much more about this in the coming days. And I want to serve notice now that these decisions will be taken with the maximum possible transparency."
This article was originally published on