Brad Pitt's Honesty About His Sobriety Struggles Is Inspirational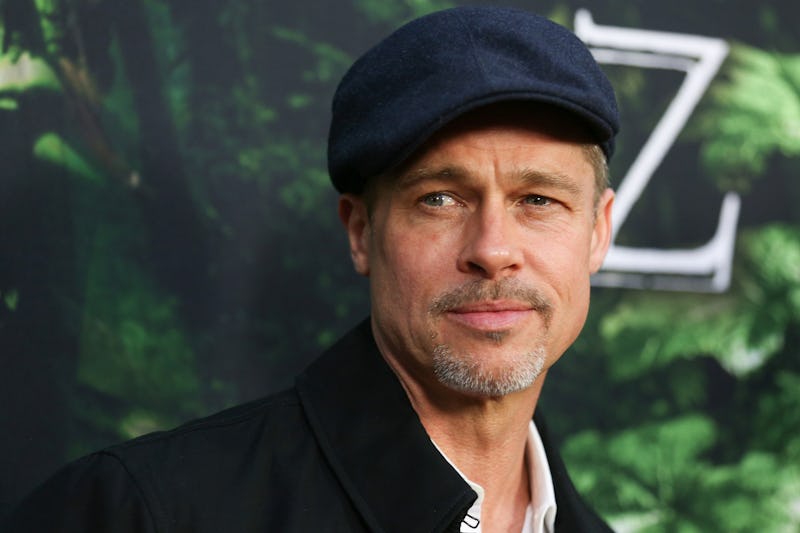 Rich Fury/Getty Images Entertainment/Getty Images
In a new interview with GQ, Brad Pitt discussed his ongoing struggle with sobriety and it's an incredibly inspiring read. While substance abuse issues may be something popularly associated with the precarious and impoverished, the fact that someone as established and successful as an Oscar winner can suffer from the disease suggests that anyone can fall prey to it and destroys some of the stigma associated with it. And Pitt's honesty about his alcoholism and drug usage throughout his career, but especially in this new interview, can teach us all an important lesson: it's never too late to turn things around.
In the interview, the Mr & Mrs. Smith actor stated that "...personally, I can't remember a day since I got out of college when I wasn't boozing or had a spliff, or something. Something. And you realize that a lot of it is, um—cigarettes, you know, pacifiers. And I'm running from feelings. I'm really, really happy to be done with all of that."
He continued:
"I mean I stopped everything except boozing when I started my family. But even this last year, you know — things I wasn't dealing with. I was boozing too much. It's just become a problem. And I'm really happy it's been half a year now, which is bittersweet, but I've got my feelings in my fingertips again."
Of course, there's a larger lesson to take away here than that of one incredibly charismatic actor talking publicly about his struggle to stay sober. As I said, the interview implies that it's never too late to start owning up to your unhealthy behavior and doing something about it.
After all, the Oklahoma native is 53 years old. He's been acting since the late '80s and he's starred in over 70 movies, covering everything from arthouse cinema like The Tree Of Life to blockbuster fare like Ocean's Eleven. Arguably, at least in terms of his career, Pitt is doing more than OK, and, you could assume that, if he does have an alcohol problem, then he's a high-functioning alcoholic. But even under that assumption, his choice to face his demons is all the more inspiring.
The Fight Cub icon has been open about struggling with these issues for many decades, but the fact that he's still battling on with his addiction even now suggests it's never too late to take on your own Achilles' heel. And that's just as much the case if it's a long-term habit you battle every day; I mean, scroll up and re-read that part about the actor being unable to remember a day post-college spent completely sober. If, after approximately 30 decades, he can continue committing and re-committing to replacing alcohol with "Cranberry juice and fizzy water," then you can fight the good fight against whatever that damaging habit is in your own life that you want to eradicate.
One big argument the star puts forward for kicking a bad habit no matter how far on you are in life is relationships. He clarified that for him now, he puts "family first." He continued, "People on their deathbeds don't talk about what they obtained or were awarded. They talk about their loved ones or their regrets — that seems to be the menu."
This seems one of the strongest arguments a person can make for sobriety (or getting rid of whatever destructive habit is taking a toll on your life). No matter how old you are, the people around you matter. Since drugs and alcohol can often either replace important relationships or damage them to the point where they barely exist anymore, the interview with Pitt packs a punch because it's so unrelenting in its description of how isolated the actor's existence has become because of his sobriety issues. But the father's dedication to getting sober suggests he believes it's not too late to mend the issues he may have with those who are important to him in his life.
So if there's something in your life you're not proud of and you've been suppressing your feelings about, here's hoping you can take strength from this moving interview. If Pitt can kick his habit, so can you.