Bravo's 'Summer House' Is Exactly What You Need To Watch To Get Through This Long Winter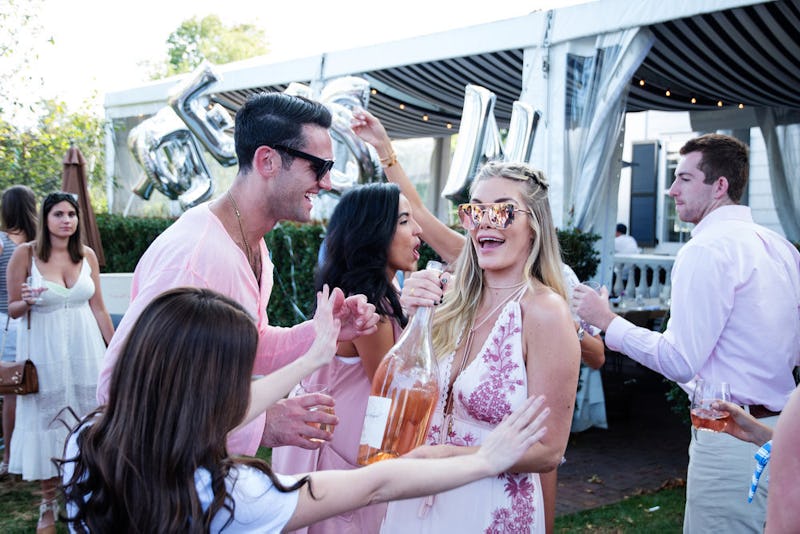 Bravo
In the early days of reality TV, a lot of the best unscripted shows like The Real World were based around one simple premise: Gather a group of people together in an extravagant house, add some cameras (and maybe some booze, too) and watch the drama ensue. Unlike some more recent reality shows like Keeping Up With The Kardashians or any of the Real Housewives installments, which follow cast members in their everyday lives, keeping all the drama in one location is an organic and likely cost-effective way of making unscripted television. And if old-school reality TV nostalgia is your thing, watching Bravo's Summer House, which begins its second season Monday night, needs to be on your to do list. After all, sometimes, there's nothing more interesting than watching other people's drama in a bid to forget your own.
Originally started as a backdoor pilot spin-off from the much beloved Vanderpump Rules (sadly, the Summer House crew says there are no Vanderpump crossovers this year, though cast member Lauren Wirkus mentions to Bustle that "We have similar views on having a good time,") Summer House follows a group of friends who relax from their busy New York City lives by pounding magnums of rosé in the Hamptons on the weekends during the summer. And yes, it's usually rosé: The Summer House crew is insistent that rosé is the ultimate day-drinking drink.
"The best part about rosé is that you can wake up in the morning, start drinking at noon, and it's not total shame city," Lauren tells Bustle with a laugh. "So you can drink it throughout the day but it sneaks up on you. And suddenly you are rosé wasted." (And which bottles do they recommend for summering in the Hamptons like you're part of the Summer House cast? They suggest Whispering Angel, VieViete, and Chateau d'Esclans.) But while Summer House definitely thrives on the concept of giving a bunch of hot people in a house alcohol and seeing what happens to them, the Summer Housers insist that their summer exploits weren't that different before Bravo's cameras began rolling. "We're all very close friends and have been for a long time," cast member Lindsay Hubbard says. "So we're all interacting as we naturally would." The beauty of Summer House, Lauren adds, is that "we forget about the cameras."
While Season 1 established the group's often complicated platonic and romantic relationships — there was ongoing sexual tension between Carl Radke and Lauren, Kyle Cooke's refusal to commit to a relationship with on-again/off-again girlfriend Amanda Batula, Lindsay's drama with boyfriend Everett Weston, and Stephen McGee's blossoming friendship with Carl — Season 2 has shaken up all that. Kyle has finally committed to Amanda, Lindsay's going through a breakup, and both Lauren and Stephen are seemingly done with Carl. For the group, seeing Kyle break his own "no couples in the Summer House" rule was a terrific opportunity to give him a hard time (Lindsay has a particularly great moment in Season Two's premiere) but for Kyle, who is still dating Amanda, it was a pretty good litmus test for their relationship.
"I think that it can make or break the relationship whether it's a summer house or just spending that much time together. I think we're 100 percent way closer as a result of it," Kyle says. And while Lindsay was the other half of a couple who was constantly mired in drama last summer, Lauren says this summer is a good opportunity to finally get to know Lindsay since she's not bogged down in a relationship, which is something she totally agrees with. "It was just a really great summer for me. I think being single for me is less about I'm going to go hook up with every guy that I see, it's just more about getting back to me as an individual," Lindsay says. And while Kyle and Lindsay bonded over their role reversals this summer (Lindsay mentions they had lots of talks), other relationships in the Summer House are certainly more frayed.
Lauren mentions that as close knit as the group is, the cameras aren't seeing what's happening with them in the months after their Hamptons stay. And this fall and winter provided a lot more drama in each of their relationships with Carl, Lauren's summer fling and Stephen's new close friend. Stephen notes that what went down with Carl-off camera might not be completely apparent at first. "This is a case of a lot happening during the winter and coming in right way it might not make sense what has happened between me, Carl and Lauren." The Season 2 premiere gives Carl a heavy Summer House Villain edit, which Lauren says is "pretty accurate." While she does acknowledge that she wanted to remain friendly with him for the sake of the summer, their relationship is certainly complicated. "It's a roller coaster ride," Lauren laughs about her relationship with Carl on Summer House. "And [it's] one you want to get off [of]," adds Stephen, the king of the aside.
And with two new, and obviously hot, cast members joining the house — Danielle and Amit — Season 2 promises to up the ante on the drama, especially since Danielle, like Lauren, also dated Carl years ago, something that the two bonded over. For Kyle, that's part of the fun of rewatching the show — to see your friends' awkward experiences. "That was fun to watch. You aren't privy to everything in your friends' lives and I didn't even know they had that talk [about Carl] and I was like, that was f**king hilarious," Kyle says. Surprisingly, Lauren agrees that having her Hamptons experiences on camera is actually part of the fun. "Watching it back is the best home video ever," she says.
If you're jonesing to watch some good, old fashioned reality television, checking out Summer House in time for its second season is a must. Beyond reminding you that summer still exists, it harkens back to the best parts of reality TV's heyday: There's tons of drama, laying around in beds, and ridiculous parties. So sit down with some Winter Frosé (topped with tequila, as Lauren recommends), and enjoy the best 2018 throwback of reality TV's greatest formula.