The Name Of The Victim In Netflix's 'Seven Seconds' is Actually HUGELY Significant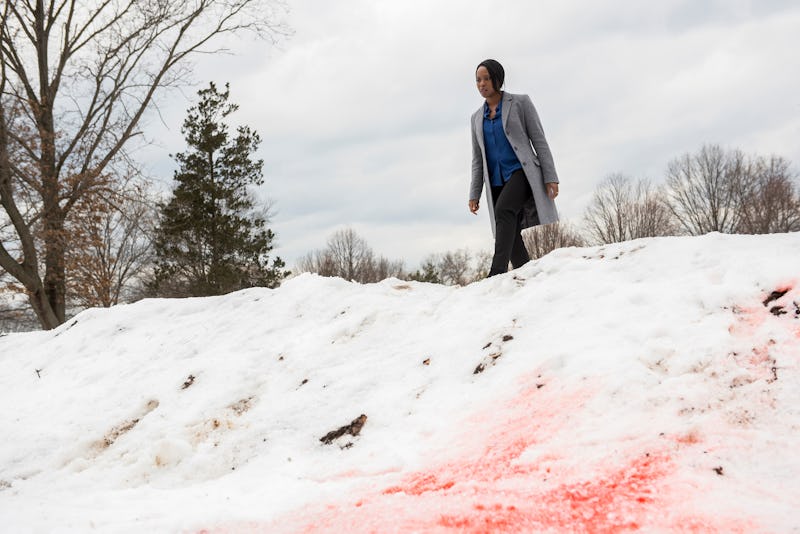 JoJo Whilden / Netflix
Netflix's new crime anthology series Seven Seconds paints a brutal picture of police corruption in its first season, premiering Feb. 23. Seven Seconds (creator: Veena Sud) follows the many people that are affected by one crime — the hit-and-run of a black teenager from Jersey City by a white police officer, as well as the subsequent coverup. That teenager becomes the center of a politically-charged confrontation between law enforcement and those they are meant to protect, but the story of the real Brenton Butler is far different from the story seen in Seven Seconds. Though the series revolves around a black teenager by that name and highlights similar flaws in our systems of law and order, Seven Seconds is not based on the real Butler's life.
However, it's not at all accidental that Seven Seconds is using Butler's exact name. Netflix provided Bustle the following statement from showrunner Veena Sud:
"[The character's] name was inspired by the real Brenton Butler because his story was so intensely heart wrenching and illuminated the travesties of the justice system criminalizing innocent young Black men."
The real Butler's story became fairly well known, having become nationally recognized when it became the subject of the Oscar-winning documentary Murder On A Sunday Morning. Seven Seconds is connecting itself to another story about injustice with a young black man at its center, and the association could be what introduces audiences in 2018 to the tragedy of the real Brenton Butler. The events of Butler's real life are not recreated in Seven Seconds, but his is a story worth knowing.
Jacksonville station News4Jax reported that Butler was arrested and charged in May 2000 with killing a Georgia tourist at a motel. Butler eventually confessed to the crime, even though the murder weapon was never found and other key physical evidence was missing. The prosecutor's case was based on testimony by employees of the Jacksonville Sheriff's Office as well as what was purported to be a written confession by Butler, the outlet stated in another article. However, Butler testified that he was beaten and coerced into making a confession.
Butler was acquitted of murder and robbery charges in November 2000, according to News4Jax. State Attorney Harry Shorstein and Sheriff Nat Glover did admit after the fact that Butler had been wrongfully arrested and charged. Butler's family sued the city of Jacksonville over the ordeal, alleging racial profiling and inadequate training, and the parties settled on a $775,000 payout. A grand jury determined that there had been no "criminal wrongdoing" on the part of the city, but changes to the department's interrogation policy were instituted.
The film Murder On A Sunday Morning, a documentary about Butler's arrest and the trial that followed, was released only a year later, and addressed how public opinion impacted the case. Murder On A Sunday Morning producer Denis Poncet told The Guardian of being in town during the trial, "Everyone came up to us and said, 'You're crazy, this kid is guilty.'" He continued, "Nobody wanted to believe he could be innocent." This seemingly racial bias is what connects the story of the real Brenton Butler and the fictional Brenton Butler of Seven Seconds.
Both stories speak to the presence of racism in the American criminal justice system. Although it's been 18 years since the real Butler was arrested, concerns about how institutions treat marginalized populations still abound. Seven Seconds is a show made for a world in which Black Lives Matter is a powerful political presence and where young black men are statistically more likely to encounter police violence. By using his name, the Netflix series is recognizing a then-teenager who came close to being punished for a crime because of the shortcomings of our justice system.