Brett Kavanaugh's Confirmation Motivated Me To Do The One Thing That Terrifies Me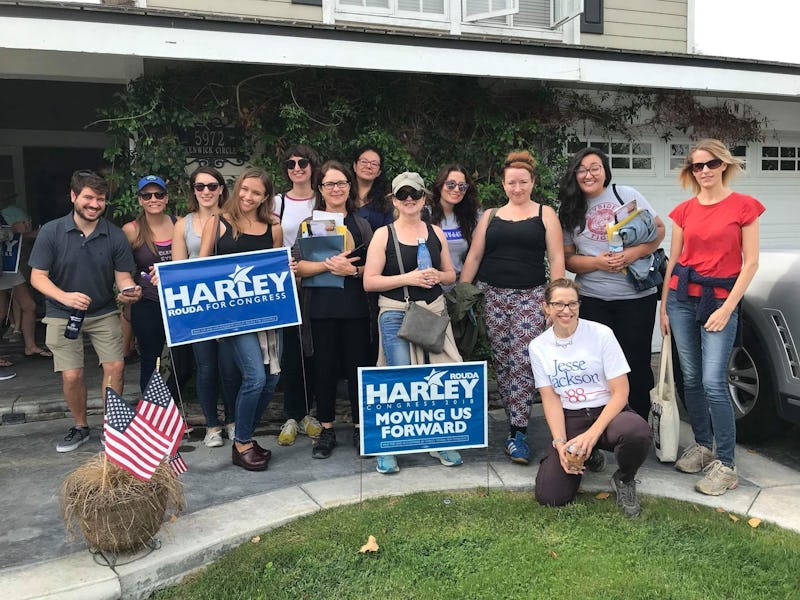 Courtesy of Miranda Banks
When someone knocks on my door, the first thing I do is hide. If necessary, I'll stealthily crawl to my remote to silence my Netflix. On more than one occasion, I've been known to go as far as shutting off all my lights. Do these actions give away that a living person is inside? Probably. And yet, I continue to go to great lengths to avoid talking to anyone — which is exactly why I still can't believe I mustered up the courage to go canvassing for the midterms.
As someone who hates talking to strangers, the last thing I'd want to do is inflict that discomfort on others. But desperate times call for desperate measures... and let's be honest, we're living in desperate times. After the Senate's procedural vote on Friday afternoon that basically guaranteed Judge Brett Kavanaugh a lifetime appointment on the Supreme Court, I found myself so frustrated and discouraged that I could hardly get out of bed. Honestly. After a few hours of rage reading Twitter and mindlessly playing CandyCrush, my very worried boyfriend dragged me from my sheets to stuff my face at a restaurant — and while that helped, bottomless fries did not fill the void in my heart for a functioning democracy with checks and balances. I knew it was time to stop tweeting and take action.
So, the next day I did the thing I've been avoiding the most. I drove to Huntington Beach, California, my nearest swing district, to volunteer with Swing Left, an organization that mobilizes individuals to support progressives in districts with tight races, to win back the House of Representatives in 2018.
If you're unfamiliar, canvassers are those volunteers who go door-to-door to talk about a particular candidate or the upcoming election. Not so sexy, right? Well, believe it or not, but one study published by the National Academy of Sciences found that an in-person conversation can increase someone's likelihood to vote by 20 percent.
I decided to canvas for Harley Rouda's campaign, in California's 48th district. His opponent, longtime Rep. Dana Rohrabacher, is so friendly with Russia that he's been hailed "Putin's favorite congressman." And as someone who grew up in Orange County, I have a stockpile of memories from the region. I believe it deserves new, fresh leadership. Not to mention, as a beach city, I want to see it protected from off-shore drilling.
Despite these convictions, I was completely terrified. I imagined people slamming the door in my face, or getting in fights with angry men wearing MAGA hats. But, in all honesty, it wasn't scary at all. Actually, it was — dare I say — really fun.
I met with about 40 other volunteers in the kitchen of a fired-up organizer named Christine, who was draped in campaign merch and standing on a step stool to give marching orders to the crowd. (Honestly, is there any better way to start a Saturday morning than listening to a pep talk by a badass, impassioned woman?) I listened closely as she gave a few pointers: Speak from the heart, and politely leave if anyone tries to argue with you.
Armed with a folder full of resources, I paired up with a couple friends to hit our first door. As we checked our log, we noticed our first voter was a 77-year-old lifelong Republican. Cool. This is exactly the type of voter I had been dreading. However, we were all stunned when the woman at the door warmly told us she planned to vote against her party line, claiming she was tired of the incumbent and ready to see him "get the hell out" of office. She pledged to vote in November and happily sent us on our way. It felt like a good omen.
I could tell that people were genuinely considering my perspective.
After a few houses, my tension and fear melted away. It wasn't so scary after all. In fact, I felt so emboldened that we agreed to split up so that we could double the number of houses we hit.
I talked to Democrats, Republicans, and independents alike. Men and women. The young and the elderly. Most people were friendly. Only a handful of people were uninterested in talking to me — but nobody was flat-out mean. (Well, there was that one guy in a camo-print shirt who told me he wanted to beat up Democrats at a car show that morning... but otherwise, everyone was pretty kind.)
What surprised me most is that a lot of people didn't know anything about the candidates on the ballot. I was able to share why I was volunteering, why this particular election is so important, and to help them understand why their vote matters.
Truthfully, I wasn't always composed or charming. People asked questions that I didn't have answers for. At times, I forgot what I was supposed to say.
But I could tell that people were genuinely considering my perspective, and that for many people, it could have been the conversation that influenced their vote. One woman agreed to sign up to be a volunteer. A couple of my friends even registered a brand new voter. At the end of our short shift, my tiny team hit about 100 doors. In a close election (like many of the districts in 2018) some results will come down to a handful of votes, which goes to show how important these personal interactions really are.
Even though my phone was blowing up with push notifications about Brett Kavanaugh's official confirmation, for the first time since 2016, I actually felt hopeful and energized. As soon as I got home, I signed up to volunteer for more shifts — nearly every single weekend until the election.
It's a hard time to be a woman right now. Every day feels overwhelming. I personally have felt totally powerless for most of Trump's presidency. But this experience showed me that I'm more powerful than I've given myself credit for.
So, if you're feeling depressed and defeated, find a district that needs your help. Show up. It's scary, I know. But I promise it's worth it.
This perspective is reflective of the author's opinion, and is part of a larger, feminist discourse.