The Senate Just Voted For Cloture On Kavanaugh — Here's What That Means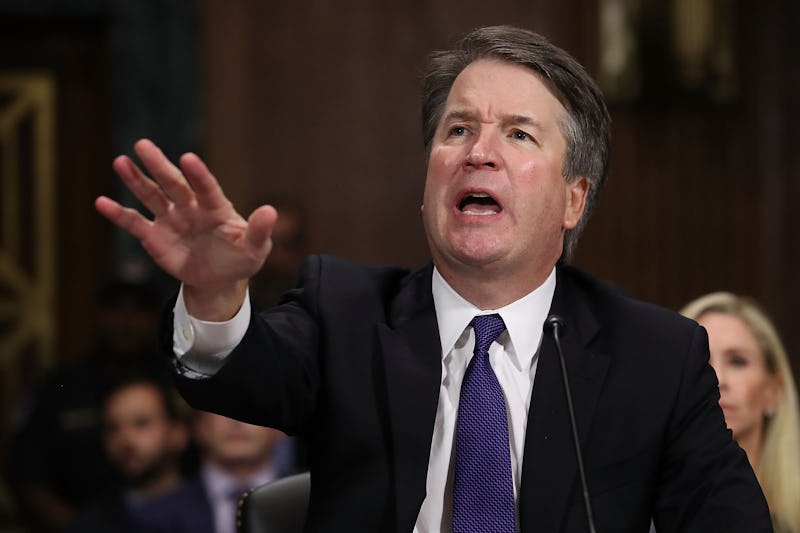 Win McNamee/Getty Images News/Getty Images
The months-long Supreme Court nomination process for Brett Kavanaugh has been fraught with partisan politics and a string of serious sexual assault allegations (which he denies). Now, it's almost finished. On Friday, the Senate cloture vote on Kavanaugh passed with 51 votes. The vote could indicate which side senators will take in the final confirmation vote; CNN calls it a "crucial test of support" for the nominee.
Clotures are procedural mechanisms used to speed up the voting process. They limit debate over an issue to a 30-hour window before the Senate must vote; otherwise, senators could conceivably filibuster ad nauseam to keep delaying it. Clotures are basically decisions to move forward and vote. The final cloture vote on Friday was 51-49, mostly along party lines, but with Republican Sen. Lisa Murkowski voting against and Democratic Sen. Joe Manchin voting for.
Now that the Senate has approved the cloture motion, they have that 30-hour period to debate before the finale vote, which could happen as early as Saturday. But if it is scheduled for Saturday, one Republican senator apparently won't be there: Sen. Steve Daines of Montana will be out of town at his daughter's wedding. Kavanaugh needs 50 votes to slide through, which means that every Republican present would need to vote in his favor. Daines has said that the vote may be held early Sunday morning instead so that he can be present. Three Republican senators and one Democrat have not yet officially announced how they'll vote.
Many interested parties fought to make their voices heard in the final hours before the cloture vote. Kavanaugh himself wrote an op-ed in The Wall Street Journal in which he defended his ability to be impartial and composed in the courtroom. His agitated temperament during his testimony last week lost him some support, including the backing of the court's retired judge John Paul Stevens.
"I was very emotional last Thursday, more so than I have ever been," Kavanaugh wrote in the op-ed. "I hope everyone can understand that I was there as a son, husband and dad. .... [My tone] reflected my overwhelming frustration at being wrongly accused, without corroboration, of horrible conduct completely contrary to my record and character."
Meanwhile, three people who called themselves Kavanaugh's old "drinking buddies" published their own op-ed in The Washington Post. Charles Ludington, Lynne Brookes, and Elizabeth Swisher, who attended Yale the same years as Kavanaugh, wrote that their former friend "lied under oath" when he said that he had never consumed alcohol to the point of blacking out. Citing their "civic duty to speak the truth," they described that they had each "seen Brett stumbling drunk to the point that it would be impossible for him to state with any degree of certainty that he remembered everything that he did when drunk," and "on numerous occasions."
Opponents of Kavanaugh staged 11th-hour protests across the country on Thursday. Four women were arrested for trespassing in Sen. Jeff Flake's office in Arizona after urging staff members that their boss shouldn't vote for Kavanaugh. Around 300 people were arrested at one of the U.S. Senate buildings in another protest, including the celebrities Emily Ratajkowski and Amy Schumer.
The country may never know if these last-ditch efforts made a difference in the Senate's decision. But because the cloture vote went firmly for limiting debate on Kavanaugh, it is more than likely that the nominee will face a final vote this weekend.
Read More About Brett Kavanaugh's Confirmation Process
Here's What Will Happen Next If Kavanaugh Is Confirmed To The Supreme Court
You Can Now Read Kavanaugh's Entire High School Yearbook — And What He Wrote In It
The Video Of Christine Ford's Opening Statement Is Gut-Wrenching
Trump Mocked Christine Blasey Ford In Front Of Thousands Of People
11 Brett Kavanaugh Petitions You Can Sign To Let Senators Know Where You Stand
How To Contact Joe Manchin, Susan Collins & Other Possible Kavanaugh Swing Voters