Georgia Democrats Call Hacking Allegations From Brian Kemp's Office A "Political Stunt"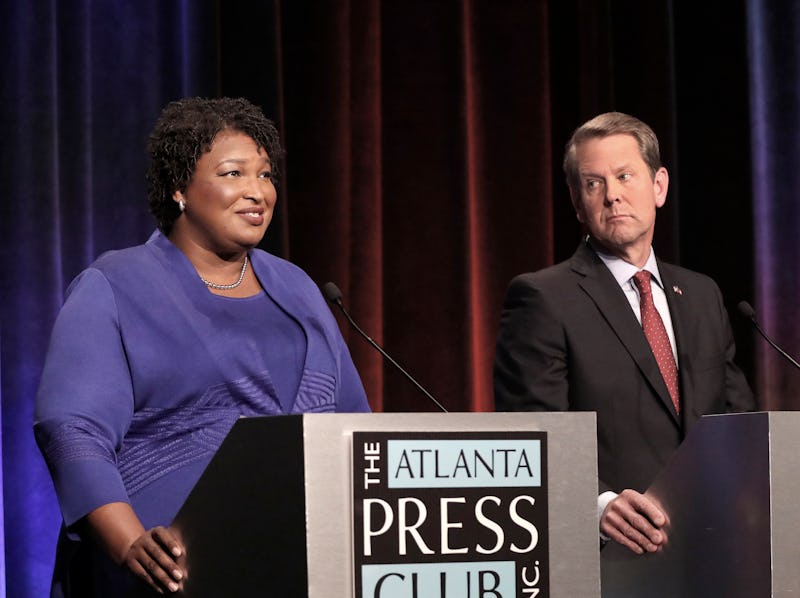 Pool/Getty Images News/Getty Images
Two days before voters are set to head to the polls, Georgia's Secretary of State, Brian Kemp, announced he is opening an investigation into the state's Democratic Party after discovering what his office called "a failed attempt to hack the state's voter registration system" late Saturday. But news of the investigation has sparked some concern as Kemp is also the Republican candidate in the state's gubernatorial race.
"While we cannot comment on the specifics of an ongoing investigation, I can confirm that the Democratic Party of Georgia is under investigation for possible cyber crimes," press secretary Candice Broce said in a statement released Sunday by Kemp's office. "We can also confirm that no personal data was breached and our system remains secure."
Kemp's office did not go into detail as to why it believed the state's Democratic Party may be linked to the failed hack. It did note, however, that it had alerted both the Department of Homeland Security and the Federal Bureau of Investigation (FBI).
Georgia's Democratic Party called the investigation "yet another example of abuse of power by an unethical Secretary of State" in a statement obtained by NBC News. "To be very clear, Brian Kemp's scurrilous claims are 100 percent false, and this so-called investigation was unknown to the Democratic Party of Georgia until a campaign operative in Kemp's official office released a statement this morning," Rebecca DeHart, the executive director of Georgia's Democratic Party said in the statement. "This political stunt from Kemp just days before the election is yet another example of why he cannot be trusted and should not be overseeing an election in which he is also a candidate for governor."
In an interview Sunday morning with CNN's Jake Tapper, Georgia's Democratic gubernatorial candidate, Stacey Abrams, characterized Kemp's investigation as a "desperate" distraction tactic. "I've heard nothing about it," Abrams said of the investigation:
This is a desperate attempt on the part of my opponent to distract people from the fact that two different federal judges found him derelict in his duties and have forced him to accept absentee ballots to be counted and those who are being held captive by the exact match system to be allowed to vote.
Abrams then went on to accuse Kemp of launching the investigation in an attempt to get voters talking about something other than Georgia's voter ID lawsuit. "He is desperate to turn the conversation away from his failures, from his refusal to honor his commitments, and from the fact that he's part of a nationwide system of voter suppression that will not work in this election because we're going to outwork him, we're going to out vote him and we're going to win," Abrams told Tapper.
In a ruling announced Friday, a federal judge ordered that Kemp had to allow the more than 3,000 people the Georgia Secretary of State's office had previously deemed ineligible to vote to cast ballots in Tuesday's midterm as long as they provided proof of citizenship by the Friday following the election.
Citing concerns of a conflict of interest, a number of people — including former President Jimmy Carter — have called for Kemp to resign as Georgia's Secretary of State given his candidacy in the state's gubernatorial race. Kemp, however, has ignored them all.
Voters in Georgia will head to the polls Tuesday to decide, among a litany of other things, if it will be Kemp, Abrams, or the Libertarian Party's Ted Metz who is sworn in as the next governor.