The Met Gala Confirmed Bright Pink Is THE Color For Summer — Here Are 56 Pieces You Can Buy Right Now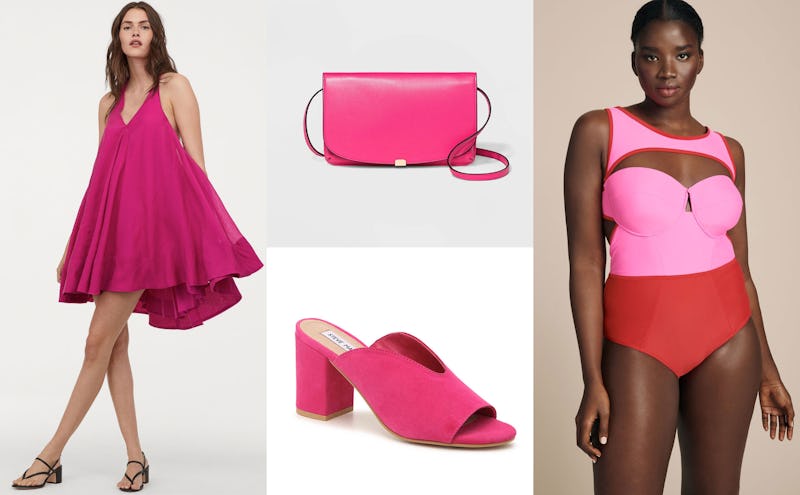 There's always at least one color trend from Fashion Week that catches pretty much everyone off guard. This year, to my complete delight, bright pink clothes appear to be the breakout hit of the runways — and the massive amounts of looks in the same shade at 2019's Met Gala only confirms I'm not the only one excited about it. It's not the pale, "millennial" pink that's been at the forefront of almost every Instagram feed for the last few years. At Bustle, we've taken to calling it "Can't Miss Me Pink": It's bold. It's bright AF. It can range from a pure neon to a darker magenta. Although the trend technically made its way down the Fall/Winter 2019 runways, brands are already hopping on board the pink train.
While a head-to-toe pink look is certainly a great option (think: pink trousers, pink tee, pink blazer, pink slides) there are also plenty of ways to add just a pop of the color to your look. A pair of fuchsia shoes or hot pink socks can punch up your everyday jeans-and-top ensemble. A neon bag or hair clip can tie the whole look together.
No matter what level of pinkness best fits your vibe, you can rest assured there's a piece out there for you. To get a head start on filling your online shopping card, check out these 56 pieces of clothing, shoes, accessories, and swimwear — all in head-turning shades of pink.