Brock Turner Is Appealing His Conviction For Raping An Unconscious Woman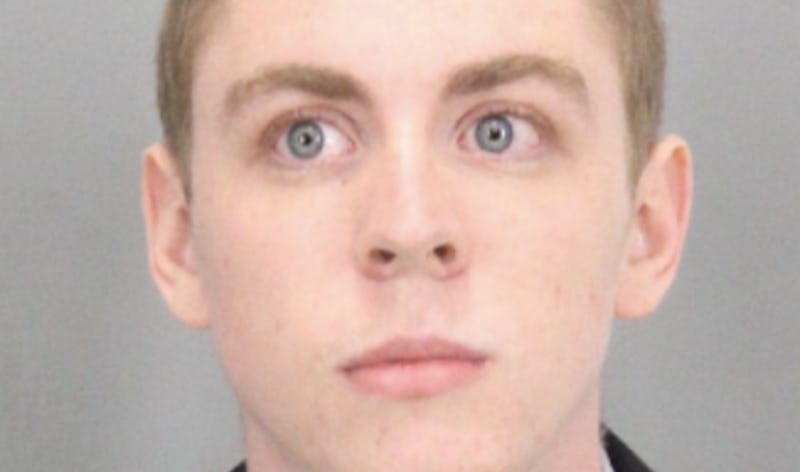 Santa Clara County Office of the Sheriff
On Friday, lawyers for the former Stanford University student Brock Turner appealed his sexual assault conviction, insisting that the trial he underwent back in 2016 was, according to The Los Angeles Times, "a detailed and lengthy set of lies." Turner was convicted of three felony accounts of sexual assault of an unconscious woman in 2015, but the judge presiding over the case, Aaron Persky, sentenced him to just six months in prison. He ultimately only served three.
Persky drew outrage and condemnation for the sentencing decision, and it sparked efforts to recall him from the bench. Turner was released from prison in September 2016, and has been free ever since. He does, however, have to register as a sex offender for the rest of his life. The appeal on Friday is seen as an effort to undo that requirement.
According to CNN, Turner's attorneys have claimed that his conviction was "fundamentally unfair," and are pushing for a new trial in the hopes of fully exonerating him. One part of their claim is that the victim in the case was not assaulted "behind a dumpster," as asserted in his first trial and by the media, and that characterizing the scene as such prejudiced the jury against Turner.
A legal adviser for Turner, John Tompkins, doesn't deny the event happened, but insists it wasn't criminal.
What we are saying that what happened is not a crime. It happened, but it was not anywhere close to a crime.
As Rolling Stone details, the element of the appeal centering on the assault taking place behind a dumpster argues that the description suggests Turner was trying to conceal his activities. In addition to negative connotations that come with envisioning an incident taking place behind a dumpster, such as:
... implied moral depravity, callousness and culpability on the appellant's part because of the inherent connotations of filth, garbage, detritus and criminal activity frequently associated with dumpsters.
The defense is reportedly arguing that the assault took place in a "completely open setting."
There was an immense amount of public scrutiny on Turner's trial, especially by virtue of the words of his anonymous victim. In a statement, most of which was delivered directly to Turner, she described the experience of falling unconscious at a party on the Stanford campus, and awaking in a hospital to learn she'd been sexually assaulted. It read, in part:
Then, I felt pine needles scratching the back of my neck and started pulling them out my hair. I thought maybe, the pine needles had fallen from a tree onto my head. My brain was talking my gut into not collapsing. Because my gut was saying, help me, help me.
You can read her full statement here, as reported by BuzzFeed.
The case drew even more attention when Vice President Joe Biden weighed in, writing an open letter to Turner's victim praising her courage, and commenting that her words were "forever seared on my soul."
I am in awe of your courage for speaking out — for so clearly naming the wrongs that were done to you and so passionately asserting your equal claim to human dignity. And I am filled with furious anger — both that this happened to you and that our culture is still so broken that you were ever put in the position of defending your own worth. It must have been wrenching — to relive what he did to you all over again. But you did it anyway, in the hope that your strength might prevent this crime from happening to someone else. Your bravery is breathtaking.
It remains to be seen whether Turner's appeal attempt will be successful. As for Persky, he's still facing a recall effort over his initial, light sentencing of Turner ― an appeals court recently denied his effort to halt the petition against him.