How These Brooklyn Leaders Want To Honor Ruth Bader Ginsburg Is Pretty Darn Cool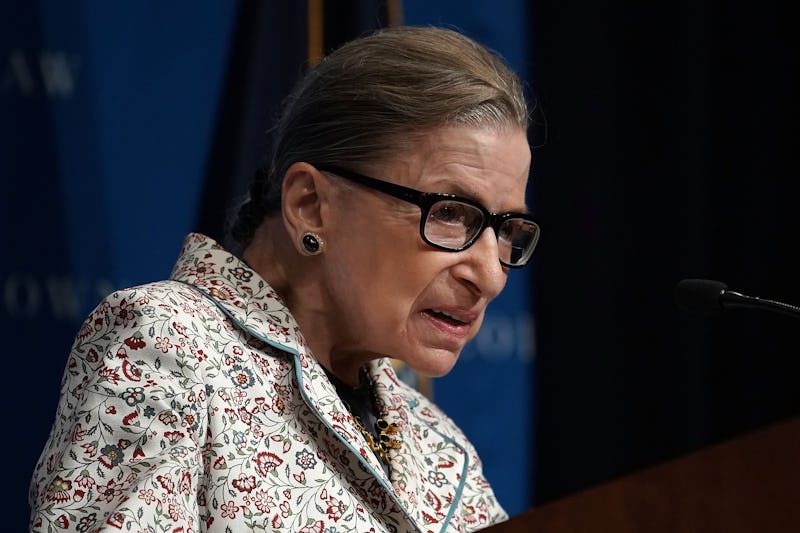 Alex Wong/Getty Images News/Getty Images
In a week dominated by Supreme Court-related controversy, there's finally some lighter news relating to the highest court in the nation. The city of Brooklyn wants to honor Ruth Bader Ginsburg by naming a building after her. Specifically, a group of elected officials, scholars, and women's rights advocates are pushing to rename the Brooklyn Municipal Building in downtown Brooklyn after Ginsburg, as a sign of thanks for her accomplishments in the realm of women's rights and human rights issues.
In a statement on behalf of Ginsburg, Kathleen L. Arberg, a public information officer at the Supreme Court, said to The New York Times, "Justice Ginsburg was made aware of the proposal to rename the municipal building in Brooklyn after her. The justice is honored that her name was put forward."
Ginsburg has sat on the bench since 1993. In her time as a Supreme Court Justice, she has accomplished the rare feat of becoming not just a known figure in mainstream culture, but a household name and icon. She has earned a nickname (the Notorious RBG), inspired an award-winning documentary, and popularized a now-viral phrase that has since been printed onto pins and used in women's marches across the globe: "I dissent."
Several organizations have since endorsed the idea of renaming the building in Ginsburg's honor, including the Brooklyn Bar Association, the Brooklyn Historical Association, and Brooklyn Law School. But it will ultimately be up to Mayor Bill de Blasio to decide whether or not to make an executive action to rename the public building.
As a result, a public petition has been created in favor of the renaming. The petition reads:
The life of Ruth Bader Ginsburg is a quintessential New York story. She grew up in Flatbush, the daughter of Jewish immigrants. Despite family tragedies that struck Justice Ginsburg early in life, including the death of her six-year old sister and early passing of her mother Celia, she rose to the apex of her profession, staying true to her ideals and principles.
Society often waits to recognize a lifetime of accomplishment until after that lifetime ends. In this case, we can honor the life and service of Ruth Bader Ginsburg during what we hope will be a long and active remaining life.
Ginsburg grew up in Flatbush, Brooklyn, and eventually attended Cornell as an undergraduate, followed by Columbia Law School. The New York Times notes that despite Ginsburg's impeccable academic career, she was unable to find a job following law school because none of the law firms she applied to were willing to hire a woman.
That obviously didn't stop her from succeeding; she would later become the first female to receive tenure as a professor at Columbia Law School, which would serve as one of her many accomplishments over the course of her career.
If the Brooklyn Municipal building is renamed after Ginsburg, it won't be the first time she's been recognized in a unique way: In 2016, scientists decided to name a new species of praying mantis in Ginsburg's honor.