'Brooklyn Nine-Nine' Star Stephanie Beatriz Got REAL About The Lack Of LGBTQ Actors In Hollywood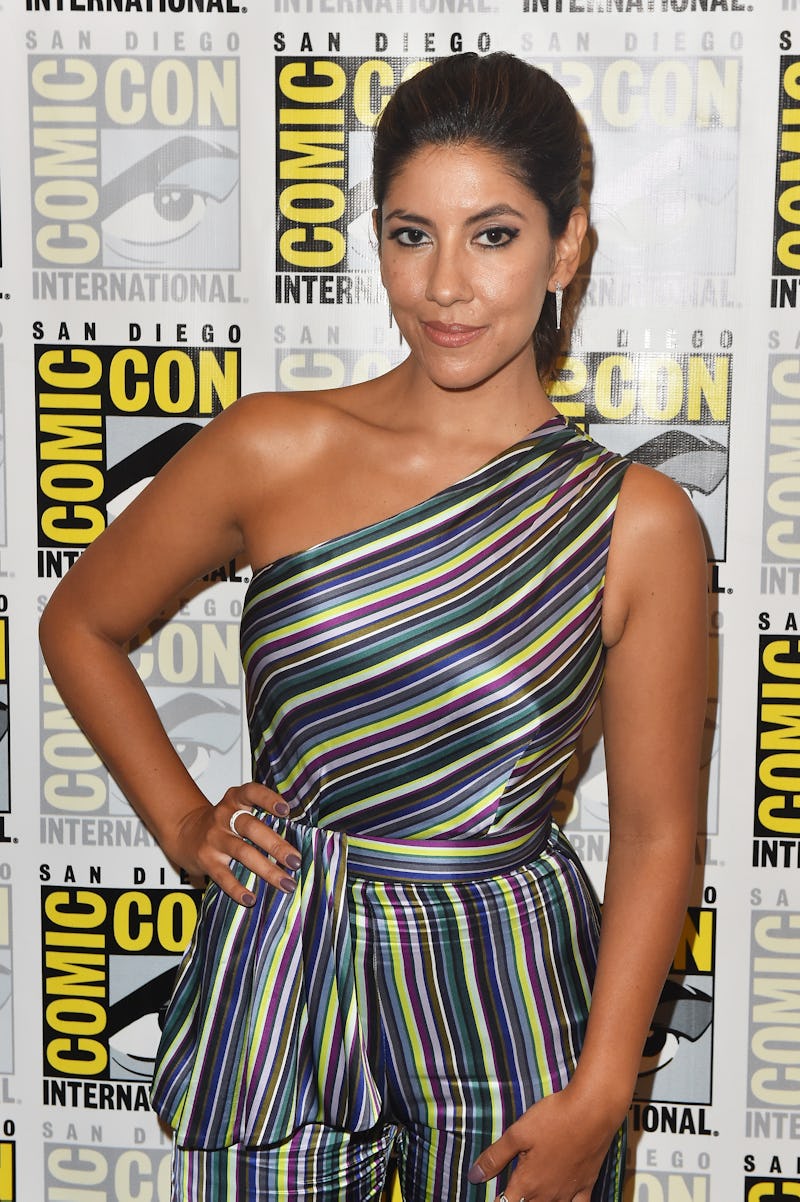 Jerod Harris/Getty Images Entertainment/Getty Images
With its diverse cast and progressive storylines, Brooklyn Nine-Nine is among the most inclusive shows on TV right now. Speaking at their Comic-Con panel on Thursday night, the cast talked about the importance of on-screen representation, and Stephanie Beatriz's comments about LGBTQ representation specifically were so spot on.
Brooklyn Nine-Nine took Comic-Con by storm this week, celebrating how it was picked up by NBC in May following its cancellation at Fox and a massive outcry from fans. And amongst their celebratory panel's topics of conversation was the issue of on-screen representation. According to The Hollywood Reporter, Beatriz, who is bisexual and plays a bisexual character, Detective Rosa Diaz, on the series told fans that she had a hand in her character's coming-out story. She said showrunner Dan Goor valued her input and wanted the storyline to reflect the lived experience of an LGBTQ person.
"Dan is a person who believes in equality and inclusivity, and that shows in his writers' room," said Beatriz. "He wanted a bisexual person's voice to be heard in that storyline, and it just so happened that the person who's playing the character they wanted to turn bi is also bi. It was a gift, and I think we did it in an amazing way."
The rarity and importance of a bi actor actually playing a bi character on screen is notable, especially as the call diversity of all experience and life represented on screen continues to grow. Beatriz also spoke about the need for greater LGBTQ representation and the importance of letting LGBTQ talent tell their own stories in an interview with Teen Vogue published Thursday. The actor said:
"I think there's room to do your diligence as a creator. If you're writing a bi character, did you look at a lot of bi actors for the role? Did you really go and find people that identified as queer? If you did then great, and if you didn't find anyone you liked in that pool, well, that's surprising. If you write a character that's trans, the time is now — cast a trans actor. There are tons of them and they're really f*cking good."
Beatriz continued, "The playing ground is so uneven, and there have been so many straight characters for such a long time, and so many gay actors that have had to hide their sexuality to get the parts they want to play. What I would love is for a normalization of queer characters on TV. Where that character is x, y, or z — or LGBTQIA+ — and we're just like, yeah."
Her comments have particular resonance given the recent backlash to Scarlett Johansson's casting as a trans man in the forthcoming film, Rub & Tug. Johansson has since apologized and dropped out of the film. And it's nice to see that in Brooklyn Nine-Nine, Beatriz was able to find a creative space to be able to share her experience with the world and be respected enough to help shape that on screen experience.
At Comic-Con, the panel of Beatriz's cast mates, including Andy Samberg, Melissa Fumero, Joe Lo Truglio, Terry Crews, Dirk Blocker, Chelsea Peretti, and Joel McKinnon Miller, echoed the actor's call for greater equity in representation, emphasizing their desire to tell stories respectfully and accurately, whether centered on topics like sexuality, mental health, or race.
Asked about whether the series would consider taking on a mental health storyline, Samberg, who plays Jake Peralta on the show, said, "Anytime we tackle something that is tricky like that … it has to be the right story so we are walking the line correctly and it doesn't come across as us making a joke about it and giving it proper respect," as reported via The Hollywood Reporter. "That's why episodes like Rosa deciding to come out or the episode 'Moo Moo' where Terry is racially profiled in his own neighborhood, those episodes take a lot longer because if you f*ck it up it's bad."
The level care Brooklyn Nine-Nine put into Rosa's coming out storyline is the care they want to give to all serious topics. And it is a testament to the show that they already know that to write and produce those serious topics accurately, they need diverse creators to do it.