BTS's Best Red Carpet Looks Put *NSYNC To Shame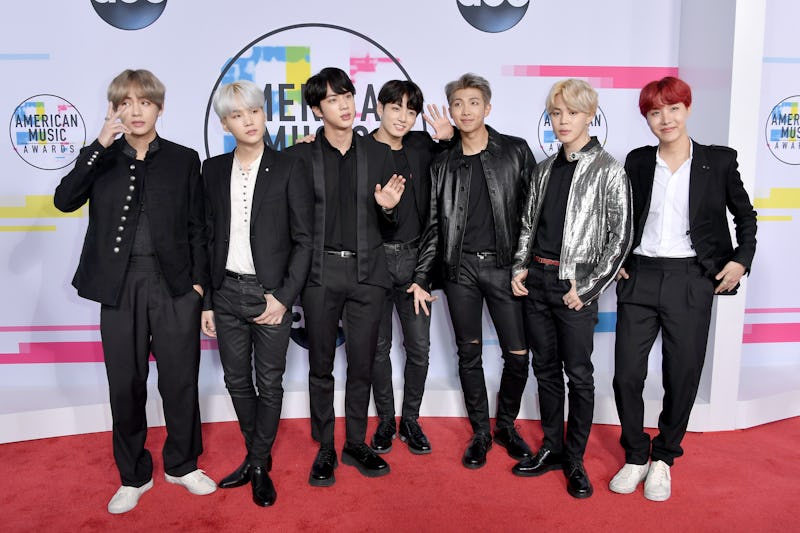 Neilson Barnard/Getty Images Entertainment/Getty Images
During Sunday's AMAs, stars like Selena Gomez, Pink, and Kelly Clarkson performed. However, one glance at social media, and you'd barely find their names. Instead, you'd find post after post of the Korean boy band BTS. While last night may have been only their second American red carpet appearance, BTS's best red carpet looks ever prove that they're the world's most stylish boy band.
Millennials are intimately acquainted with the boy band styles of the '90s and early '00s. From toboggans to oversized jeans and frosted tips, boy band style has come a long way — and BTS proves it. Not only does the seven-member band coordinate their looks, but they still manage to throw in a bit of personalization to keep fans on their toes. From hair color differences to rocking multiple fabrics to footwear choices, the men of BTS keep things coordinated without making it boring, and their typical monochromatic color palette red carpet worthy.
The band made their U.S. red carpet debut at the 2017 Billboard Music Awards in May. On Sunday, they walked another carpet at the AMAs. Then, the seven members performed live on stage and elicited screams that haven't been heard since Justin Timberlake was still leading *NSYNC. While the fan pandemonium may be equivalent to the seminal bands of the '90s, the style is elevated.
The band's AMA style was all black and white with a pop of silver. While each member rocked black pants and some sort of jacket, the styles of both varied between the members, as did their footwear options.
Basically, coordinated-cool seems to be their thing, and fans love it.
Fan reactions on Twitter were next level, and the social media site is still filled with compilations of all of their AMA red carpet interviews.
Of course, the AMAs is just one of the band's red carpet appearance. At the Billboards, they kept their looks relatively similar to those they wore to the AMAs.
The Billboard red carpet was undeniably all about the men in black. Black pants and jackets reigned supreme for BTS, but they still managed to mix up their looks with shoes and textures.
Whether it was leather pants, silver shoes, or satin lapels, each BTS members' individuality came through on the carpet.
But it's not always all black everything for BTS. At the K-Pop Awards, the men ditched the all black and instead wore identical grey suit jackets and black ankle pants. The look was completely seamless.
The identical ensembles, however, don't seem to be the norm for the band. Instead, their next level coordination appears as their go-to look for red carpet events. Another signature? The color black. No matter the occasion, the men always appear to lean toward neutral hues when they hit the red carpet — and it's the perfect way to make sure they retain a chic look that no '90s boy band ever seemed totally able to achieve.
At a Love Myself event for UNICEF Korea, the men again chose to rock their all black look. While T-shirts were substituted for collared shirts for some, the look remained as low-key cool as ever.
Essentially, BTS red carpet appearances are a stark reminder that millennial boy band fashion was never this cool.
The AMAs red carpet may have only been BTS's second award show in the states, but many more seem to be in their future. With fans rapid fire tweeting about their looks on social media and lavishing praises on their performance, this doesn't seem to be the last America will see of BTS.