Bud Light Orange Is Now Available & Summer Cannot Get Here Fast Enough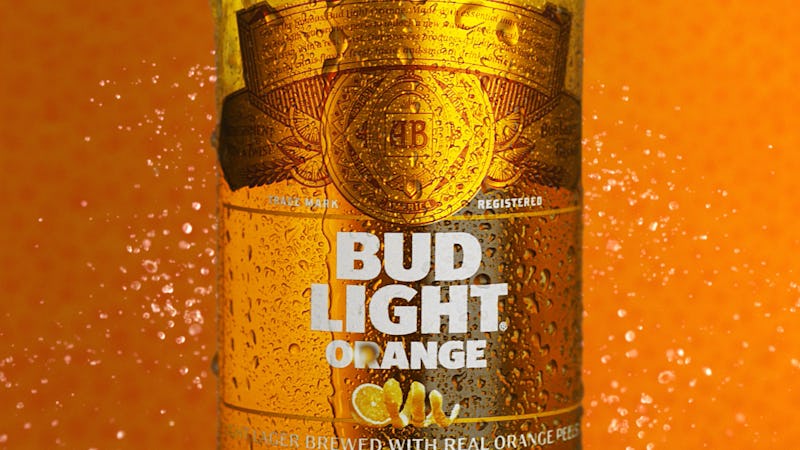 Bud Light
I am not a particularly big fan of regular Bud Light. For some reason, though, I've been able to overcome this aversion with Bud Light Lime, perhaps because the pungent lime taste manages to overcome the otherwise overpowering beer water taste. So it is with some trepid anticipation that I welcome the newest flavored Bud Light iteration — Bud Light Orange, which, much to my delight, appears to be literally orange.
Grub Street reports that Budweiser announced the arrival of Bud Light Orange via a recent press release, with blog the Impulse Buy noting that the new brews started hitting grocery and liquor store shelves earlier this month. But Food & Wine noted the new beer didn't have much in the way of an ad campaign, which is surprising, considering this country's thirst for gimmicky, flavored alcoholic beverages. (Note that as a fan of everything from wine spritzers to Mike's Hard Lemonade to LaCroix cocktails, I am not sneering at flavored booze, but acknowledging that I have a perhaps unsophisticated palate). Still, it appears you can try Bud Light Orange, if you'd like, and kickstart your summer a bit early:
Budweiser's also advertising Bud Light Orange on its website. "Introducing an all-new flavor just in time for summer," the site reads. "Bud Light Orange, America's Favorite light lager now brewed with real orange peels. You can taste the citrusy goodness. Available for a limited time only this summer!"
So, tragically, this baby's a got an expiration date — though if I recall correctly, Bud Light Lime was expected to last only a short time, yet now it threatens to haunt beer coolers forever. Among the other contenders of "summer drinks that are only here for a limited time" are Captain Morgan's Watermelon Smash, which is essentially a combination of rum and a Jolly Rancher, and Mountain Dew's Baja Blast, which is, obviously, nonalcoholic (a situation that can be easily remedied). I guess we'll have to wait out the summer of 2018 to see which drinks will outlive it, if any.
Meanwhile, none of the websites reporting the arrival of Bud Light Orange have mentioned Budweiser's best gimmicky brew: the Chelada. The Chelada is an incredible invention, despite having earned a sad 1 star from Beeradvocate.com, with one reviewer describing it as "putrid," and another claiming it was "what you buy when you absolutely want/need to punish yourself and/or your tastebuds." And while it's true that the Chelada doesn't hold a candle to an actual michelada — a Mexican specialty consisting of beer, lime juice, spices, hot sauce, and other feisty condiments — it is a truly perfect drink for people who want to sneak booze onto the beach. Budweiser's website describes the Chelada as a "savory combination of Bud light and the spicy richness of a Clamato Tomato Cocktail" that is "[b]est served over ice and garnished with Lime," but actually, it's best served sun-warmed and hidden in a paper bag at the very bottom of your beach backpack, having been jostled by 80,000 people on the A train to Rockaway Beach in Queens. Not that I have ever illegally brought beer to the beach, no sirree, not I!
Anyway, I suppose you can try Bud Light Orange now, or just buy a can of Sunkist and pour some Andre into it, which, might I say, makes for an excellent morning cocktail (but a much less pleasant afternoon hangover). Either way, the arrival of summer beer means summer itself can't be too far off, even though last time I checked, it was 38 degrees here in La Belle NYC, because I am being punished, I assume, for praising the Chelada on a national website.