Mountain Dew Is Bringing Back Baja Blast — But Only For A Limited Time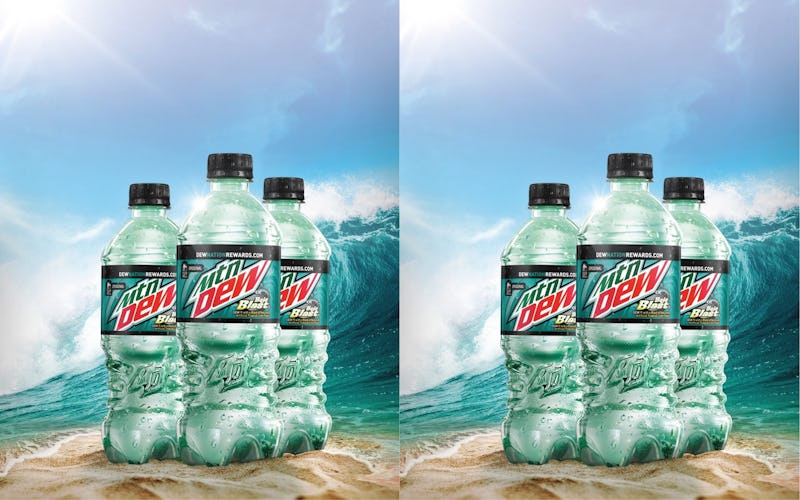 Mountain Dew
I don't know about you, but these days, it feels like the universe is being particularly stingy when it comes to throwing us a bone. Sure, we got wedding cakes made of cheese and the Museum of Candy, but it's still felt like something is just... IDK... missing — until now. Mountain Dew recently confirmed in a press release that Mountain Dew's Mtn Dew Baja Blast is back for summer, and I haven't been this excited since I found that 10-dollar bill in an old winter jacket seven years ago.
The lime-flavored thirst-quencher has always been a fan favorite, and Dew is responding to customers' demands for the drink's return: "We were overwhelmed by all of the love we saw on social media and other channels, so we worked hard to bring back MTN DEW BAJA BLAST. We're always listening to DEW Nation and we're excited to give them exactly what they've been craving," Chauncey Hamlett, Senior Director of Marketing, said in the press release.
Starting April 23 and for a limited time only (and for the first time in two years!), you'll be able to find Baja Blast on grocery store shelves across the U.S., in 20-ounce bottles, 12-packs of 12-ounce cans, and multi-pack sizes, Mountain Dew says.
The love for Baja Blast is real, and through the years, fans have made valiant efforts to bring it back. In fact, last year, Mountain Dew encouraged people to use the hashtag #BringBajaBlastBack on Twitter to join the team of people reminiscing about the sweet and fruity drink, root for its return, and explain exactly what they'd be willing to do to get Mountain Dew to release the beverage again. Things got weird.
Since its original release in 2004 exclusively to Taco Bell, Baja Blast has indeed come and gone in various incarnations. In August of 2012, for instance, Taco Bell added Baja Blast Freeze, says the Mountain Dew Wiki page. January of 2014 brought Diet Baja Blast to the menu. Then, in May of 2014, things changed: Baja Blast had a limited run in stores. The drink later came back for the summer of 2015 and again in 2016, when it ultimately lost against the Pitch Black flavor — which, hello, was purple — in a poll to determine which one would be made a permanent fixture on store shelves. (What were you people thinking?)
Now, those same people who promised to go to such great lengths to get Baja Blast back in their lives again might have to put their money where their mouth is. In the press release, Mountain Dew explains they will select some of these very fans to appear in a video series, where they "will bring to life the bold lengths they would go to bring the beverage back." Plus, you can earn points to get sweet gear and prizes.
So, for those of you who offered to lick a monkey's uncle or pluck your ear hair with chopsticks, I hope you're ready.
Mountain Dew has released all sorts of creative flavors — Code Red, White Out, Voltage, Electro Shock, LiveWire — but none left quite the impression on us that Baja Blast did. Plus, it takes us back to the early 2000s and the days of frosted lip gloss and disposable cameras and gives us all the feels. Nothing really compares.
No word yet on exactly how long we'll have until the infamous flavor leaves us once again, so if you're smart, you'll stock up on them come April 23 and keep plenty in reserve. Enjoy the sugar rush, and Happy Summer to us!