Burger King Just Released A Massive Oreo Cookie Peppermint Milkshake For The Holidays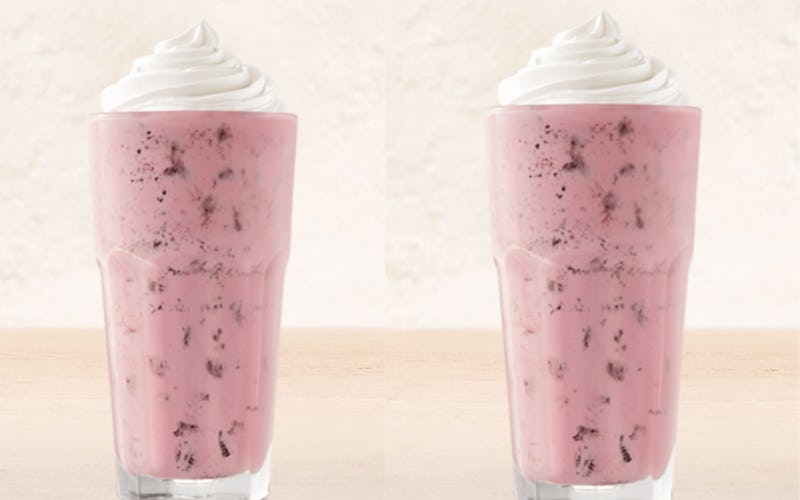 Burger King
Burger King is ready for you to trade in your mid-Christmas shopping peppermint mocha latte for a mid-Christmas shopping freezing cold milkshake. It's OK, though —  it's seasonally flavored. As reported by Chew Boom, Burger King has a new Peppermint Oreo milkshake, which offers a more Christmasy take on their Oreo Mint Shake. As in, this time, it's red.
According to Burger King, with the Peppermint Oreo Shake "velvety Vanilla Soft Serve, Oreo cookie pieces and peppermint syrup are blended to perfection and finished with a sweet whipped topping just for you." That's right. There's no big batch Peppermint Oreo Shake making here. Those Oreo pieces are added right as you're screaming, "Why are you taking so long?!" at the person in front of you in the drive-thru.
The Peppermint Oreo Shake follows in the footsteps of the Oreo Mint Shake, which tends to be released around St. Patrick's Day. The Oreo Mint Shake is green, instead of red, and that's really the only difference. According to Brand Eating, the Oreo Mint Shake was previously known as the Oreo Irish Mint Shake. Of course, the chain's biggest competitor, McDonald's, has the more popular item in this area with its annual Shamrock Shake.
In addition to the mint milkshakes, Burger King keeps a non-minty Oreo Shake and Chocolate Oreo Shake on its menu year-round. These include vanilla sauce and chocolate sauce, respectively, instead of peppermint syrup. The chain also offers chocolate, vanilla, and strawberry hand-spun shakes.
If you're not interested in what is basically drinkable peppermint bark, Burger King has also reintroduced a popular dessert item: Cini Minis. According to Chew Boom, the mini cinnamon rolls were first introduced in the late '90s, and like everything else from the decade they're making their 2018 comeback. Take it away, Burger King: "Warm, freshly baked, delicious bite-size cinnamon rolls with its own icing dipping sauce."
There is also a special Cini Minis deal for anyone who wants their tiny cinnamon rolls delivered. When ordering through Grubhub, customers can get an order of Cini Minis for free with a $10 Burger King purchase. According to Food & Wine, this deal will last until the end of the year.
If you're in it for the peppermint, though, this season, Burger King is far from the only readily available place you can get your fix. At Starbucks, the Peppermint Mocha lives on. For anyone out there who needs more than just a lot of sugar to stay awake, it combines espresso, steamed milk, mocha sauce, and peppermint syrup, and is topped with whipped cream and dark chocolate curls. McDonald's reintroduced its own peppermint mocha earlier this month, too.
There's also The Cheesecake Factory, which recently brought back its Peppermint Bark Cheesecake: chocolate crust, white chocolate cheesecake with peppermint bark swirls, topped with white chocolate mousse and peppermint bits. And, as always, there's those Ghirardelli peppermint bark squares, for the chocolate and mint lover who needs something to keep conveniently stashed in their purse.
Now, go forth and shop for gifts while really hopped up on peppermint things. This is the only time of year you can do it.