Bury The White House In Books This Valentine's Day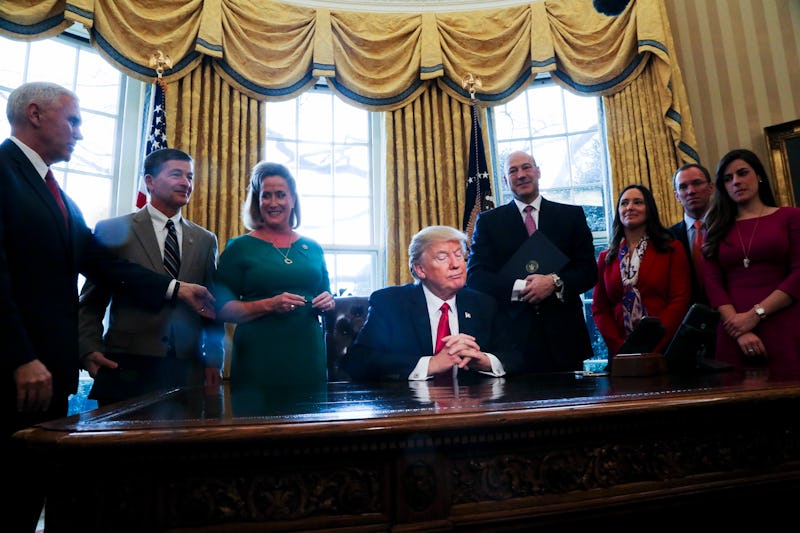 Pool/Getty Images News/Getty Images
One huge thing that sets President Donald Trump apart from his predecessor — other than, you know, all of his beliefs and policies — is that Donald Trump doesn't seem to read much. But a new campaign to Bury the White House in Books hopes to change that — by encouraging participants to mail their favorite books to the president, along with a message that they think he needs to hear. Obama won the hearts of book-lovers across the nation by being an avid reader of fiction, crediting literature with making him a better citizen and a more empathetic person — which might be exactly what Donald Trump needs.
The plan is simple: buy a book from your favorite book purveyor (this could be a great chance to support indie bookstores at the same time!), write a message in it for Trump's administration, and mail it to the White House on Valentine's Day. If everyone posts their books on the same day, we might just be able to drown the Oval Office in wonderful books.
The creators of the event, Leaders Are Readers, want the White House staff to be inundated with book mail — and so while you can mail as many books to Trump as you'd like, you're encouraged to send them all in separate packages.
In your message inside the book, you might want to tell the president why you chose this book, or you may prefer to promote another cause that you care about. Some participants have suggested adding a note telling the president where he should donate the book once he's done reading it — and the event creators have suggested that participants buy extra books themselves to donate to charities, schools or libraries.
So far, popular suggestions have included anything from nonfiction books about Frederick Douglass to picture books by Dr Seuss. Add your own suggestions to the Facebook event, and let's bury the White House in books this Valentine's Day.