Bustle's FANGIRLS Issue Is About Celebrating Your "Thing," Whatever It Is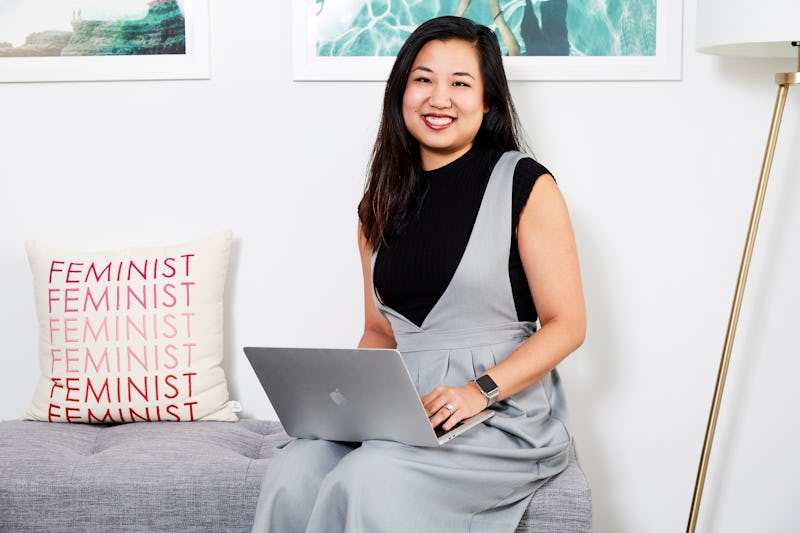 Everyone has that thing that's just their thing. You know what I'm talking about: the activity or interest you're mildly (or not-so-mildly) obsessed with. People automatically associate it with you, or frequently go to you about it for your expertise. Birthday gifts you receive often revolve around it. You can spend hours on it, and it won't feel like work at all, not even one tiny bit. For me, it is a Google Sheet I started keeping several years ago — one that's now more than 600 rows long, meticulously detailing restaurants of all kinds that I've eaten at or am planning to visit. I don't even want to think about how many hours I've poured into The Sheet, but let's just say it's a labor of love so involved that it now has columns for "signature dish" and "BYOB status." Many of my faves on the list are also the cheapest and are places where I was able to create a happy memory; after all, a meal is my favorite activity-slash-setting to connect with people I love (not to mention, eating is my preferred way of learning more about other cultures and connecting with my own more deeply). In other words, it's my thing.
I've been privileged to learn that the more authentically I am myself, the more I'm rewarded for that. -Rachel Bloom
Like I said, everyone has that thing they're a fan of — or most of us, anyway. In Bustle's summer entertainment issue, aptly titled FANGIRLS, we are celebrating the act of being a fan in all its iterations, starting with our cover star, Crazy Ex-Girlfriend co-creator Rachel Bloom. An unabashed Disney, Harry Potter, and musical theater superfan, Bloom is proof that embracing your own tastes without apology can take you far — like, Golden Globes far. As she tells Bustle, "I've been privileged to learn that the more authentically I am myself, the more I'm rewarded for that."
In this year's Comedy IRL package, we talk to some of the funniest women on TV right now who we're truly fangirling over, including One Day At A Time's Justina Machado, Glow's Alison Brie, Brooklyn Nine Nine's Stephanie Beatriz, Nailed It's Nicole Byer, and The Good Place's Jameela Jamil. Through this diverse group's reflections on why they do what they get to do every day — and they do see it as a privilege — one thing becomes clear: In this moment in America, their hilarious work could not be more serious.
In our Stan By Me package, editor Kelsea Stahler really gets at the root of what it means to stan, and why we do it: In one piece, she opens up the conversation around finding happiness by leaning into iconic franchises, such as Marvel and Star Wars; in another, she dissects the phenomenon of the "internet boyfriend." Oh, and she also profiles a truly stan-worthy woman who should be on all our radars: Sana Amanat, the co-creator of Ms. Marvel, who talks about furthering representation through her characters. Also in Stan By Me, editor Danielle Colin-Thome examines how "fan armies" hurt fandom, and writer Kadeen Griffiths pays tribute to Buffy Summers, whose impact on pop culture cannot be overstated.
We hope you'll feel inspired to really go after your passions, no matter how "big" or "small" you perceive them to be.
We also do a deep dive into some of the not-as-obvious fandoms out there in *Extra* Curricular. In it, writer Tonya Riley explores whether narrative-based video games can make men more empathetic; we learn the unexpected personal story behind editor Gabrielle Moss' affinity for Cher; editor Caitlin Abber comes clean about having no hobbies whatsoever; and writer Elizabeth Kiefer gives the 411 on the rise of female camper communities among the over-50 set. The only rule? No kids or spouses allowed.
Finally, we've cooked up a fantastic series of essays and reported stories in FanFic It Up, exploring all the corners of the fanfiction universe. Writer Kristyn Carter explores how fanfiction was the means by which she realized black girls could be the protagonists of their own stories. Editor Emma Lord shares an open letter to the author who told her to stop writing fanfiction — and why she's glad she didn't listen. And writer Maddy Foley explores the nuances of copyright law in "Who Owns Harry Potter?" in which she speaks with lawyers and writers about their experiences with the complex legal nuances of writing fanfiction.
After checking out FANGIRLS, we hope you'll feel inspired to really go after your passions, no matter how "big" or "small" you perceive them to be. Pursuing what brings you joy and adds value to your life? Let's just say we're fans.
- Amanda Chan, Managing Editor, Bustle