Bustle's Most Wanted: Starbucks Bottled Cocoa & Honey With Cream Cold Brew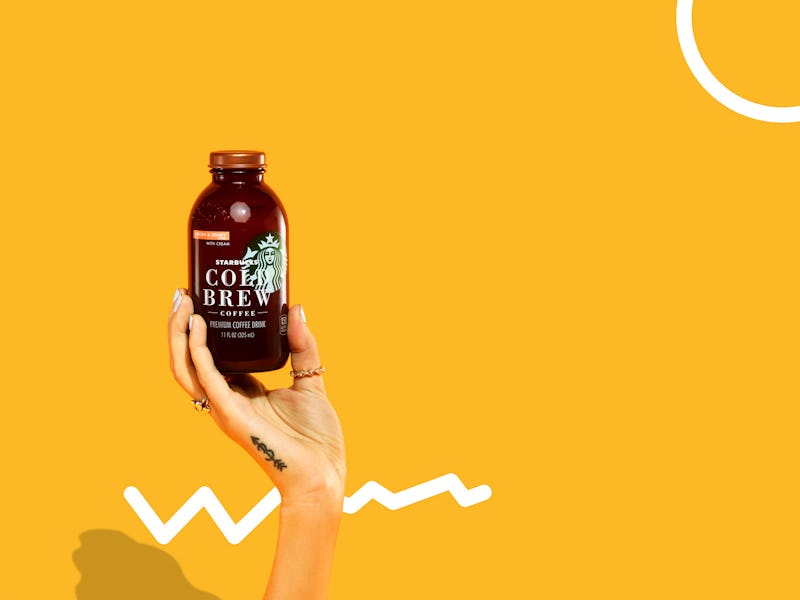 Saying that cold brew coffee is having a ~moment~ right now is kind of a massive understatement. Ever since Starbucks added its signature slow-steeped Nariño 70 Cold Brew to its permanent menu in 2015, the drink has become a staple for iced coffee diehards (*raises hand*) who need something strong to keep them going — even in the dead of winter. And now, thanks to the new bottled Cocoa & Honey with Cream Starbucks Cold Brew, you won't even need to leave your house to get your caffeine fix. Life. Is. Beautiful.
Cocoa & Honey with Cream Starbucks Cold Brew, $3.29, Starbucks
Bottled Starbucks Cold Brew first made an appearance on shelves at grocery stores and other retailers in the summer of 2016, making it possible for fans to just stock their favorite beverage at home and avoid the lines of coffee-crazed people at Starbucks. The bottled, unsweetened black Starbucks Cold Brew was an instant hit among coffee enthusiasts — its rich, smooth texture and subtle chocolatey flavor mirrored what they'd find when ordering the drink in-store.
But because this is Starbucks we're talking about, it was only a matter of time before it threw a major upgrade our way — and guys? It's a good one. The Cocoa & Honey with Cream Starbucks Cold Brew is the first new flavored bottled Cold Brew Starbucks is testing out, and it's definitely something I plan to add to my morning coffee rotation. The new Cocoa & Honey with Cream flavor is a bit sweeter than the black Cold Brew, but it's not overwhelming — which is a huge bonus if, like me, you're into drinking your coffee plain. And, just like the unsweetened version that came before it, the new flavor feels super velvety going down. It's refreshing and luxurious at the same time.
And the best part? You likely don't have to wait long to get your hands on the new beverage. The bottled Cocoa & Honey with Cream Starbucks Cold Brew first hit select shelves in mid-March, and is rolling out to stores across the West Coast, Northeast, Southeast, and Great Lakes regions this spring. It's not alone, either; Starbucks is releasing new flavors of its other go-to bottled beverages this season, including the new bottled Starbucks Dulce de Leche Frappuccino, and Starbucks Doubleshot Espresso Salted Caramel Cream.
That all sounds delicious, but I have to say the Cocoa & Honey with Cream Starbucks Cold Brew is my favorite. At $3.29 a pop, it's a pretty painless improvement over your usual coffee, and its timing couldn't be better. Iced coffee season is right around the corner — you're going to want to make sure you're prepared once it comes.
Check out Bustle's Most Wanted, a list of our editors' 25 favorite things for spring 2017.
Cocoa & Honey with Cream Starbucks Cold Brew, $3.29, Starbucks
Jewelry: Model's own