A Séance With A Famous Feminist Revealed A Message You Will Definitely Take To Heart In 2017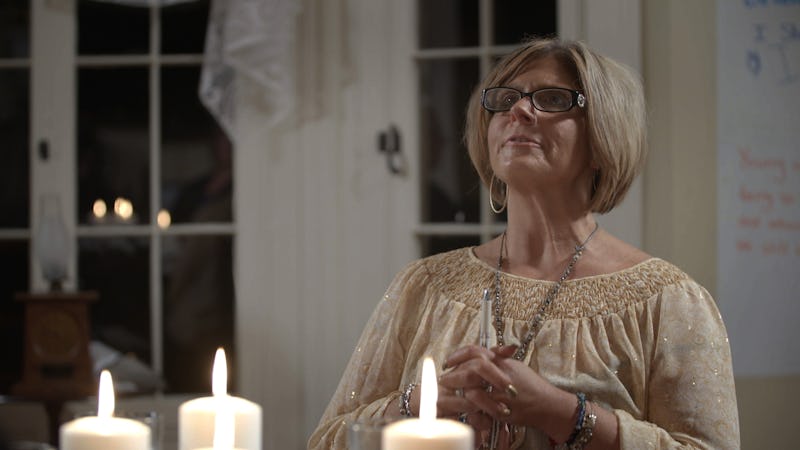 Alexa Carroll
Attention, fellow ghost hunters, paranormal enthusiasts, and spooky feminists: Bustle's new web series 'What's Up, Boo?' is about to light up your life like the radiation off a proton pack. OK, so you're not exactly going to find scenes straight out of Ghostbusters, but this series will give you incredible insight on some extremely underrated female ghosts from history. Follow intrepid host Alex Dickson as she sets out to places that claim to house female ghosts, and uses the help of mediums, historians, and psychics to tap into the afterlife and answer not only your burning questions about the past, but help put the present in perspective, as well.
The first stop on the 'What's Up, Boo?' tour? None other than the historic home of Matilda Joslyn Gage in Fayetteville, New York.
First, a little background on our friend Gage. A 19th century writer, editor, and activist, she fought right alongside Susan B. Anthony and Elizabeth Cady Stanton in the relentless pursuit for women's right to vote; she co-authored the "History of Woman Suffrage" and served terms as president to both the New York State and National Suffrage Associations. She was a powerful voice in the abolitionist movement; despite facing prison time for it, her home was offered as a stop on the Underground Railroad. More radical than even her feminist contemporaries, she eventually separated from the suffragist movement in 1890 and became a staunch defender of sex workers, the imprisoned, and Native Americans. But despite her prolific writing and activism, Gage's name is rarely the one that first comes to mind when people think of famous suffragists; a true shame, really, considering all she did not just for women, but for fighting for the liberty of all oppressed people in a time when society was truly unwilling to hear it.
It is only natural to assume that a woman who devoted all 71 years of her life to ensuring the liberty of others would have unfinished business or words of wisdom for people here on earth — hence, why Gage was the natural choice for the first episode of Bustle's 'What's Up, Boo?' Host Alex recruited the help of psychic medium Lisa McCall to journey to the Matilda Joslyn Gage House, which is preserved today as an educational museum.
Dickson and McCall began by touring the house, which is an unusual museum to begin with; while some parts of it are interactive, other parts are still preserved with period furniture still intact. While in the museum, McCall said she felt the presence of Gage right away. As they went upstairs to peruse Gage's book collection, many of which had her original notes in her handwriting in them, she said the feeling only got stronger.
Later in the night, McCall hosted a séance in the Gage house to contact Gage's spirit, in hopes of better understanding the way she felt about her courageous activist work, and whether she had a message for women living in the present day.
"Matilda wants to come in so bad, hold on," McCall says. And then: "I feel like I'm Matilda."
Watch the first episode of 'What's Up, Boo?' below to listen to what messages the spirit of Matilda Joslyn Gage communicated through the séance.
Check out the entire 'What's Up, Boo?' series and other videos on Facebook and the Bustle app across Apple TV, Roku, and Amazon Fire TV.
'What's Up, Boo?' will continue to visit other noteworthy female ghosts, so Matilda Joslyn Gage will be in good company. Perhaps her strongest message, though, is the one that long outlives her — a short walk from her home leads to her headstone, which is inscribed with the words, "There is a word sweeter than Mother, Home, or Heaven. That word is Liberty."