Why Busy Philipps' Talk Show Should Seriously Be Part Of Your Nightly Self Care Routine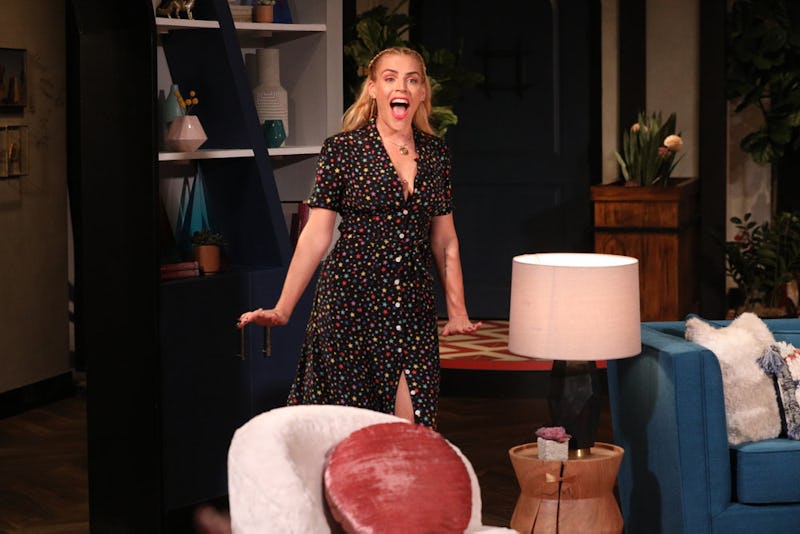 Jordin Althaus/E! Entertainment
If you've paid any attention to her social media presence, then Busy Philipps probably already feels like one of your best friends — or at least someone you'd get really excited to see across the room at a party you weren't sure you wanted to go to in the first place. That's just the kind of woman she is. She's personable, unabashedly herself, and she seems like the ideal person to split a bottle of rosé with while watching reality TV. It can be hard to translate that kind of easygoing charisma onto a talk show, even if you are an actor with years of experience, but with her newest venture, Philipps succeeds, and that's exactly why you should be watching Busy Tonight.
The market is kind of saturated with celebrity talk shows — they're not just for late night comics or people like Oprah anymore (though Philipps does keep a special phone onset should Oprah ever feel the need to call). In the age of streaming services, it seems like every celeb has their own talk show these days. Even so, Philipps feels like a breath of fresh air — she's fun, she's trendy, but she also means business.
If nothing else, her show is an easy way to escape some of the heavier news these days. The half hour show in E! celebrates pop culture and female friendship, showcases women supporting women, and dives into those random topics you and your pals might laugh about together in the group text. Here's why you absolutely incorporate it into your self care routine these days.
The Guests Are Everyone You Want To See On TV
The set Philipps debuted in her inaugural episode last week appropriately has the vibe of the Friends apartment, as her first guest, Mindy Kaling, so expertly pointed out. It's where you could see yourself having a sleepover or commiserating with old friends, and that's kind of Philipps' whole game — you'll never get tired of the people you see popping up to reminisce and reflect with Philipps.
In addition to Kaling, she has already had Kristen Bell, Julia Roberts, Vanessa Hudgens, and Megan Mullally on her stage, and other huge names like Kim Kardashian and Tracee Ellis Ross are on the slate to appear in the future. They're women Philipps obviously has respect and love for, which makes it even more fun to watch them interact.
Her Friends Are Everywhere
Philipps has a panel of her writers sitting off to the side of the stage throughout each show, but they're not just for looks. The writers, BFF Kelly Oxford, Jenny Yang and Shantira Jackson, have hilarious personalities of their own, and are a treat every single time they're on TV. Their banter with Philipps adds another layer of a familial feel to Busy Tonight, and you get the feeling that a true team of BFFs puts the show together.
It's Unapologetically Joyful
In today's world, it can be easy to feel cynical or reluctant to indulge yourself in entertainment that's just fun for fun's sake. Philipps lulls you in, insists you let your guard down, and invites you to take some refrigerator-lit Instagram selfies. She's not afraid to seem a little corny — she says goodnight at the end of each episode from the comfort of a floral nightgown, and sings a song wishing everyone sweet dreams. She cries a lot, hugs everyone, and is absolutely earnest throughout every facet of the show. Even so, it never treads into "guilty pleasure" territory, because she's not feeling guilty about playing light-hearted games or getting emotional about The Good Place, and neither should we. This kind of reprieve is one we should relish, and get behind with our whole hearts.
The mechanics of the show aren't perfect — Philipps is obviously a newcomer to this world, and some segments still feel like a work in progress. But on Busy Tonight, it's so easy to get on board with the host, because you know in your heart she's on board with you. And with all those amazing people around her, she's sure to work them out.