The List Of Celeb Guests Coming To Busy Philipps' Talk Show Is SO Good (Kim K! Mindy Kaling!)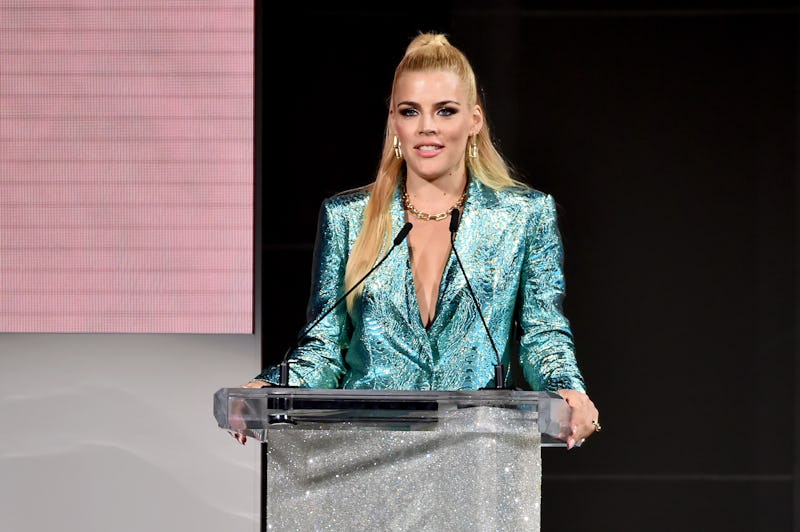 Theo Wargo/Getty Images Entertainment/Getty Images
Strap in, busy bees, because E! has announced Busy Philipps's talk show guest list, and the roster will get you buzzing. Not that anyone needs a reason other than "it's a talk show hosted by Busy Philipps" to be stoked for Busy Tonight, but the guest list sure is a reason to be fired up for the actor/author/Instagram maestro's upcoming series. You might even say the lineup is something to look into your smartphone's camera and gasp "You guys" about.
In a press release that went out on Thursday, the network revealed Mindy Kaling will be the guest on the late-night program's series premiere, which will air on Sunday, Oct. 28. Wow, what a fantastic way to kick things off, right? And the fantastic does not stop there. Monday's guest will be Vanessa Hudgens, Kristen Bell will be on Tuesday's episode, and Megan Mullally is set for the Wednesday show. Jimmy Kimmel, Fred Armisen, and Andy Cohen will pop up on the first week of Busy Tonight, too. Again, that's just the first week.
The press release also teased that Julia Roberts, Kim Kardashian West, Tracee Ellis Ross, Camila Mendes, John Stamos, Olivia Munn, Beth Behrs, Lauren Graham, Jesse Tyler Ferguson, Emily Ratajkowski, Taran Killam, David Alan Grier, Tess Holliday, Tom Lenk, and more will be on the show later on this season.
Wow. This list is just... wow.
Might that "and more" include her number one dream guest? We should all keep our fingers crossed. When Philipps stopped by The Late Show with Stephen Colbert last week, Stephen Colbert asked her to name her dream guest, and at first, she attempted to keep things polite and diplomatic. But after trying to talk herself into not naming names so as not to hurt the feelings of any other celebrities, she gave up.
"Alright, it's Oprah," Philipps told Colbert. Perfect. Just perfect. May Philipps's wish eventually come true.
In May, E! announced Philipps would host a late-night talk show this fall, and what do you know? It is here. Well, it's almost here. Busy Tonight will begin in just three days. Again, not that you need a reason beyond "it's a talk show hosted by Busy Philipps" to get on board, but here is a video of Philipps crying tears of joy when she sees the show's set for the first time that'll only add to the anticipation.
Busy Tonight's series premiere comes hot on the heels of the release of her memoir, This Will Only Hurt a Little. Her hit memoir, that is: This week, the New York Times announced Philipps's book is officially a best seller. And duh, the IG queen reacted to this exciting news on social media. She said in an Instagram Story that went up on Wednesday,
"Guys. New York Times Best Seller list. This is so exciting. And if wasn't in the middle of a two-show day! JK, this is just my life now. Just like, working."
And the results are more divine than Philipps's ideal margarita.