Busy Philipps' Talk Show Finally Has A Premiere Date & It Can't Come Fast Enough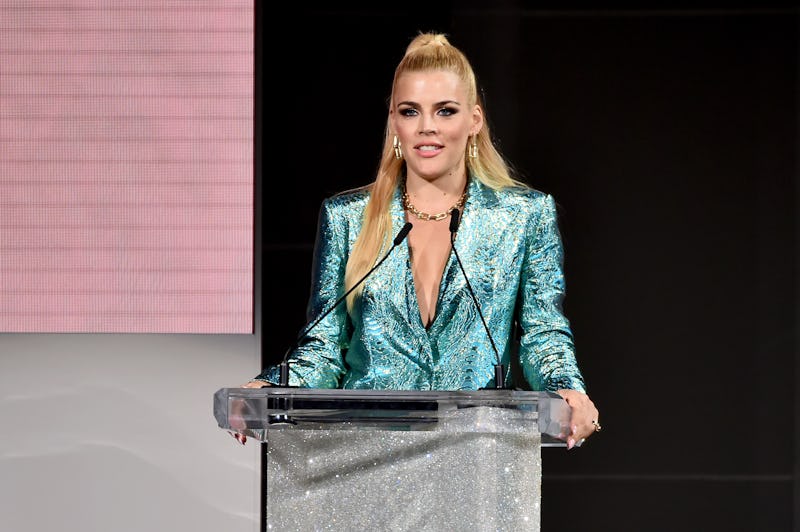 Theo Wargo/Getty Images Entertainment/Getty Images
Whether you know her from Freaks & Geeks, Dawson's Creek, Cougartown, Instagram, or something else entirely, you definitely know Busy Philipps. And fans everywhere are about to get a real treat, because Philipps' new late night talk show finally has an official premiere date. Busy Philipps' talk show Busy Tonight is officially headed to E! in October, with the first episode set to air on Oct. 28.
As the network described in a press release, the half-hour talk show will air Sunday through Wednesday nights, and "will feature everyone's favorite unfiltered Hollywood best friend" (Philipps) offering "hilarious and outspoken opinions on the latest pop culture stories and trending topics". The press release also promised "candid celebrity guest interviews" and "original comedic segments" with collaborators to be named later.
All things considered, Busy Tonight sounds pretty perfect. There has always been a dearth of women anchors in late-night, and Philipps is the ideal person to help change it. She's a gem of a human being; she's unbelievably funny and intelligent, equal parts dry and effusive, and seemingly really good at being a best friend.
For example: Her IRL best friend is the Academy Award-nominated and Golden Globe-winning actor Michelle Williams. They met on the set of Dawson's Creek and remained close all these years, with Philipps even attending awards shows as Williams' date. And, while Philipps lets her fans in on a lot of details about her life, she rarely speaks about her private BFF to the media, proving that she knows her boundaries and respects other people's choices. All makings of a great person and a great late night talk show host.
It also has to be said that Busy Tonight is such a great name for a show. It both describes the name of the show, explains its purpose, and is the phrase you'll use with friends who want to hang out with you during the four nights a week it will air on E! (It's the Lizardman of TV shows.) The head of development at E! noted in the press release that the network is really excited to have Philipps aboard, saying that "her willingness to give [the] audience an insider's view to her life as a celebrity tastemaker and working mom" would certainly be a hit with audiences. With Philipps, it seems, the possibilities are literally endless.
By the time the show rolls around, your mom might just know her as the lady on the cover of the next book club book. In addition to being an actor, producer, writer, and social media genius, Philipps is an adorable parent and, as of this year, an author. Her book This Will Only Hurt A Little is also set to be released in October 2018, and is a blend of memoir and essays on her life in the entertainment industry. Plus, she's worked with some of the best in the business.
As sad as it is that fans still have a few months to wait before they get to tune in to Busy Tonight, they can always get their Busy Philipps fill on Twitter and Instagram, and who knows? Maybe she'll drop hints about Busy Tonight along the way.