Everything You Need To Know To Get Your Tickets For 'Cursed Child' On Broadway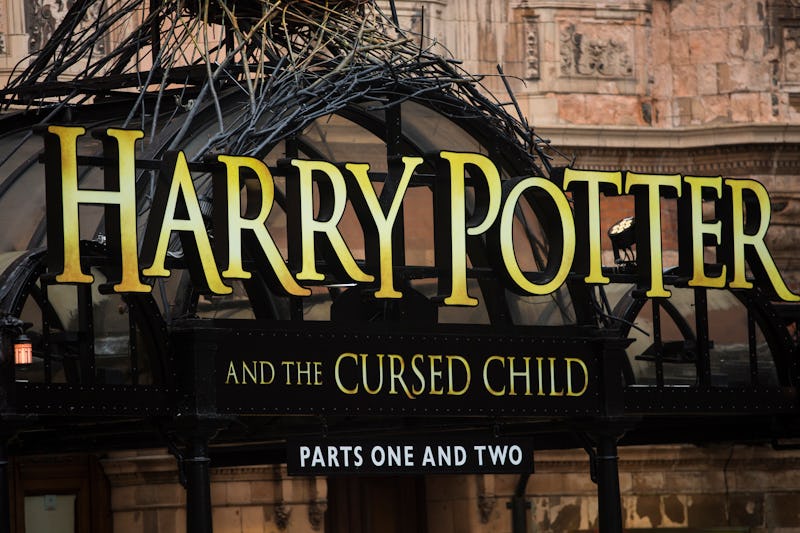 Jack Taylor/Getty Images News/Getty Images
It's not unusual to see Harry Potter fans divided on something to do with the series. Whether it's fan theories, ships, or Rowling's plethora of post-series information, Potterheads have long discussed, debated and downright disagreed on many aspects of the wizarding world. But it was the release of Harry Potter and the Cursed Child on the West End stage and in print form that caused the biggest uproar. It seemed there were three different kinds of strong responses to the news: excitement, anger, and indifference. Now that Cursed Child is coming to Broadway, that argument will be making its way to the States. Count your lucky stars, Potterheads, because tickets officially go on sale Oct. 18, and a Ticketmaster hack will help you get your hands on one.
That's right, it's nearly time to experience the show for yourself — if you're lucky enough to snag tickets that is. The Cursed Child's Broadway show will run at the Lyric Theatre, which has been undergoing renovations specifically to house the production, which will launch previews in March 2018 and premiere in April.
And, according to Gothamist, Ticketmaster is working hard to ensure that more fans than bots have tickets in their hands. In order to snag first-release tickets, theater-goers are encouraged to sign up to their new Ticketmaster Verified Fan program starting Sunday, Sept. 31 at 10 a.m. and closing Thursday, Oct. 5 at 10 p.m. Once you're registered, Ticketmaster will send you a code that will allow you to purchase tickets when the window opens.
The West End play and its cast have received nothing but stellar reviews, making people who only read the play (and, like me, felt it was nothing more than some mainstream fan-fiction we really didn't need) wonder whether watching it would impart the magical experience J.K. Rowling, John Tiffany and Jack Thorne has intended. And for anyone planning to attend the Broadway version of the play (with seven members of the original cast in tow) it's time to really start getting excited.
The play will run in two parts, as it did on the West End, and it is recommended that you either attend on the same day (for a matinee and an evening performance), or on two consecutive nights. Of course, you can see the play in non-consecutive performances, too. Tickets run from either $20 through $199. So start saving those galleons, fellow Potterheads, and get registered on Ticketmaster here.