Caila From 'The Bachelor' Is Being Way Over-The-Top With Her New BF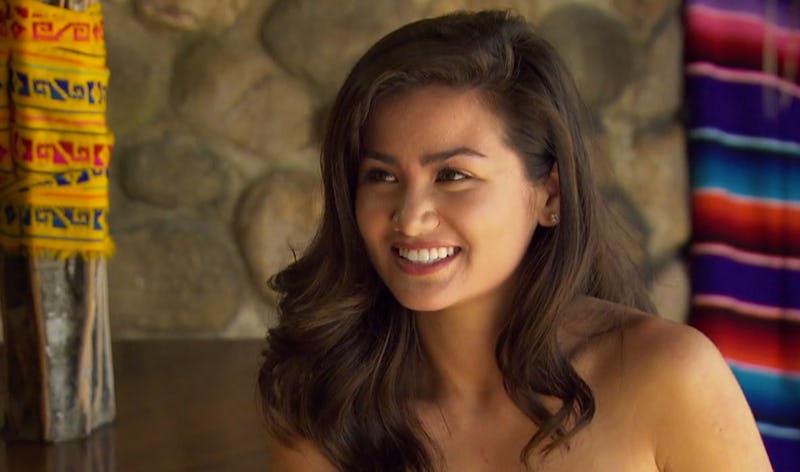 ABC
After looking for love on the Bachelor franchise, first on Ben Higgins' season of The Bachelor and then on Bachelor in Paradise, Caila Quinn has found love in the real world. Fans got to know her during her time on-screen, but they now might be wondering who Caila Quinn's new boyfriend is since this relationship was not formed in front of the reality TV cameras. In a recent interview with Entertainment Tonight, Quinn gushed over her new beau and gave some details about how they met, what her parents think about him, and what she finds most attractive about him.
When asked about meeting Burrello for the first time, Quinn said their connection was "instant" and described him as "driven, goofy, adventurous and passionate."
"He entered the New York City bar after I just finished up with a Fashion Week event, and that was it," Quinn shared. "I was hooked. It's actually really cute. He says it all the time but, 'When you know, you know.'"
According to the Chicago Tribune, Burrello is a native of Glen Ellyn, Illinois where he was a star running back at Glenbard West High School. After graduating in 2011, he continued his football career at Harvard University. According to Burrello's LinkedIn profile, he graduated from the Ivy League school in 2016 with a degree in Government and a secondary degree in Economics. He currently works as an Analyst with LCN Capital Partners in New York City, according to his page.
Even though they have only been seeing each other for a few weeks, the couple has already passed a big dating milestone: meeting the parents. In an adorable Instagram post on Monday, Quinn shared a sweet photo of herself and Burrello kissing underneath a movie theater sign with the caption, "Now Playing in a theater near you #NickMeetsThe Parents." Accompanying the picture was a video of the Burrello's surprised reaction to seeing the sign Caila set up.
Reinforcing what the theater sign says, Quinn told ET that Burrello meeting her parents went "so well."
"They absolutely love him," Quinn said. "They even mentioned they've never seen someone make me this happy."
Quinn called Burrello "literally the sweetest human in the world" and said that his connection with his family is one of the most attractive things about him, adding that he is "a big family man." The 25-year-old lifestyle blogger continued to gush about her new man saying that he makes her smile nonstop and "he has the charismatic and caring presence that makes everyone at the party feel welcome."
After coming in third place on Higgins' season of The Bachelor, Quinn was a frontrunner to be the next bachelorette, but the job ultimately ended up going to runner-up JoJo Fletcher. Quinn then dove back into Bachelor Nation and tried her luck on Bachelor in Paradise but her second attempt to find love was unsuccessful and she left on her own during week five of the show. When talking with ET, Quinn called dating outside of Bachelor Nation "refreshing," but she remains thankful for her time in the franchise. Her run on the two shows helped lead her to the career she is in now and set her on a path that led her to meeting Burrello.
"The girlfriend that set us up is a blogger, and if I didn't go on the show and change career paths, I would have never met her," Quinn explained. "She might have never introduced me to this amazing man. Everything happens for a reason."
According to a tweet from Quinn on Wednesday, the fellow blogger that set up the pair was Olivia Rink.
The cute new couple seem to be hitting it off, but Quinn says that she isn't trying to rush things. "It's a little too soon for the next step talk," Quinn told ET. "But I am definitely smitten and enjoying all the little firsts we're having together."
According to Quinn's "About" page on her blog, withlovecaila.com, she is a "single 20-something living in New York City" but it's looking like she will have to update her page pretty soon. Fans of Quinn followed along with her on her journey to find love while she was on The Bachelor and BiP, and were heartbroken when her quest for love was unsuccessful, but, judging by Quinn's outspoken praise of her new boyfriend, #TeamCaila now has a reason to celebrate.