Caitlyn Jenner Criticized Trump's Trans Move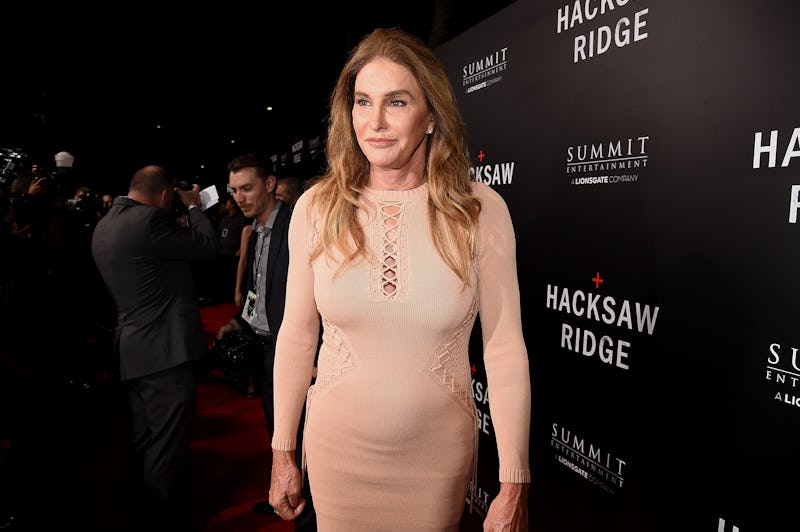 Kevin Winter/Getty Images Entertainment/Getty Images
Via Instagram and Twitter posts, Caitlyn Jenner joined the growing chorus criticizing Trump's transgender policy decision to reverse public school protections for trans students. Jenner spoke directly to President Donald Trump, whose candidacy she controversially supported during the 2016 election — even appearing at the Republican National Convention as "the world's most famous Republican." On Twitter, Jenner wrote, "From one Republican to another, this is a disaster You made a promise to protect the LGBTQ community. Call me."
Even more powerful was the message that Jenner uploaded with her Instagram video, targeted directly towards the trans kids that Trump's policy decision affects:
I have a message for the trans kids of America. You are winning. I know it doesn't feel that way today or every day, but you _ are _ winning. You are going to keep on winning so much you're going to get sick of winning. Very soon, we'll win full freedom nationwide, and it's going to happen with bipartisan support.
She called on supporters to visit the National Center for Transgender Equality website and send their thoughts on to Washington, D.C. There's a petition addressed to Trump, Education Secretary Betsy DeVos, and the acting assistant attorney general in charge of the DOJ Civil Rights Division, Thomas E. Wheeler II. In her Instagram video, Jenner had the same message for Trump, adding, "You can still fix it."
On Twitter, Jenner was able to post a longer version, and she used the time to rail against Attorney General Jeff Sessions. News reports pointed to DeVos being against the change. It was Sessions who was adamant about rolling back the protections that among other things allowed trans students to use the bathroom that corresponds with their gender identity and expression. When DeVos resisted, Sessions went over her head to the White House and got Trump to push her to acquiescing.
Jenner called Sessions out. "I have a message for the bullies," Jenner said. "You're sick. And because you're weak, you pick on kids, you pick on women, or anyone you think is vulnerable. Apparently even becoming the Attorney General isn't enough to cure some people of their insecurities."
Jenner also referenced the upcoming Supreme Court Title IX case and called the plaintiff, Gavin Grimm "brave." He's a transgender teen whose school district will not let him use the boys' restroom despite the Title IX law, which prevents discrimination based on sex in schools that receive public funding. The Obama Administration's Justice Department supported Grimm in the case, but Sessions has also reversed that.
Jenner said, "Mr. President, we'll see you in court." She also wrote on Instagram that the case is "proof that you can't stop our progress." How the case will go, however, is now a bit of a mystery, because Grimm's win at the Appeals Court was based on the Obama Administration policy. Both sides have been asked to submit briefs to the court by Wednesday regarding how the case should proceed.
There is always the chance that Trump could change his mind. During the campaign, he separated himself from the bathroom issue and seemed to support letting transgender Americans use the bathroom they prefer. And now his Inauguration singer Jackie Evancho also asked to speak with the president on the issue. Her sister is transgender. White House Press Secretary Sean Spicer said Trump would welcome such a meeting.
Perhaps Jenner can go too, and Trump can reverse this dangerous and harmful decision.