Caitlyn Jenner Congratulated Kylie On Her Baby With An Adorable Throwback Pic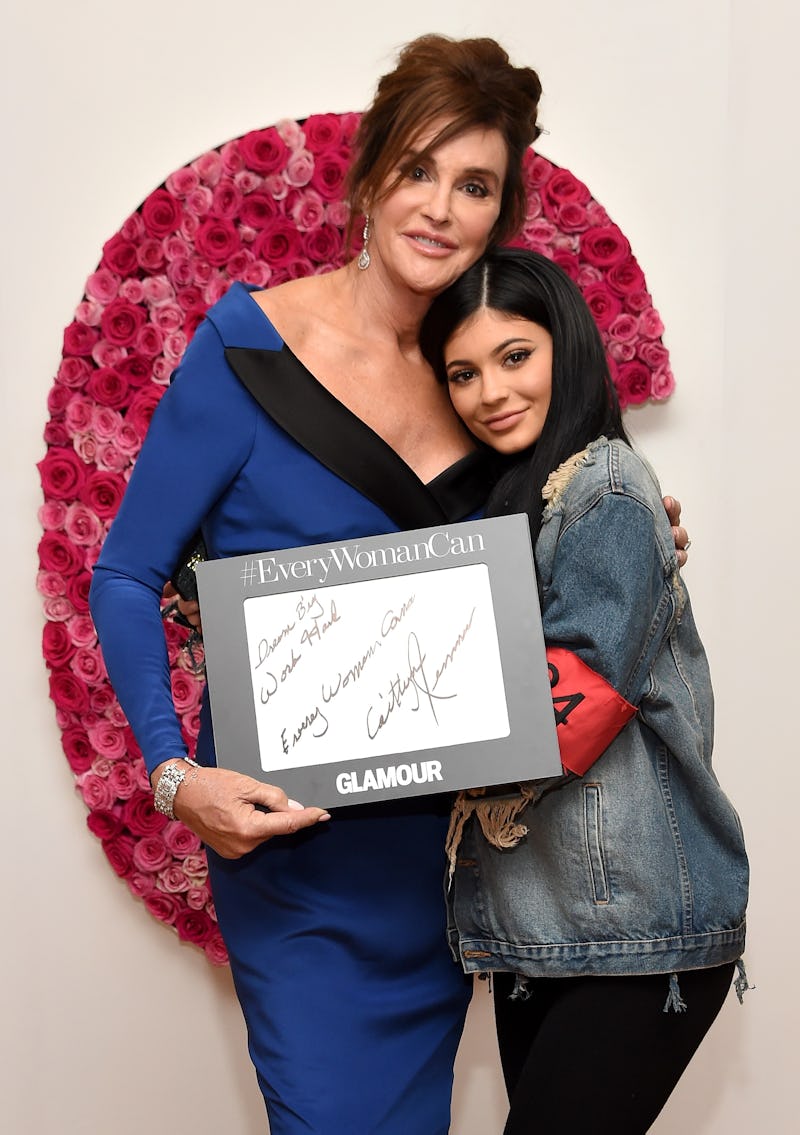 Nicholas Hunt/Getty Images Entertainment/Getty Images
It's only been a few days since Kylie Jenner announced to the world that she gave birth to a baby girl last Thursday, and now, her friends and family are finally able to celebrate the news publicly. On Monday, Caitlyn Jenner congratulated Kylie on her baby, and not only did her post include a very sweet message to her daughter, but it also featured the cutest baby photo of Kylie herself.
On Sunday, following months of silence, Kylie finally revealed that not only were the rumors about her pregnancy true, but she'd also already welcomed a healthy baby girl on February 1. Now that it's safe for her family and friends to speak publicly about her daughter, it's really nice to hear how excited they are about such an important time in Kylie's life. It's still kind of surreal to imagine Kylie with a baby, but posts like Caitlyn's make it so real.
"My daughter just had a daughter," Caitlyn wrote in her post. "It's amazing to be by your side through this journey. She's SO beautiful already. Can't wait to watch her grow." She ended the caption, "Throwback to my baby, as a baby."
In the photo, baby Kylie seems to have food all over her face, and honestly, that just makes her even more adorable.
So far, Kylie hasn't released any photos of her little one (or shared her name), but it'll be fun to compare this and other pictures of Kylie as a baby to her own daughter when those photos finally do surface. Knowing how strong those Kardashian-Jenner genes seem to be, it wouldn't be surprising at all if the new baby ended up being Kylie's mini-me. Just look at that hair and those eyelashes!
Considering the strained relationship between Caitlyn and the rest of the family over the last couple of years, it's really good to hear that she seems to have been kept in the loop about Kylie's pregnancy. Anyone who's watched Keeping Up With The Kardashians knows that Caitlyn has always been a huge part of Kylie's life, so it's going to be interesting to see that relationship grow now that there's a new member of their family.
Caitlyn hasn't been the only member of the family to congratulate Kylie on social media so far. On Sunday, Khloé Kardashian shared a photo of herself and Kylie, showing off their bumps side by side. Since something fans seriously missed out on while Kylie kept her pregnancy private was seeing her and her sister pregnant together, this photo was a really nice way to make up for that — not to mention the fact that it was just really cute in general.
It's hard to say if Kylie's going to keep up her current life of privacy, but if not, there's a good chance these kind of posts will become more and more common... and hopefully, they'll include plenty of photos of Kylie's baby hanging out with her aunts, uncle, and millions of cousins. Eventually, she and Kim Kardashian's new daughter Chicago — who will be exactly the same age as they grow up together — are going to have to join Penelope and North's girl gang, and the world should not be deprived of that kind of adorableness.
Now, all we have to do is wait for the day we inevitably get to meet Kylie's daughter... and ideally, find out her name. Maybe Caitlyn will be the first to share a photo with or of her granddaughter? Any day could be the day, everyone.