Kris & Caitlyn Jenner Will Probably Never Speak Again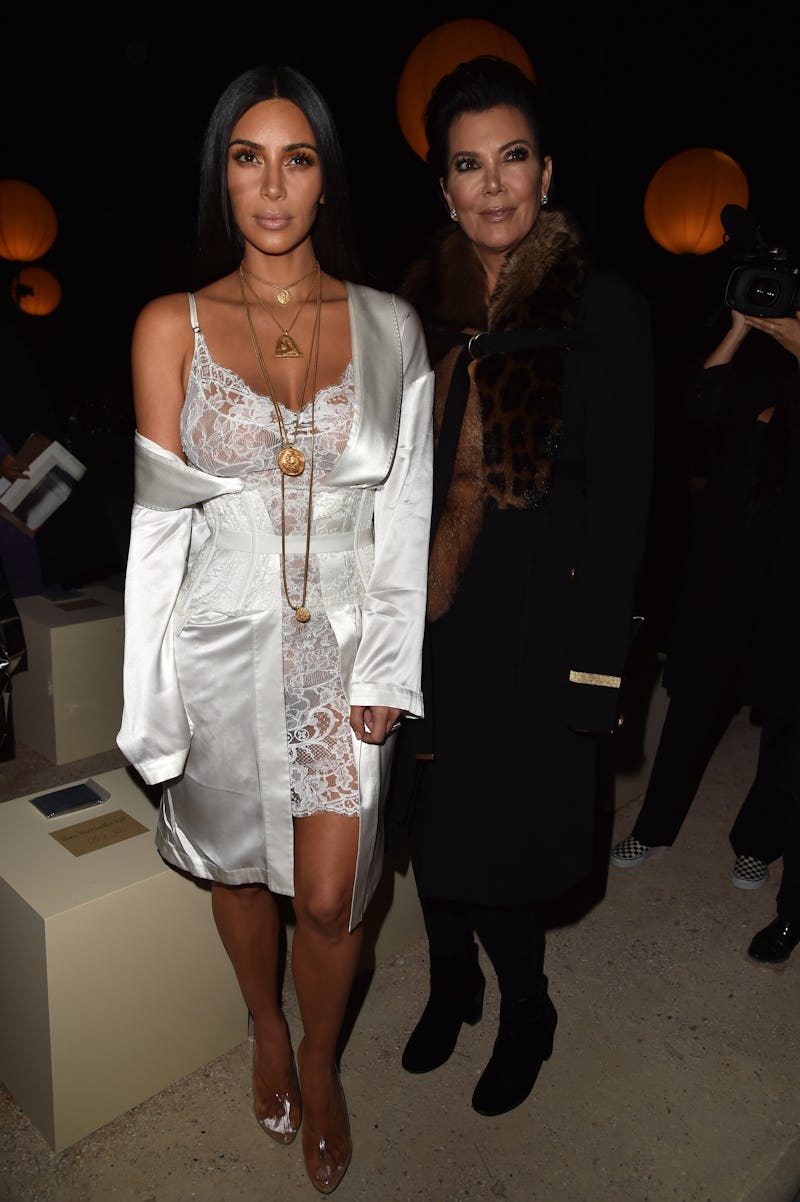 Pascal Le Segretain/Getty Images Entertainment/Getty Images
If you've been watching Keeping Up With The Kardashians over the past couple of seasons, you already know that things have been rocky between Caitlyn Jenner and Kris Jenner since Caitlyn came out as transgender in 2015. And now, it sounds like their relationship might have reached the point of no return. On Sunday night, Kim Kardashian admitted her mom will probably never speak to Caitlyn again, and it's heartbreaking that their relationship has come to this after everything they've experienced together.
Kardashian opened up about Kris and Caitlyn while talking to Andy Cohen during an appearance on Watch What Happens Live. Even though their relationship was hanging by a thread before, Caitlyn's book, Secrets of My Life, seems to have been the final nail in the coffin for Kris. This doesn't exactly come as a shock, since Kris has been open about how much the book hurt her on KUWTK, but she had always seemed like she wanted a friendship to exist between them.
"Zero. No, one. No, I would say two percent," Kim told Cohen when he asked the chances that Caitlyn and Kris would ever speak again, according to People. "And those are Kendall and Kylie. That's their percentage. All fair, I think."
Obviously, it's not practical to imagine that Kris and Caitlyn will never speak again; the fact that they share children makes that impossible. But Kim's words are a testament to how hurt Kris must be over everything Caitlyn has said about her and their marriage since coming out. It's hard to say what the real story is — Caitlyn claims that Kris knew all along that she is transgender, while Kris says she was totally blindsided. Either way, the friction between them has done a lot of damage.
The last time they interacted on KUWTK, Kris and Caitlyn tried to find a way to come together over wine and massages. It seemed like they might be able to salvage their friendship at the time, but since her book was released, it seems like that ship has officially sailed — and this season, Caitlyn has struggled with her relationship with Khloé, too.
As someone who's watched the show from the beginning, it's sad to see the way things have changed between the otherwise close knit family. It has seemed like the entire family has been so supportive of Caitlyn's transition, but now, the bond between her and the Kardashian women may have been broken forever.
I don't blame Kris one bit for feeling the way that she does, but I'm still holding out hope that one day, they can find a way to be in each other's lives — at least so that they can be civil to each other when they have to be in the same place. This has to be really difficult for Kendall and Kylie, too, even though they're technically adults now. It's never fun to see parents feuding, especially when they're two people they clearly love so much.