Camila Cabello Still Gets Nervous When Her Boyfriend Watches Her Perform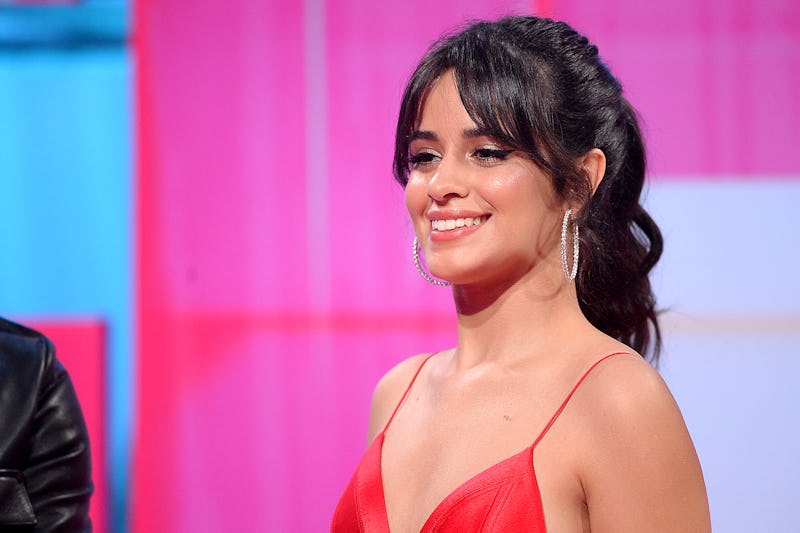 Dave J Hogan/Getty Images Entertainment/Getty Images
Half of her heart might be in Havana, but the other half is being held by a very special someone. During a recent interview with Marie Claire, Camila Cabello opened up about her boyfriend, Matthew Hussey, and the singer made it perfectly clear that he has her heart.
Cabello and Hussey were first rumored to be dating back in February, when they were snapped getting cozy on the beach in Cabo San Lucas, Mexico. Up until now, they've both been pretty tight-lipped about their relationship. OK, "tight-lipped" is an understatement — Cabello's interview with Marie Claire marked the first time she's ever even named him or spoken about their relationship in public.
The 21-year-old star admitted to the publication that she and Hussey — an established dating coach and love life columnist for Cosmopolitan — have been together for "kind of a like a long time." How long exactly? That's not really clear, but it's been long enough for her to finally feel comfortable gushing about her beau.
In regards to Hussey, Cabello told Marie Claire,
"He's so similar to me. In person, we're just weird and silly and stupid together. He makes me the happiest I've ever been in my life."
Aww. How cute is that? Good for you, girl. It sounds like she can really and truly be herself around Hussey. Well, except for when she's performing and he's in the audience.
"Any time he's there, I get super nervous," she revealed to the publication. "I stutter or my hands are shaky. It's annoying, because we've been together for kind of like a long time now, but every time, I'm like, 'Oh my God, I have to talk now.'"
OK, that's pretty endearing. It basically seems like she's saying that he still gives her butterflies. And actually, based on how Cabello described her on and off-stage personas, she's exactly herself when he's in the audience. Her in real life self — not her performance persona.
"Basically, there's the me that I really am, on the inside," she told Marie Claire, "which is the nerdy one — the kind of introverted, shy one — and then there's the sexy, overly confident one," she continued, "doing great dance moves and being super sassy."
Cabello's introverted nature is likely one of the reasons why she's chosen to keep her relationship with Hussey under wraps until now. Back in March — shortly after the couple was snapped together in Cabo — Cabello appeared on The Dan Wootton Interview (as per E! News) and discussed the downside of dating when you're famous.
When the host asked her about the status of her love life, the singer replied, "As far as that, I have always been such a private person and the one thing that has been, I think, the hardest thing about this industry has been letting go of that privacy," she confessed.
Cabello then went on to admit,
"'Cause I feel like, for my sanity and for the sanity of the people I care about, you gotta keep some things sacred. I need to keep some things mine for them to be special — and just to protect that. But yeah, to answer your question, I'm really happy."
Well, now the world knows that Hussey is her boyfriend. Based on the way she opened up about their relationship, though, it doesn't seem like it's going to make things any less special.