Twitter Can't Stop Talking About Camila Cabello's Reaction To Her VMAs Loss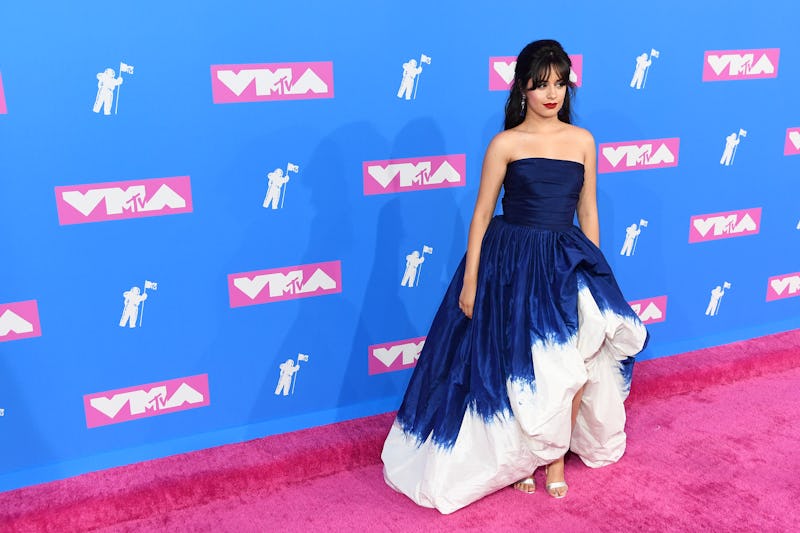 Nicholas Hunt/Getty Images Entertainment/Getty Images
Camila Cabello provided some of the best audience reactions during the 2018 VMAs, at which she snagged nominations for five awards. Twitter can't stop talking about Camila Cabello's reactions during the 2018 VMAs, whether the camera captured her dancing along with the performers, or reacting to the losing Song of the Year trophy. Early on in Monday night's VMAs, all eyes were on Cabello after Tiffany Haddish made a joke about Cabello's former group, Fifth Harmony. Well, that was after Haddish made a joke about not being able to pronounce the "Havanna" singer's last name.
"Camila Cabellelo... Cabello... Camille Cabello," Haddish joked while presenting the award for Best Hip Hop Music Video alongside Kevin Hart. The Girls Trip star quickly joked about her own mispronunciation, saying, "You know I can't read that good. I only speak English, and that's mostly in Ebonics. She's nominated for five VMAs tonight. I'm super proud of her!" While the camera panned to Cabello in the audience, the former Fifth Harmony member reacted perfectly, which was by showing genuine surprise. It turned out that most of Cabello's reactions throughout the night managed to delight everyone watching the awards show from home, even when the singer reacted to losing a huge category.
As Haddish announced while presenting early on in the show, Cabello received five nominations at the 2018 VMAs, which included Video, Artist, and Song of the Year along with Best Pop Video and Best Choreography for "Havana." Even though Cabello lost Song of the Year and Best Pop Video, the singer later won the award for Artist of the Year. As you can imagine, the "Havana" singer's fans couldn't contain their excitement on Twitter — her triumph was enough to prompt some of them to post a happy dance like the ones Cabello performed from her seat at the VMAs.
When she accepted her award, Cabello thanked her fans and acknowledged that awards are always unpredictable. "I'm fully aware that you never know when you're gonna get a moment like this again," Cabello said. Then she called her relationship to her friends "a forever thing," in a heartfelt moment. Of course, Cabello followed standard awards protocol by acknowledging the other nominees in the category, but she made sure to specifically shout out the women who were also nominated for Artist of the Year at the 2018 VMAs, Ariana Grande — who Cabello called her wife — and Cardi B., plus she gave a special shout-out to Nicki Minaj.
As if winning wasn't enough, Cabello continued on to have the best VMAs ever by dancing her heart out, along with her mom, during Maluma's performance.
As fun as it might sound to actually attend the VMAs in person, it's also a blast to watch from home so you can rewatch the best audience-cam moments over and over again. Thankfully, Cabello provided all VMA viewers with some of the best gif material of the night, whether she was winning, losing, or simply dancing with her mom like a true queen.