Camila Cabello Just Shared Why She Left 5H & It's A Lesson In Putting Yourself First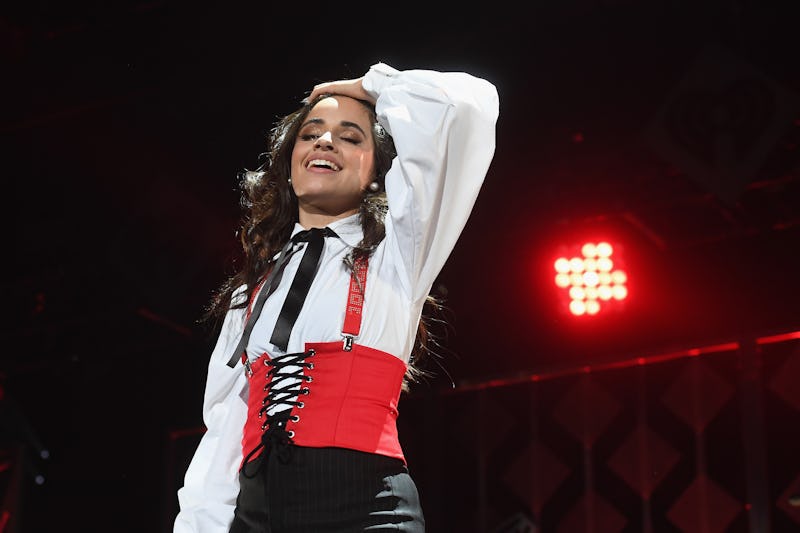 Paras Griffin/Getty Images Entertainment/Getty Images
A little over a year since singer Camila Cabello decided to leave Fifth Harmony, fans are finally getting more clarity behind her reason for doing so. Cabello recently sat down with the New York Times to set the record straight about her seemingly sudden departure, once and for all, and it has everything to do with putting herself first.
In December 2016, Fifth Harmony released a statement claiming that they found out about Cabello's departure via her representatives. Within the statement, the group explained that while they wish Cabello the best, the four remaining members fully intended to carry the Fifth Harmony torch. In response, the Florida native shared a personal message debunking some of their claims and insisting that the group knew all about her plans to have a solo career. At the time, Cabello said going solo eventually was always on her radar, but she wanted to work with Fifth Harmony throughout (you know, just as Beyoncé has done with Destiny's Child). Given the conflicting statements, fans were left wanting more details.
In the new Times interview, Cabello explained that while she loved working Fifth Harmony, she also loved collaborating with other artists. She said,
"I was just curious and I wanted to learn and I saw all these people around me making music, writing songs and being so free. It became clear that it was not possible to do solo stuff and be in the group at the same time."
Apparently, her 2015 collaboration with Shawn Mendes, along with writing sessions with well-known producers such as Diplo, caused some tension in the group. This ultimately left Cabello in a tough position. Should she put pursuing her solo aspirations on the back burner to keep the peace with her bandmates? Or should she remove herself from the group altogether and go for her dreams full-throttle? She ultimately chose the latter, and honestly, who could blame her? Her decision to leave was purely selfish, but being selfish isn't necessarily a bad thing — especially when your true happiness is at stake.
Still, she did mention that Fifth Harmony's 2017 VMA performance, which some interpreted as a diss to Cabello, felt a bit "petty." She told the Times,
"It definitely hurt my feelings. I wasn't expecting it, I wasn't prepared for it — especially because at that point I'd moved on from it. I was just like, 'What? Why?' I have to make space for the good stuff to happen in my life. I don't like holding onto the past, especially when it's stuff that, in my opinion, is just petty."
Cabello is passionate about music, and like her other bandmates mentioned previously, she always intended to pursue a solo career eventually. Her timing may not have been conducive to Fifth Harmony's future plans, but it was what was right for her. To say that she didn't owe it to herself to continue following her dreams in that moment would be bonkers, because had she not done the same prior — auditioning for The X-Factor in the first place — she wouldn't have been a part of Fifth Harmony at all.
Those who have a dream, or are passionate about something, know that it's almost impossible to shut off the burning desire to see it through. Sure, fans of Fifth Harmony may still hold some resentment regarding her decision to leave the band, but Cabello's risky move panning out to be a great decision. Not to mention, her single "Havana" is currently sitting at No. 2 on the Billboard charts.
Cabello's recent interview added some much-needed context to the Fifth Harmony story, and it's nice to hear more of her perspective on why she decided to part ways. Fifth Harmony was an amazing achievement, and though the band members may not be too pleased with her decision, the 20-year-old still speaks highly of her experience with the group. For Cabello, however, her passion for music led her in another direction, and that has to be respected.
Leaving a comfortable position took a lot of guts on Cabello's part, and hopefully her following her dreams will inspire others to put themselves first and step out in faith, too.