'Riverdale's Camila Mendes Opened Up About Battling Bulimia In A Candid New Interview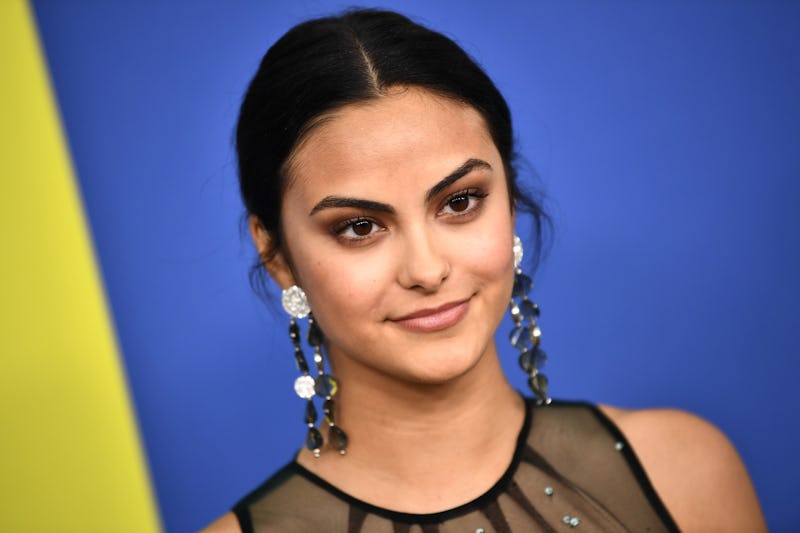 Dimitrios Kambouris/Getty Images Entertainment/Getty Images
When celebrities get all glammed up to walk red carpets, or do flawless-looking photoshoots in magazines, their often mega-watt smiles make it hard to imagine that their lives are anything less than perfect. Of course, no one's life is ever perfect — and Camila Mendes' comments about struggling with bulimia, in the new issue of Shape, prove that celebrities can have battles with body image too.
As one of the stars of the CW's hit teen drama Riverdale, Mendes (who plays Veronica Lodge) got super famous, super fast. The show first aired in January 2017, and is already in its third season. The fan fervor for Mendes and her co-stars has reached an almost cult-like status, and it's inspired the 24-year-old actor to use her ever-growing platform for good.
One of the topics that Mendes has been the most candid about in interviews is body positivity. She and her costar Lili Reinhart have both talked a lot about learning to love themselves in recent months. During a recent conversation with Shape, though, Mendes opened up about her struggles with an eating disorder, and how difficult it was for her to accept the body she's in — especially as an on-the-rise actor.
"I've struggled with bulimia," the star revealed. "It happened a little bit in high school and again when I was in college. Then it came back when I started working in this industry with fittings all the time and watching myself on camera."
In discussing her life-long issues with dieting, Mendes continued,
"I had such an emotional relationship with food and anxiety about everything I put into my body. I was so scared of carbs that I wouldn't let myself eat bread or rice ever. I'd go a week without eating them, then I would binge on them, and that would make me want to purge ... I was always punishing myself ... I was consumed with the details of what I was eating, and I always felt as if I was doing something wrong."
Mendes eventually came to the realization that she needed some help. She started to speaking with both a therapist and a nutritionist, revealing that the ladder of which completely changed her yo-yo dieting mentality. "So much of the anxiety I had about food went away when I started learning more about nutrition," she told Shape. The nutritionist also "cured my fear of carbs," she said, and "cured my addiction to dieting. I was always on some kind of weird diet, but I haven't been on one since. I'm very proud of myself."
Back in March, Mendes and Reinhart were shocked to learn their bodies appeared photoshopped on the cover of Cosmopolitan Philippines. Not only did the altered photo promote an unrealistic image to thousands of fans, but it negated the self-love that both of the Riverdale stars had worked so hard to achieve.
Mendes addressed the cover via a statement on her Instagram Story, writing,
"@lilireinhart and I feel disrespected and disturbed by the sight of our photoshopped bodies in @cosmopolitan_philippines. We want their readers to know that those bodies are not ours; they have been distorted from their natural beauty. We prefer to see our bodies as they actually are. I'm not interested in having a slimmer waist, I'm more than satisified with the one that I already have."
Mendes isn't just using her voice to combat unrealistic body image issues, though. She's started to work with Project HEAL, a non-profit that works "to raise money for others suffering with eating disorders who want to recover but are unable to afford treatment," according to the organization's website.
"As actors, yes, we bring joy to people. But for me, it's also about what I'm doing for the world, what I'm contributing on a larger scale," Mendes told Shape of joining forces with HEAL.
You only get one body, so you might as well love the one you're in, right? Easier said than done, of course, but it's nice to know that you're not the only one struggling with self love — even celebrities like Mendes are still working on it, too.
If you or someone you know has an eating disorder and needs help, call the National Eating Disorders Association helpline at 1-800-931-2237, text 741741, or chat online with a Helpline volunteer here.