Camilla Luddington Declares She's #TeamJo After Alex's Last 'Grey's' Episode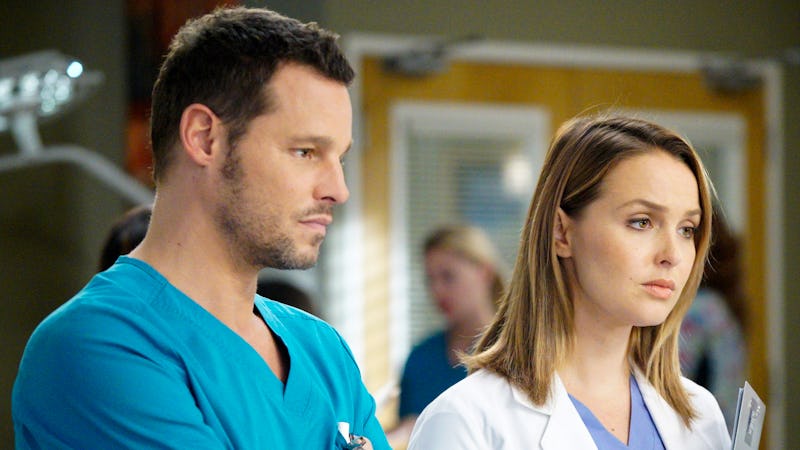 Jennifer Clasen/Walt Disney Television/Getty Images
This article contains spoilers for Season 16, Episode 16 of Grey's Anatomy. After months of speculation, the mystery of Alex Karev's abrupt exit from Grey Sloan Memorial has finally been solved, and the cast and crew are slowly reacting to his final storyline. The morning after his final episode aired on March 5, Camilla Luddington reacted to Alex's Grey's Anatomy exit with a tweet focusing on her own, fan-favorite character.
Despite the fact that Luddington's character, Jo Wilson, thought that her husband was visiting his mother in Iowa, the most recent episode of the medical drama, "Leave the Light On," revealed that Alex (Justin Chambers) was actually living in Kansas with Izzie Stevens (Katharine Heigl) and their two (surprise) children. The controversial ending left Grey's fans torn between remembering Izzie and their loyalty to Jo, but Luddington shared her feelings on the way Alex's storyline wrapped up with a short and to the point message on Friday.
"Jo's my hero too," the actor wrote on Twitter, along with a red heart emoji. The tweet is a reference to Jo's reaction to the news that her husband had left her for a new family, by keeping her head up and carrying on with her job. "You're my hero," Link (Chris Carmack) told her near the end of the episode, to which Jo replied, "Mine too."
The episode tied Alex's development over the past 16 seasons with one of his original storylines — his connection and relationship to Izzie — but many Grey's fans felt upset that Alex so abruptly left Jo, and felt that she deserved better. While Luddington hasn't explicitly comments on Alex's ending or the sudden departure of Justin Chambers back in January, her tweet does imply that she, also, wishes that Jo got a more meaningful goodbye than the one shown in the episode.
Of course, as show runner Krista Vernoff explained in a Twitter post of her own, it's incredibly difficult to think of any ending that would do one of Grey's Anatomy's most iconic characters. "It is nearly impossible to say goodbye to Alex Karev," she wrote, adding that "is as true for me and for all of the writers at Grey's Anatomy as it is for the fans."
Adding that the writers have "loved" writing the character of Alex and watching Chambers' performance over the past decade and a half, Vernoff added that the Grey's family have "grown up alongside" the character. "We have come to love him deeply and to think of him as one of our very best friends," Vernoff continued. "We will miss him terribly. And we will always be grateful for his impact, on our show, on our hearts, on our fans, on the world."
In January, Chambers announced that he had decided to leave Grey's Anatomy after 15 years in order to "diversify" his roles and career choices. At the time, the news was particularly shocking because, as TVLine and The Hollywood Reporter wrote at the time, his final episode had already aired back in November, without anyone knowing that it would be the last time they saw Alex onscreen.
Though the outlets reported that the show wasn't planning to give him a big sendoff episode, the Grey's team ultimately managed to honor Alex with a highlight reel of some of his most memorable moments in the final minutes of the episode. Alex's story may not have ended the way that fans — or Jo — expected, but it did ultimately bring his 15 years on Grey's Anatomy full circle.