How 'Sharp Objects' Forces You To Face The Ugly Effects Of Trauma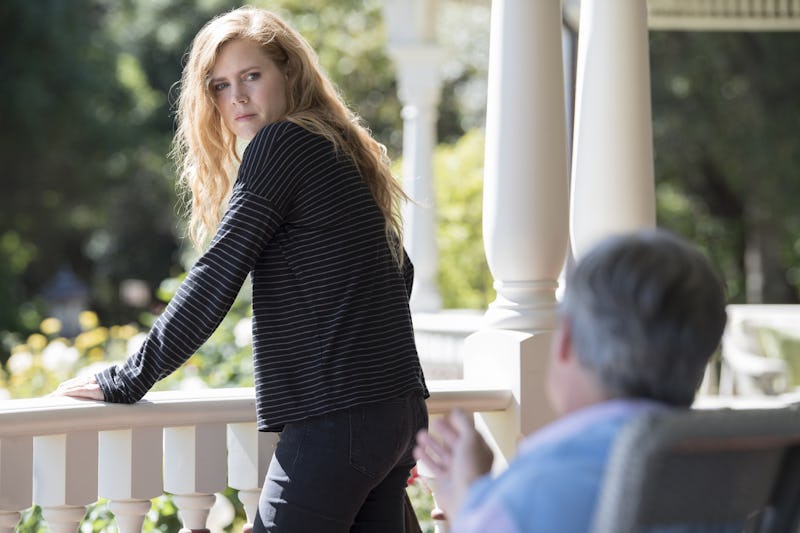 Anne Marie Fox/HBO
With the HBO miniseries Sharp Objects, premiering July 8, Amy Adams delves into darker territory than she perhaps ever has before — not just in terms the crime drama's plot, but in regards to the physical appearance of her character, Camille Preaker. Mild spoilers ahead for the miniseries and the novel. Though they might be difficult for viewers to see, Camille's scars in Sharp Objects play an important role in her story. They're significant both in the HBO miniseries and the Gillian Flynn book of the same name on which it's based.
Warning: This article contains information about self-harm and cutting, which some may find triggering.
The shocking markings that consume nearly the journalist's entire body — all words and phrases that she's carved there over the years — not only offer a depiction of self-harm that might resonate with those who have experienced similar struggles themselves, but they also mirror the other things Camille is covering up from the world around her. As the miniseries unfolds, audiences observe her always-rattled relationship with her mother, the pain that lingers from traumatic childhood events, and the fact that she never quite felt like she belonged in her own family. All of these factors contribute to the pain she's felt throughout her life.
In her hometown to investigate two child murders, Camille presents herself as a fairly old-school reporter who just wants to get the job done, never getting too close to her subjects or too emotional about her stories. She nurses some problematic alcoholic tendencies, doesn't let anybody know her too well, and balks at the possibility of going back home to visit her family. She's not the type to wear her heart on her sleeve, despite the obvious emotional and physical scars that linger just behind that thin barrier of clothing.
The book by Flynn (who also co-wrote the TV adaptation) offers insight into why exactly Camille chooses to cut seemingly random words into her body, though it isn't a reason that Camille herself seems to understand all that fully. "All I know is that the cutting made me feel safe," Camille states as narrator of the novel. "It was proof. Thoughts and words, captured where I could see them and track them. The truth, stinging, on my skin, in a freakish shorthand."
In an interview with The Hollywood Reporter, Flynn herself noted that Camille's scars signal a desire to put her pain on display, if only for the purpose of someone finally understanding it. "The reason I wrote about the scars, about Camille writing on her skin, was because I felt that [misery] of, like, 'Why can't anyone see how much pain I'm in?'" Flynn told the outlet. "I wished I could bear witness somehow. I had these fantasies of being mangled — of showing how much pain I was in."
The notion of "proof" Camille mentions in the book is also interesting given her occupation — as a reporter, she always aims to get the cold, hard facts. It's also telling considering what readers of the book already know — that there's much more to Camille's troubled childhood than she initially thinks, and that she's been lied to about plenty of the trauma surrounding her family. Perhaps on some level, she always knew she needed a measure of proof in her life in some way.
Adams has spoken about the jarring nature of the scars, especially in terms of how shocking it was to see them on her own body, and how vulnerable she felt as they were added. The New York Times reported that adding the prosthetic scars to the actor took three to four hours and needed to be done each morning of her 90-day shoot, so it was no small task.
Because she said she doesn't tend to examine her body in the mirror, Adams didn't fully understand the scope of the prosthetics until her husband took a photo of her, she told Time magazine. "There was definitely an emotional component to putting on the scars in terms of seeing the damage that [Camille] had done to her body," Adams said in the same THR piece.
Flynn also told Time that the stories of Camille's past and the darkness around her in the present are essential ones to tell, and they haven't traditionally been given the proper attention. "Books about how female violence is passed down from generation to generation didn't exist [when I wrote Sharp Objects]," the author said. "Books about generations of male violence, those are called Great American Novels."
Though Camille's scars aren't necessarily a huge driver of the plot of Sharp Objects, they serve as a devastating underscore to the pain she's been through, the home life that fostered it, and her hidden desperation for anyone to understand.
If you or someone you know is considering self-harm or experiencing suicidal thoughts, call the National Suicide Prevention Hotline at 1-800-273-8255 or text HOME to the Crisis Text Line at 741741.