Here's How You Can Donate Blood If You're In Las Vegas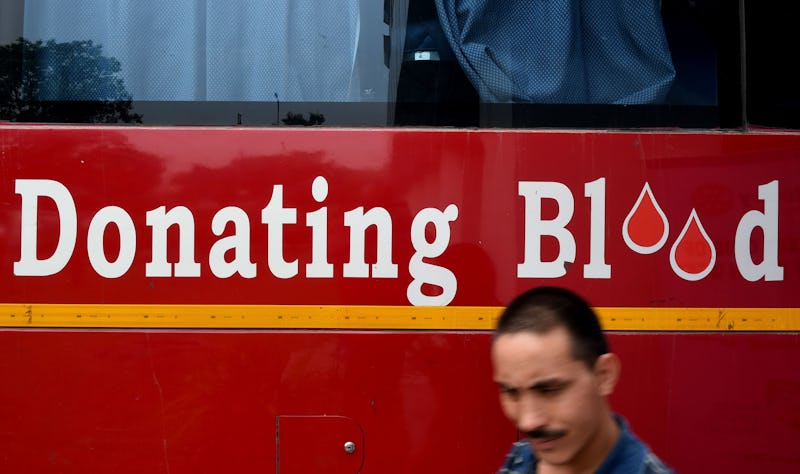 MONEY SHARMA/AFP/Getty Images
On Monday morning, the world woke up to the tragic news that at least 50 people are dead and more than 200 are injured in what has been labeled the deadliest mass shooting in U.S. history. Alleged shooter Stephen Paddock, 64, reportedly opened fire on concertgoers at the Route 91 Harvest Festival on the Las Vegas Strip in Nevada. He did so from the 32nd floor of the Mandalay Bay hotel just after 10 p.m. local time. Paddock was eventually killed and reports suggest that he committed suicide as cops closed in.
While the country mourns and authorities assess the extent of life loss, medical facilities are working tirelessly to save the lives of those who were injured in the shooting and the ensuing stampede out of harm's way.
In the effort to aid survivors, blood banks are in desperate need of donations to replenish the supply of blood in Nevada. Below are locations and pertinent details for both Las Vegas locals and Nevadans statewide who would like donate blood to survivors currently fighting for their lives as a result of this senseless tragedy.
Retweeting the rundown of blood facilities is also helpful in the aftermath of the attack. It is a passive but impactful way for you to do your part and assist in life-saving efforts in the aftermath of the attack.
In addition, here's a list of American Red Cross blood drives in the direct area code of the attacks. To search neighboring area codes, visit here.
Here is another location, as tweeted out by the authorities, which is indicative of the urgency of this need.
While initial reports suggested that 200 people were injured, that toll has been rising in media reports, meaning even more victims will be in need of essential transfusions.
It's worth mentioning that sometimes, citizens are turned away from blood donation facilities because too many people have turned up to donate, especially in the immediate aftermath of a tragedy such as this. If you experience this situation, do not be disappointed or offended. You should check back a few days later, after things have calmed down a little and centers have assessed their supply, to see if more blood is needed. That is especially true if you have a less-common or universal blood type that is highly sought after.
It is also worth noting that some willing people are not able to donate due to medical conditions and other restrictions, such as the controversial MSM blood ban, which prohibits men who have sex with men from donating blood if they have has sexual contact with another man in the last year. If this applies to you, you can still participate in the assistance efforts by volunteering time, supplies, or other resources.
Ultimately, the Las Vegas blood supply will need eventual replenishment regardless, since it's a continuous cycle of usage and replacement. Even if your blood donation doesn't go directly to the Las Vegas victims, there are plenty of other patients in need of blood transfusions that your plasma will directly benefit — that's what makes a blood donation so necessary and valuable.
If you don't live close by and can't physically donate your blood to the Las Vegas victims, you can still do your part by donating money to any reputable survivor fund, hospitals, and other blood organizations in your community.
As this tweet notes, blood banks all over are always in need of donations, not only during times of mass devastation or tragedy. If you are able, perhaps you'll consider donating some plasma in your local area today so that shortages and the lack of an adequate supply of all blood types are reduced.
After all, blood is a vital medical necessity that is often in short supply. Help to eliminate this situation by donating today.
Here are some other ways you can help the victims in Las Vegas.