How To Donate Blood To Las Vegas Victims If You're Not In Nevada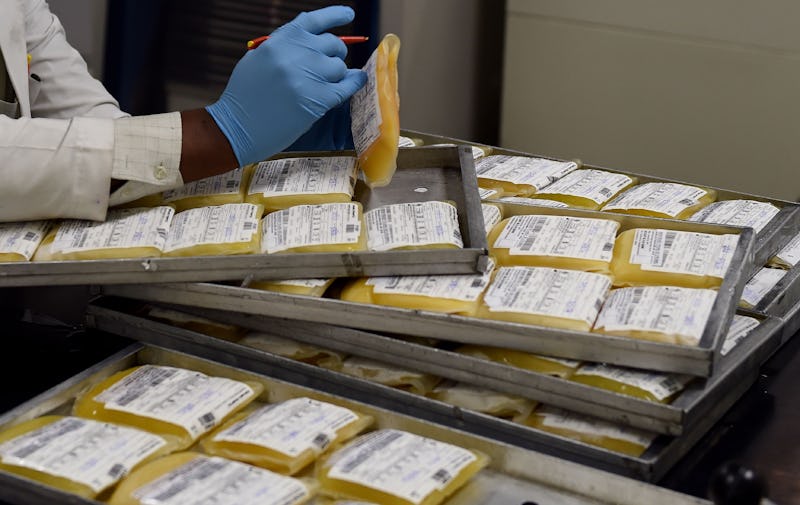 MONEY SHARMA/AFP/Getty Images
In the wake of the horrific events that occurred in Las Vegas, Nevada, on Monday morning — at time of writing, 50 people have been killed, and another 400 injured in the most brutal mass shooting in modern American history — a lot of people are wondering how they can help. Whether you live in Nevada, Alabama, or anywhere in the country, there are ways that you can get involved in the relief effort.
If you're not in the immediate area, you might be asking yourself if you can donate blood to the Las Vegas shooting victims, even if you don't live in Nevada. Thankfully, there are actually a few ways to do it.
After a shooter opened fire on innocent concert-goers at the Route 91 Harvest Festival, local hospitals were filled with hundreds of critical patients who need blood transfusions. And while the local Las Vegas blood banks filled with donations quickly, more blood might be needed and will continue to be needed over the next few days and weeks as medical professionals work to save as many lives as possible.
It might seem like an effort only possible for those local to the scene, but the blood donation nonprofit United Blood Services has been accepting blood donations from a variety of banks for the people who are not able to get to Las Vegas proper, but who also want to donate.
United Blood Services, which has centers in the southern, western, and Midwestern U.S., told Bustle how people outside of the general Nevada area can help. According to organization representatives, once a local branch meets their local needs, they are permitted to send blood to Las Vegas. Thousands of units of blood are currently being transferred from across the country, as a minute-by-minute assessment between Nevada hospitals and blood bank locations stays in touch regarding what's needed.
Currently, according to United Blood Services, the following donations are most dire: O negative, O positive, and platelets. So no matter where you are, and especially if you have an aforementioned blood type, your donation will be greatly valued. United Blood Services was also adamant about the fact that in times of crisis, it doesn't matter which blood bank you donate to. So long as it's reputable, your blood donation will go to good use. The more blood people around the country donate, the better chance we have of keeping the supply balanced.
And of course, a tragic event like this reminds us of the importance of donating blood regularly. With hundreds of mass shootings in 2017 alone, the terrifying statistic makes one thing clear: we can never be too prepared for a crisis. So if you're not in the habit of donating blood, you might want to consider making it a regular part of your life. There's no shortage of people who can benefit from your donation.
A grim article published by Newsweek in August states that at time of writing, there were more mass shootings than days yet in the year 2017; according to the Gun Violence Archive, a mass shooting is defined as an incident in which at least four victims are shot at the same time, and in the same general location, not including the shooter. Early on the same day as the Las Vegas shooting, there was a mass shooting in downtown Lawrence, Kansas, in which a gunman killed three and injured two. And earlier last week, a gunman opened fired in a church in Antioch, Tennessee, killing one and wounding eight. All of this is to say: the country needs your help. Find a blood bank near you and get yourself registered as a donor at your earliest convenience.
Here are some other ways you can help the victims in Las Vegas.