There Won't Be A Live Broadcast Of Bill Cosby's Trial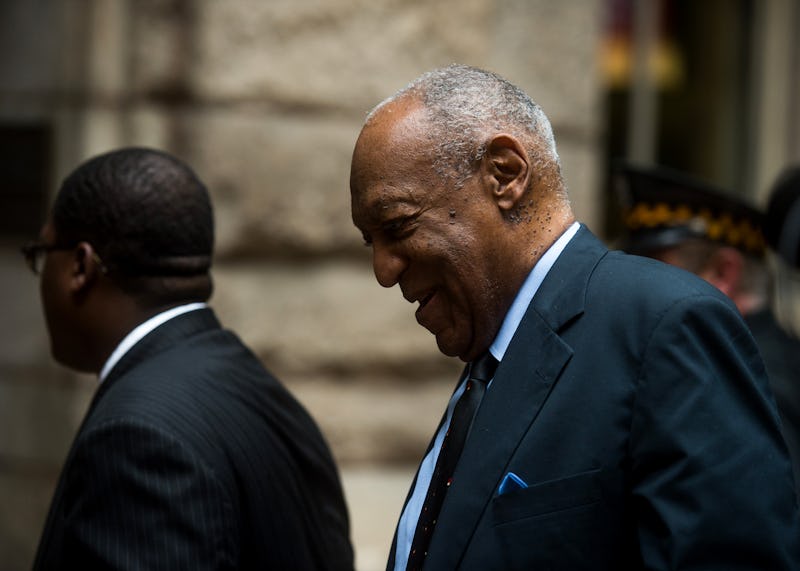 Pool/Getty Images News/Getty Images
After months of waiting, Bill Cosby went to trial on Monday for allegedly drugging and sexually assaulting Andrea Constand. Similar accusations against Cosby (who denies all allegations) from dozens of women have played out in the media over the last few years, and it will at last be heard in a courtroom in Costand's case. But those who want to follow the proceedings in realtime will have a bit of a roadblock as, it turns out, Cosby's trial will not be broadcast live.
According to NPR, Pennsylvania bans still photography and filming in court. However, the judge in Cosby's case, Steven T. O'Neill, has taken it a step farther by requiring reporters to turn off their phones while in the courtroom. That means they have to wait until breaks to file information with their respective news outlets, or even tweet about the proceedings.
Cosby faces three counts of aggravated indecent assault from a 2004 incident in which he allegedly drugged and sexually assaulted Costand, a Temple University employee. She claims that on the night of the incident, Cosby, a Temple alumnus who at the time was Costand's mentor, had invited her to dinner at his home near the university. Constand is expected to testify during the trail; Cosby, however, has said that he will not.
The former TV star has already testified in a civil lawsuit in which he admitted to possessing Qualuudes to give to women he wanted to have sex with. He also claims that he had consensual sex with Constand, and that he gave her Benadryl, according to The Washington Post.
Cosby's trial has drawn a lot of attention, considering his high profile and the number of women who accused him of sexual assault, which he has repeatedly denied. Officials noted the difficulty in finding an unbiased jury; the trial is taking place outside Philadelphia, in Norristown, but Cosby's jury selection actually comes from Pittsburgh.
According to The New York Times, Cosby's defense team argued that it would be difficult to find open-minded jurors in Montgomery County. In 2015, district attorney who is trying the case, Kevin Steele, pledged to re-open Cosby's case during his campaign. So, the jury has been bussed about 300 miles from Pittsburgh and will be sequestered for the weeks that the trial is expected to take place.
Cosby arrived at the courthouse on Monday morning with TV daughter Keshia Knight Pulliam, who played Rudy Huxtable on "The Cosby Show." However, Cosby's wife was not in attendance.
Pennsylvania's courtroom rules, as well as Judge O'Neill's, mean that the public has to wait until mid-day and end-of-day updates arrive via news outlets covering the trial. In a world where social media often spreads news and drives conversations, and competition to send out breaking news first is highly valued, it will be an interesting practice in patience for both reporters and the public.