Here's How OJ Simpson's Parole Could Be Overturned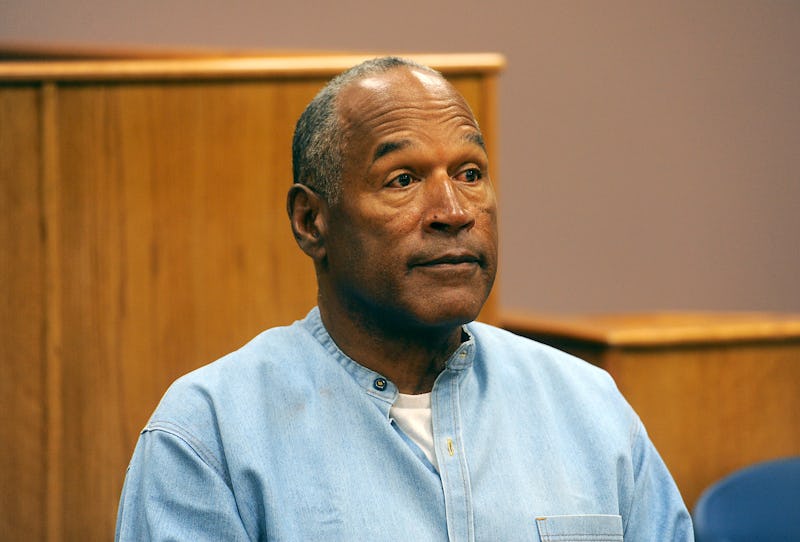 Pool/Getty Images News/Getty Images
After serving more than eight years in prison for robbery and kidnapping, O.J. Simpson was granted early release on Thursday by the Nevada Board of Parole Commissioners. This means that, if everything goes as planned, the parole board has effectively shaved more than 20 years off of Simpson's original 33-year sentence for the 2008 conviction. But can Simpson's parole decision be reversed in the future?
As it turns out, yes. When inmates are released on parole, there are generally conditions attached to their release to which they must adhere, and Nevada law indeed allows the parole board to "impose any reasonable conditions on the parolee to protect the health, safety and welfare of the community." Those conditions might include the parolee not leaving the state, for instance, or refraining from certain activities related to their offense.
The conditions of the former NFL Hall of Famer's parole haven't yet been set, so it's too soon to say how he theoretically could end up violating his parole. But Nevada allows law enforcement to detain and incarcerate those who violate their paroles, so it would be entirely possible for Simpsons to end up behind bars again if he were to break the conditions of his parole.
Simpson first rose to fame in the 1970s as a running back for the Buffalo Bills (and briefly, the 49ers). He later turned to acting, where he took a memorable turn as Detective Nordberg in the Naked Gun films. All of this was thrown into disarray, however, when he was charged with double murder for the killings of Nicole Brown, his wife, and Ron Goldman, a friend of Brown. For the next year, Simpson's trial in Los Angeles dominated the news, with the proceedings televised daily and several of the lawyers and minor witnesses in the case becoming famous in their own right.
In a highly controversial decision, the jury acquitted Simpson, and he was a free man — until 2008, when he was convicted of robbery, kidnapping and other charges stemming from a botched attempt to procure some of his old sports memorabilia.
The judge gave him 33 years, a sentence that some people, including former Los Angeles District Attorney Gil Garcetti, found overly harsh given the crimes for which he was convicted. However, the judge in that case denied that the length of the sentence had anything to with Simpson's 1995 acquittal.
Whether his parole grant will be overturned is a question that will take ages to answer. Simpson won't even be released from prison until October.