This Is How Roy Moore Could (Kinda) Be Replaced On The Ballot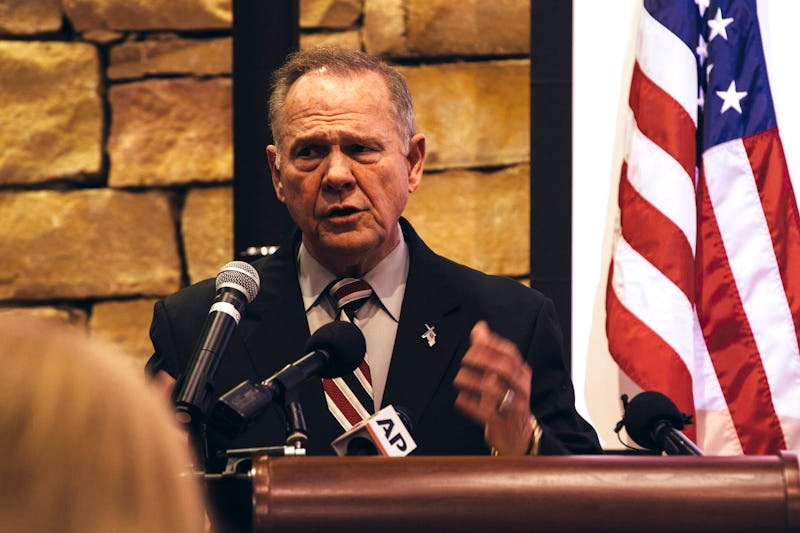 Wes Frazer/Getty Images News/Getty Images
Despite being accused of sexually assaulting a 14-year-old, Alabama Republican Senate candidate Roy Moore remains the official GOP candidate for the empty Senate seat. Although a disturbing number of Republicans have said that Moore's alleged actions are no big deal, some in the GOP are exploring ways to field another candidate instead of Moore when Alabamans vote in December. And although Moore can't be replaced on the ballot per se, Republicans do have several ways to dispose of him and his candidacy — if they want to.
Under Alabama law, candidates can't replaced on the ballot unless they withdraw at least 76 days before the election in question. In this case, that deadline has long past — the election was only 33 days away when the allegations against Moore were originally reported, so there was no way he could have been replaced even if Alabama Republicans had acted the minute after the Post published its expose.
However, Republicans could achieve largely the same result if Alabama Gov. Kay Ivey postponed the election until next year. She has the authority to do that, and in fact, she's already changed the date of the election once. Former Alabama Gov. Robert Bentley had originally scheduled it to take place during the 2018 midterm elections, but Ivey moved the date up shortly after she replaced Bentley, who resigned in April after being jailed on campaign finance charges.
But it's not clear that Ivey wants to do this. Although the New York Times reported that she's open to the possibility, Ivey's communications director told AL.com the next day that she "is not considering and has no plans" to move the election date. In addition, the state's top elections official questioned whether Ivey does, indeed, have the power to reschedule the election, given that some absentee and overseas ballots have already been cast.
"I don't know if she has the authority to change the election in mid-stream," Alabama Secretary of state Merrill told AL.com.
Another possible workaround would be for Republicans to field another candidate via a write-in campaign. Possible replacements in this scenario, according to the Times, would include Luther Strange, the Trump-endorsed candidate who lost to Moore in the primary, and Attorney General Jeff Sessions, who originally held the Senate seat in question. It's conceivable that, with the backing of state and national Republicans, Strange or Sessions could organize a write-in campaign and win the election, giving Republicans a Senate seat without being saddled with Moore.
A scenario similar to this unfolded in 2010, after Republican Sen. Lisa Murkowski lost her reelection primary to a Tea Party candidate, Joe Miller. Rather than bowing out of the Alaska race, Murkowski organized a write-in campaign in November, and she won. According to The Hill, Murkowski has actually spoken with Strange about the possibility of him running a write-in campaign.
But it might be difficult for Strange, or anyone, to replicate Murkowski's 2010 campaign. For one, Murkowski was already incumbent senator when she ran her write-in campaign, and incumbency provides a huge statistical advantage that a write-in candidate wouldn't have. More to the point, write-in candidates almost always. Other than Murkowski, only two write-in Senate candidates have ever won their races. Both of those victories took place over 50 years ago, and one of them happened in a bizarre special election in California which every candidate was forced to run a write-in campaign.
All of this speculation, however, may be putting the cart ahead of the horse, because it's not clear that the GOP at large really wants to get rid of Moore. Although some Republicans have called on him to immediate withdraw from the race over the allegations, plenty of others have said that he should drop out only "if the allegations are true" (a standard that, in the legal sense, may well be impossible to meet). More alarmingly, some prominent Republicans have said that even if the allegations against Moore are true, they simply aren't a big deal. Alabama State Auditor John Zeigler used the Bible to justify Moore's alleged actions, while several GOP chairs in the state have said similarly appalling things to justify standing by Moore, as has Fox News host Sean Hannity.
If the GOP wants to get rid of a candidate who's been accused of hitting on a 14-year-old girl outside of her custody hearing and then assaulting her, they have ways to do it. But it's not clear that this is what the party wants to do.