The One Way Trump Could've Been Deporting Immigrants Without Due Process All Along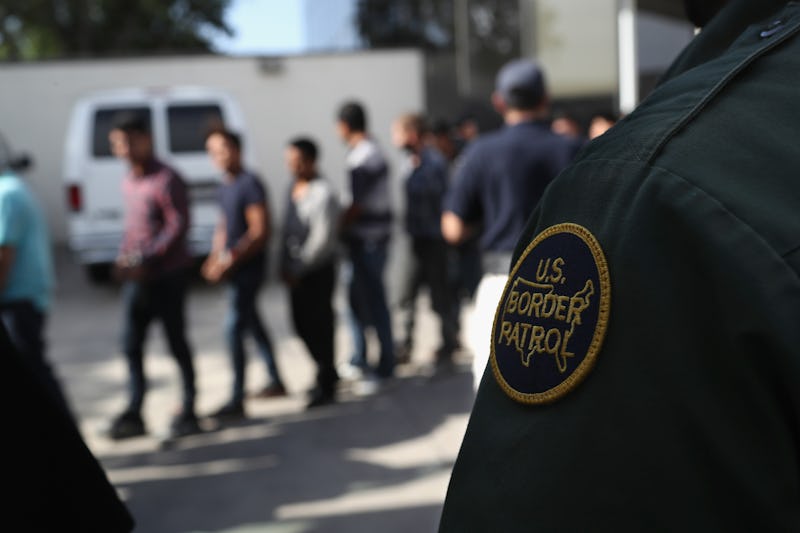 John Moore/Getty Images News/Getty Images
On Sunday, President Donald Trump wrote a pair of tweets suggesting migrants should be deprived of due process within the American immigration system. As headlines of family separation dominate the news cycle and the GOP approaches a difficult vote on immigration, you might be wondering if Trump can deport immigrants without due process.
In a Sunday afternoon tweet, Trump said the immigration system was a mockery.
We cannot allow all of these people to invade our Country. When somebody comes in, we must immediately, with no Judges or Court Cases, bring them back from where they came. Our system is a mockery to good immigration policy and Law and Order. Most children come without parents...
His second tweet continued his idea that American immigration policy is bad. Trump wrote,
....Our Immigration policy, laughed at all over the world, is very unfair to all of those people who have gone through the system legally and are waiting on line for years! Immigration must be based on merit - we need people who will help to Make America Great Again!
Sherrilyn Ifill, president of the NAACP Legal Defense Fund, pointed out on Twitter that the president's statements could be a proposal for ending due process.
Similarly, Lee Gelernt, the deputy director of the ACLU's Immigrants' Rights Project, told Reuters on Sunday that due process clauses from the Constitution "absolutely" apply to immigrants. "The administration cannot simply get rid of all process for immigrants. The due process clause absolutely applies. It's not a choice," Gelernt told the wire service.
Even with these tweets, this isn't the first time the Trump administration has attempted to circumvent due process with regard to the southern border. In 2017, Mother Jones chronicled the process of "expedited removal" that the government used for "swift deportations" without an appearance in front of an immigration judge.
Under Obama, expedited removals were reserved for immigrants in the country for less than 14 days and found within 100 miles of the border. But a February 2017 memo from Trump's Department of Homeland Security expanded the eligible pool to any immigrant who has been in the country for the last two years. The memo also removed the location component specified under Obama. Since Trump has approved an expanded use of expedited removals, it's possible that more people could be deported via this quickened system.
Jennifer Chang Newell, a senior staff attorney on the ACLU's Immigrants Rights' Project, told Mother Jones in 2017 that expedited removal "violates due process absolutely." The use of expedited deportations means people are "ripped from their communities [and] whisked away and deported in a matter of hours, based on shoddy paperwork," Newell told Mother Jones. "This violates our most American notions of fairness."
Trump's suggestion to end due process for migrants is further complicated by his administration's own executive order, which was signed last week after a sustained uproar about family separation at the border. The order starts the process of asking for court approval for detaining families together for more than 20 days. Additionally, it tasks Attorney General Jeff Sessions to ask the federal court to "modify" the Flores settlement.
The Flores settlement limits how long the government can detain families. That duration right now is no more than 20 days. Now, though, the administration wants to "detain alien families together throughout the pendency of criminal proceedings for improper entry or any removal or other immigration proceedings."
There's also a potential vote on an immigration reform bill in the House of Representatives that Trump's immigration tweets have clouded. A hard-line immigration bill failed last week, but House Republicans are still prepping this new piece of legislation, according to The Washington Post. "I did talk to the White House yesterday," Texas Republican Rep. Michael McCaul, a co-sponsor of the bill, said on Fox News Sunday. "They say the president is still 100 percent behind us."