These Senators Are Trying To Make Sure Trump Can't Fire The Russia Special Counsel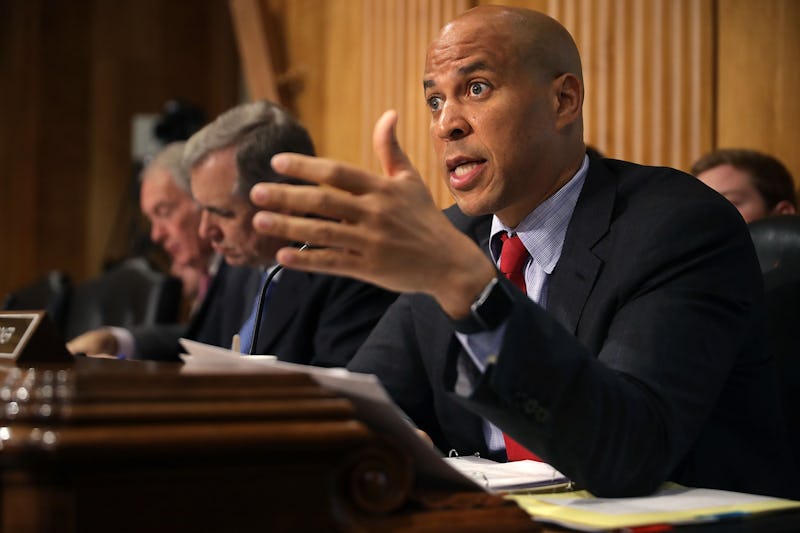 Chip Somodevilla/Getty Images News/Getty Images
In the midst of the ongoing debate over health care reform, there is an unexpected beacon of bipartisanship in the Senate. Next week, Republican Sen. Lindsey Graham and Democratic Sen. Cory Booker reportedly plan to introduce a bill aimed at blocking President Trump from firing special counsel Robert Mueller. The president has reportedly considered a drastic move, but senators on both sides of the aisle want to make sure he doesn't follow through.
First, a refresher: Mueller was appointed by the Department of Justice in May to handle the department's investigation into Russia's involvement in the 2016 presidential election and the Trump campaign's potential collusion with Russian officials. In other words, Mueller's job is to dig through Trump's dirty laundry (assuming such laundry exists). It seems reasonable to believe that Trump would want Mueller removed from his position, particularly given Trump's seemingly impulsive leadership style. A friend of the president even told reporters last month that the president was considering relieving Mueller.
If Trump chooses to act on those alleged thoughts, he'd need more than his trusty catchphrase, "You're fired." The process for a president to remove a special counsel who is investigating him is not straightforward — rather, it involves many steps within an amorphous gray area. With Graham and Booker's new bill, the process could become less gray, but also less feasible.
According to the Hill, the bipartisan bill would require a federal judge to approve Trump's hypothetical dismissal of Mueller. If passed, the bill would implement an important check on the president's power. At this point, though, it is still unclear if Trump would — or even could — exercise that power.
When news of the bill broke on Thursday, Sens. Booker and Graham had bigger, fresher fish to fry. The Senate was hours away from voting on the GOP-sponsored health care reform bill, as Republicans looked to begin conferencing with the House of Representatives on health care. The Senate was expected to vote on Republicans' Health Care Freedom Act during the early-morning hours of Friday.
The bipartisanship that Graham and Booker demonstrated on the topic of Mueller stood in stark contrast to the severe partisanship that has surrounded the Senate's health care debate. On Tuesday, senators voted largely along party lines during a procedural vote on the topic. The 50-50 tie was ultimately broken by Republican Vice President Mike Pence, who gave his GOP colleagues the vote they needed to move forward with debate. The partisan debate over health care reform will likely continue well into the future, but the new bill to check Trump's executive power as it pertains to Mueller represents an unexpected level of congressional cohesion.