This Is What "Special Counsel" Actually Means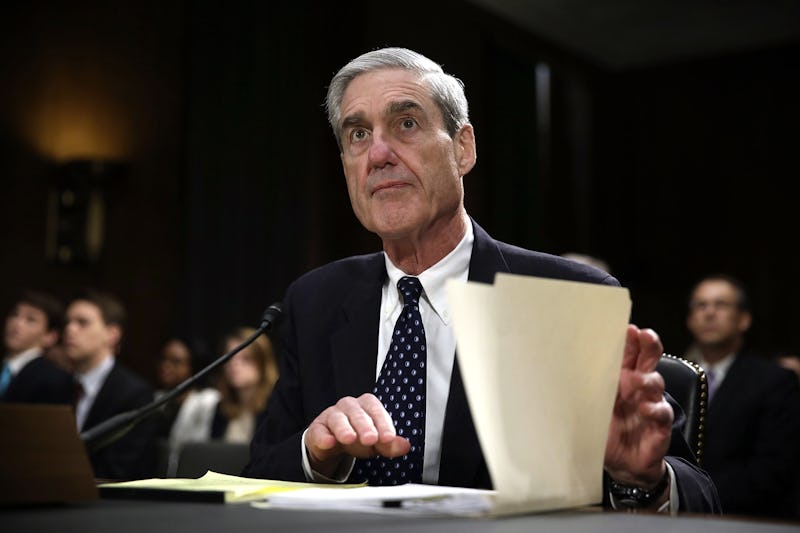 Alex Wong/Getty Images News/Getty Images
The investigation into possible collusion between members of Trump's campaign and Russian officials is heating up. On Wednesday, amid controversy surrounding Trump's decision to fire former FBI Director James Comey, the Department of Justice appointed Robert Mueller as special counsel in the Russia probe.
Trump has repeatedly denied the collusion allegations, suggesting there are no stones left unturned in the investigation. He said, via a White House statement:
As I have stated many times, a thorough investigation will confirm what we already know — there was no collusion between my campaign and any foreign entity. I look forward to this matter concluding quickly. In the meantime, I will never stop fighting for the people and the issues that matter most to the future of our country.
But that conclusion is ultimately up to Mueller to help make. As special counsel, he'll explore whether there are more discoveries to be made in regard to possible ties between Trump's campaign and Russia. That will likely also involve looking further into why Trump fired Comey on May 9, just days after he had requested additional resources for the Russia investigation. Deputy White House Press Secretary Sarah Huckabee Sanders claimed Trump had considered letting go of Comey since Election Day, as he had lost confidence in him following his investigation into Hillary Clinton's private email server. If firing Comey had been the intention all along, though, the timing of his being fired raises questions.
A special counsel, which is also known as a special prosecutor, is generally appointed when a potential conflict of interest arises within the present prosecuting body — usually the Department of Justice. In fact, Mueller's appointment was made possible because Trump's Attorney General Jeff Sessions, who heads the department, recused himself from the Russia investigation due to suspicions stemming from his meetings with Russia's ambassador to the United States. Thus, it was Deputy Attorney General Rod Rosenstein who ultimately appointed Mueller via letter. With both Comey and Sessions out of the picture, calls for an independent prosecutor became nearly impossible to ignore.
As special counsel, Mueller will collaborate with the FBI and courts to issue subpoenas, interview people of interest, and eventually prosecute individuals if necessary. As the Washington Post, pointed out, however, a president has the full authority to fire a special prosecutor. The repercussions might not be pretty, but it's technically allowed. Though a special counsel isn't quite the same as appointing an entire special, independent commission to investigate claims of collusion with Russia, the appointment of Mueller certainly builds upon the investigation's credibility.