Why Jeff Sessions Could Be The Next On Trump's "You're Fired" List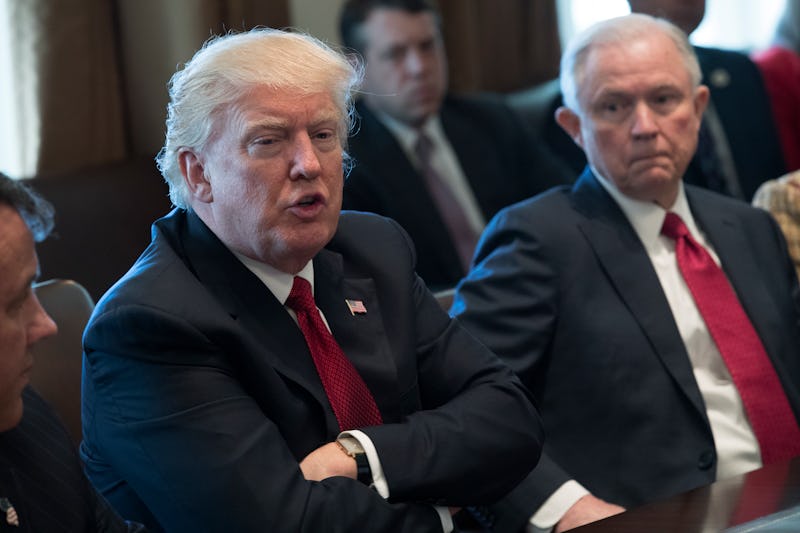 Pool/Getty Images News/Getty Images
It's beginning to seem as though Attorney General Jeff Sessions is in the hot seat. Following the release of an explosive New York Times interview with President Donald Trump in which he excoriated Sessions for recusing himself from the Russia investigation. Which raises a question that has been on many people's minds: can Trump simply fire Sessions, or do cabinet members have some level of protection from presidential dismissal?
Simply put, the answer is yes. Trump can give Sessions the metaphorical axe anytime he wants, although under typical political circumstances, a scathing criticism of the sort he voiced to The New York Times would probably be enough to induce a resignation. (Trump told Times reporters that he wouldn't have nominated him for the job if he had known Sessions would recuse himself.)
Generally, presidents (as well as people in positions of power in the business world) will opt to demand a subordinate's resignation rather than fire them outright, as a means to downplay the impression of infighting or disarray. But in this case, it seems as though Sessions has no intention of leaving his job voluntarily, even though he reportedly offered to resign months ago.
In short, if Trump badly wanted to see Sessions gone ― and thus replaced with another attorney general who ostensibly wouldn't recuse themselves from the Russia investigation ― he'd be entirely within his rights to do so.
It would, however, be a politically unprecedented act, as no previous president has ever directly fired their attorney general. The sole exception, as USA Today notes, was when Trump himself fired acting attorney general Sally Yates just ten days into her tenure. But she was not one of his own cabinet selections, and was rather a holdover from the Obama administration who was always going to have a short shelf-life. Firing Sessions, in other words, would be a new frontier.
And on Friday evening, just one day after the excerpts of Trump criticizing Sessions were published by the Times, a new bombshell report from The Washington Post potentially provided him with more grounds on which to do so.
According to the Post, U.S. intelligence intercepts show that Russian ambassador Sergey Kisylak told higher-ups in the Russian government that he talked policy and campaign-related issues with Sessions during last year's presidential race. Sessions explicitly denied such conversations during his Senate confirmation hearings.
He spoke somewhat more cautiously during subsequent testimony before the Senate Intelligence Committee, as the report quotes, saying he "never met with or had any conversation with any Russians or foreign officials concerning any type of interference with any campaign or election in the United States."
The leaking of U.S. intelligence intercepts has raised speculation over where the information originated from. According to journalist and former POLITICO magazine editor Garrett Graff, some GOP sources attending the Aspen Security Forum believed the leak may have originated from the Trump administration as a pretext to force Sessions' departure, although there's no publicly available information from which to actually conclude this.
As for what will happen next, well, that's somewhat unclear at the moment. On the one hand, it would seem like a dangerous move for Trump to begin sacking members of his own Justice Department. Especially considering his firing of former FBI director James Comey, which he acknowledged in a nationally televised interview had to do with the Russia investigation, has reportedly landed him in an obstruction of justice investigation.
But the fact that he did fire Comey, despite all the potential problems it could create for him, makes conventional wisdom seem like a potentially unreliable barometers for what might happen next. So if Trump wants to fire Sessions and try to pick a replacement, he can, and the only thing constraining him from doing so is himself.