Shannon From 'RHOC' Has A New Venture & It Actually Sounds Pretty Tasty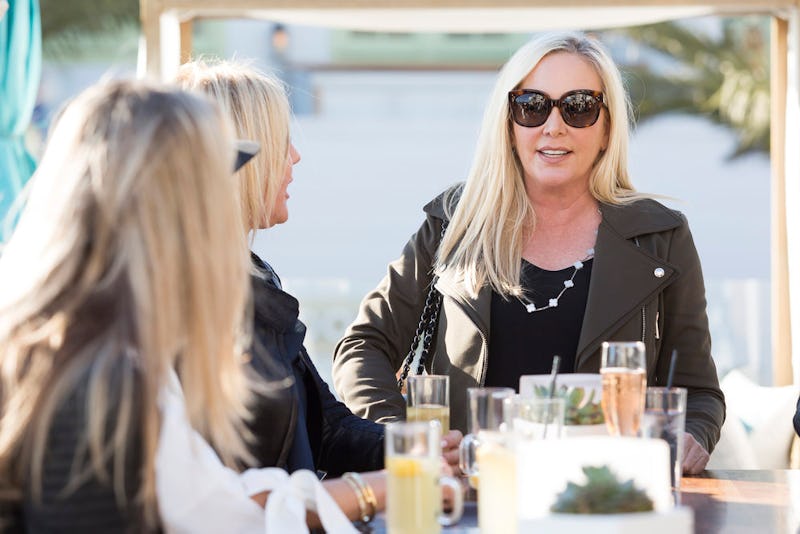 Dale Berman/Bravo
Shannon Beador has had rough few years — her husband, David, had an affair; they reconciled; and they got divorced anyway. Shannon also put on weight, which made her feel really badly about herself, and then she lost it, only to gain it back again. Now, the divorce is going through, and, according to conversations on The Real Housewives Of Orange County, David is already dating a woman 20 years his junior. But Shannon is rising from the ashes with a new look and a new business venture — can you buy Shannon Beador's QVC meals?
Shannon has struggled with her weight, and so she knows how hard it is to eat healthfully and still be satisfied. A stalk of broccoli is not as enticing as a carton of French fries! That's why Shannon has created her own line of frozen, healthy meals called Real for Real Cuisine by Shannon Beador. The good news is that you can indeed buy these delicious-sounding meals on the QVC website! They retail for $110 for nine 10-ounce seafood meals — choose from flounder, shrimp, salmon, or a combination of the three. According to QVC, each is a complete meal, and each is under 500. They're flash-frozen, so you microwave and then eat. Done. There are also veggie burgers — 18 four-ounce veggie burgers for about $77.
In an interview with People, Shannon explained the process of creating her company. "We basically took my recipes and then tweaked them a little bit, because the food has to be frozen," she told People. "But we are only using the freshest ingredients and that's really important to me." Making smart decisions is key to a healthy lifestyle, which is something Shannon says these meals will help along. "What I've come to realize is that everyone wants to be healthy, but you can drive yourself crazy trying to be healthy all the time," she said. "I believe that if you create a healthy balance, so if you make a few smart choices during the week, you can have that cocktail on the weekend, or you can go out to dinner and eat whatever you want in a restaurant."
For her April 18 QVC debut, Shannon brought along buddy Tamra Judge for moral support, and it sure seems like they had a good time. Shannon is used to being on television, but QVC is a whole new ballgame for the reality star. Of her QVC training, Shannon told Page Six, "They let you do like a mock show like a host and then they film it and they critique you and then you get to go back and they film you again and critique you again. So, I had some flub ups. It's just interesting because when you're trying to sell a food product on television, people can see it but you can't smell it. You can't taste it. So, it's up to me to describe those things." She was nervous, she added, but mostly excited.
2017 was a hard year for Shannon, but it seems like 2018 is coming up roses... and reasonably priced frozen meals.