The Internet Hates Team USA's Olympic Gloves, But They Might Be More Popular Than You Think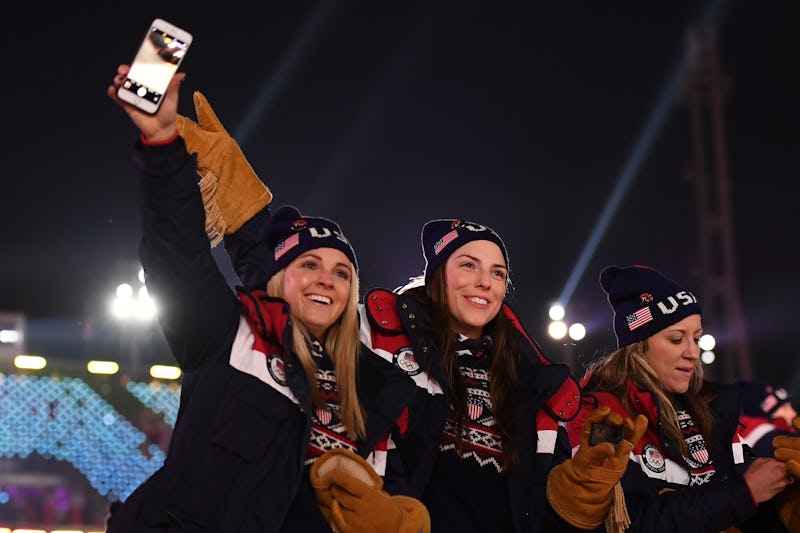 Quinn Rooney/Getty Images Sport/Getty Images
In the world of viral sensations, you don't really expect to see gloves, but it's the 2018 Winter Olympics opening ceremony, and it's apparently, it's cold in South Korea. Team USA's fringe gloves caused a ruckus on Twitter, and while opinions on whether the camel colored accessory was stylish or well, not so much, were mixed, if you don like them you may want to buy them, but can you? It's a mixed bag of an answer.
The Team USA gloves were created by opening ceremony designer Ralph Lauren, and as such they're considered part of the designer's purchasable line. Good news, right? Well, maybe not so much. Despite the somewhat critical (but hilarious) reactions on Twitters to the oversized suede gloves, they're officially sold out on Ralph Lauren's website with no restock in site.
Of course, if you were planning to purchase them, you probably would have dropped a pretty penny. While you can no longer access the gloves on the Ralph Lauren site (you can only see that they are sold out), other gloves and mittens retail for as much as $195 on the site for a knitted pair. These fancy sued fringe mitts potentially cost much more than that given their seemingly durable appearance and hello, fringe.
While Twitter may have been up in arms (or hands) about the gloves, they seem to be much more popular than the social media platform let on given that the Ralph Lauren creation is totally sold out.
Some seem to think that the gloves are a harbinger of fashion trends to come.
Will this be the year of Stevie Nicks fringe? Twirl on, fringe gloves. Twirl on.
Hey, the Team USA Olympians seem to enjoy them, and that's what really matters, right?
Other Twitter users are torn on their feelings about the now seemingly infamous accessory to the USA opening ceremony look.
But, uh, some are definitely not torn.
They down right loathe them.
If you wanted the fringe suede gloves and are now feeling despondent about your ability to emulate both cowboys and Team USA simultaneously, there are still options for you from the Ralph Lauren collection.
Team USA Closing Ceremony Hat, $195, Ralph Lauren
There's always this nearly $200 knitted wool hat with fringe-y tassels.
Team USA Merino Wool Mittens, $195, Ralph Lauren
Hey, here you go, mittens! For the cool price of $200.
If, however, you don't feel like spending three figures on accessories (though, if you do, you go Glen CoCo), there are options thanks to the official Team USA shop. The online retailer of Team USA gear features much more affordable pieces that won't make you feel like you should have just bought a plane ticket to South Korea.
Team USA Go USA Mittens, $7.99, Team USA Shop
Oh hello, cute Team USA gloves for under $10. What a steal, right?
Women's White Team USA Large Cotton Canvas Admiral Tote Bag, $29.99, Team USA Shop
Show your spirit with this affordable tote bag that's a fraction of the cost of a pair of those Team USA fringe gloves.
Red/White Team USA Team Color Mittens, $14.99, Team USA Shop
If you want the most ultra-patriotic mittens, these under $20 ones may just be your best choice.
While the Team USA Ralph Lauren fringe gloves may not be able to hang out in your closet or on your hands during the Olympic season, you've still got options, and they're definitely more affordable ones to boot.
Whether you loved or hated these fringe-tastic accessories, someone certainly seemed to covet them. Their sold out status is proof that the Olympic games are here, and people want to show their team spirit.