The New Movie 'Can You Ever Forgive Me?' Is Based On A Fascinating Memoir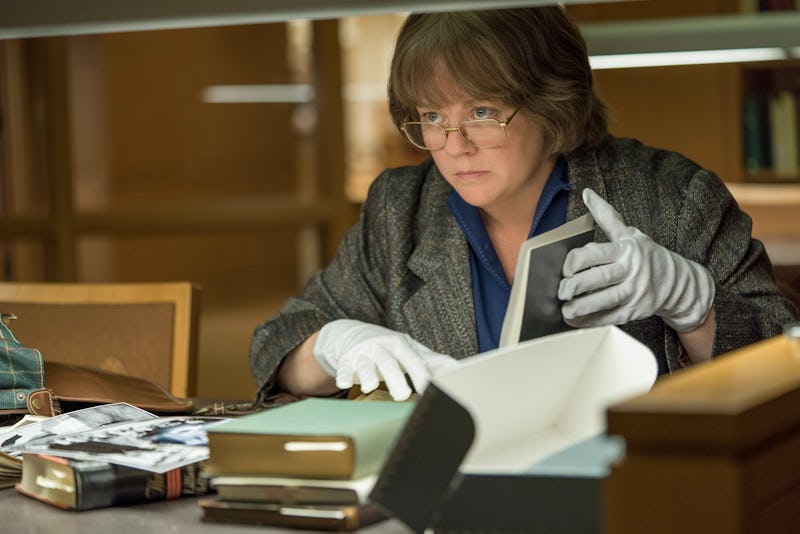 Fox Searchlight
If there's one thing I love as much as a movie about books, it's a movie about criminal schemes. This fall's new movie Can You Ever Forgive Me? has got it all. The movie, starring Melissa McCarthy, is actually based on a memoir by Lee Israel by the same name, and it recounts the true story of how Israel forged hundreds letters from famous authors and celebrities. After seeing the movie — which is out now — you are definitely going to want to get your hands on the book version of this fascinating story.
The year was 1990, and Israel had hit a snag in her career as a biographer. She was unable to find a job or make ends meet. In an act of financial desperation, she put her writing skills to a peculiar use. She began writing letters "by" famous authors and actors, selling them to autograph dealers throughout New York City at an incredible profit. Israel learned that dealers would pay more for "better content," and her letters were known for being remarkably interesting and beautifully written. A biographer at heart, she also kept an eye toward the circumstances of her subjects' real lives, going to great lengths to make the letters feel authentic and even buying a collection of manual typewriters. Over the next few years, she sold over 300 forged letters, posing as Dorothy Parker, Louise Brooks, Edna Ferber, Lillian Hellman, Noel Coward, and other celebrities. (Additionally, Israel began stealing letters from libraries and archives, selling those as well.)
In the memoir, Israel tells the whole story of how she got wrapped up in such a complex scheme and how she was ultimately arrested by the FBI. The book is only 144 pages long, making it an easy weekend read. It even features some of the letters she wrote. "They were such good company, even by letter," Israel writes at the beginning of the book. "My favorite was Dorothy Parker."
Though of course Israel's activities were undoubtedly criminal and immoral, she is definitely a great writer. Even one of the autograph dealers whom Israel conned spoke about Israel's forged letters with delight, telling the New York Times in an interview tied to the book's release in 2008: "I'm certainly not angry anymore, though it was an expensive and very large learning experience for me... And she's really an excellent writer. She made the letters terrific."
Can You Ever Forgive Me? by Lee Israel, $15, Amazon or Indiebound
After you watch McCarthy's performance as Israel in the movie, you are definitely going to want to read Israel's own words about how the whole thing went down.