This 'Bachelor' Contestant Is A Foodie Entrepreneur & You Can Actually Visit Her Restaurant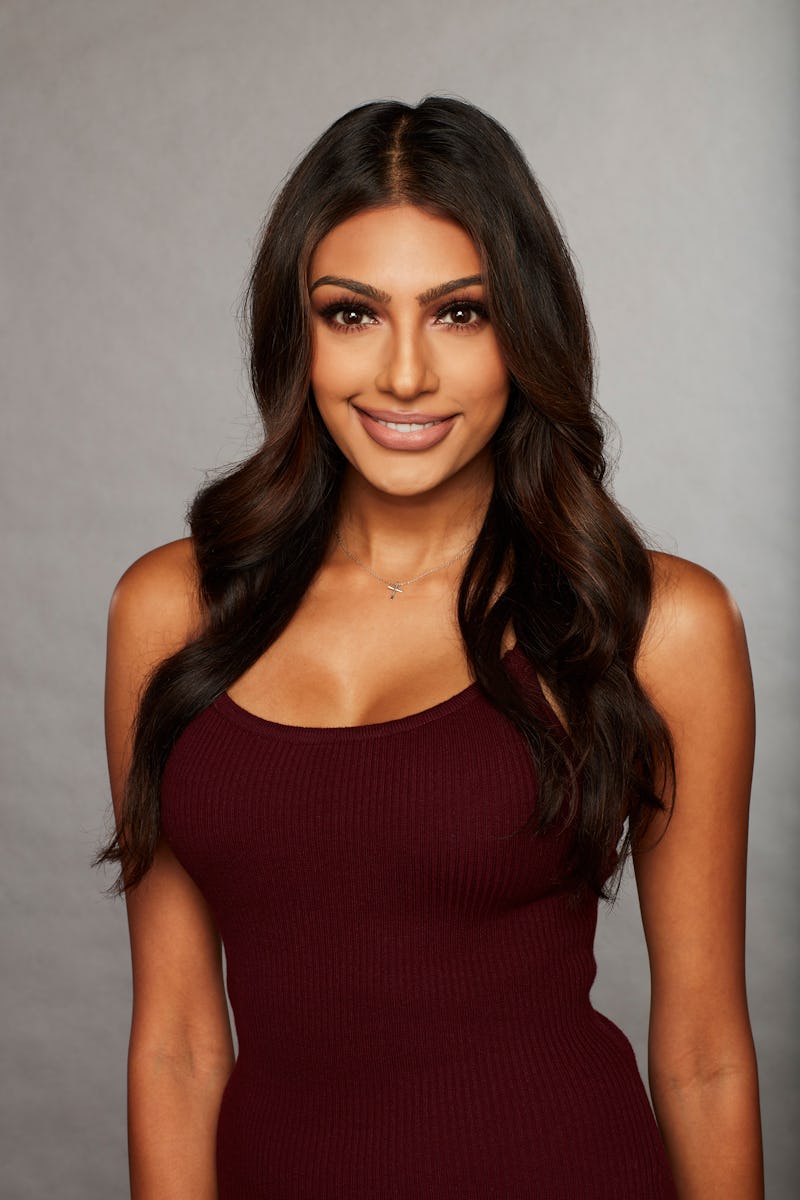 Craig Sjodin/ABC
With the dozens of contestants who compete, The Bachelor has a history of showcasing women with varied careers. This season, one hopeful in particular gives fans the promise of food that fans might be able to try for themselves. Can you go to 'The Bachelor' contestant Marikh's restaurant? If you find your travels leading you to Utah, the answer to that question is yes.
According to her LinkedIn profile, Marikh Mathias owns Karma Indian Cuisine located in Sandy, Utah. In The Bachelor: Countdown To Arie special, Marikh said that she owns the Indian restaurant with her mother, who is shown to be a chef.
While it isn't crystal clear exactly how long the restaurant has been open, we do know that it has been operating since December of 2014 when the first Yelp review was written about it. Since then, it has gone on to receive dozens of reviews aggregating to a four-star-rating out of five. Those solid reviews seem to be rather consistent, too. Checking on a different app, the reviews of Karma are even better on TripAdvisor, averaging at a five-dot rating.
It is not just average diners who dig her style of Indian cuisine, though. Critics have raved about it, as well. And by style, I mean both the style of cooking and the style of the restaurant's decor. The food critic at City Weekly noted, that Marikh along with her sister Mehwish had a hand in the design of what he described as the "lux interior." That interior includes a contemporary bar, chandeliers, and well-spaced booths and tables, per the review.
So, what should you order if you do find your way to Karma? That depends on who you talk to, but if you were to trust the reviews from that critic and other diners, you'd think most everything would be delicious. The City Weekly writer called the chicken vindaloo "superb" and Karma's korma "divine." While on Yelp, diners raved about much more, including Karma's Bombay fries, naan, chicken tikka masala, coconut kurma, and samosas.
If you do manage to find your way into an unofficial Bachelor dining experience, it looks as though it won't be breaking your bank for that date night. The dishes on the menu range in price from $11-30, according to Yelp. Keep in mind though, that Karma is not always open, as it appears to be closed all day on Sundays. On the other days of the week though, it is open for lunch from 11 a.m. to 3 p.m. and then, open for dinner from 5 p.m. to 9 p.m. The specific prices and hours could be changed, however, as the website for Karma is currently not accessible.
So Marikh is a restaurant entrepreneur; but what else do we know about her? The 27-year-old's ABC bio says that she's 5'6'' and also that she doesn't have any tattoos. Her favorite films all share a magical theme: Beetlejuice, Dark Shadows, and Practical Magic. Her bio also reveals that her favorite actor is Meryl Streep, and she longs to have silver hair. Marikh's biggest fear is "unfulfilled potential." With her foodie ventures, she seems to be avoiding that entirely.
Marikh also seems to connect her food with her love life, at least to some extent. After all, despite her mom being the chef of her restaurant, she cooks quite often herself, according to her ABC profile. Plus, in that Bachelor: Countdown To Arie special she said, "I hope Arie is ready for my spice. He better be."
So if you're a super-fan of The Bachelor perhaps it may be time to start planning your trip to visit Marikh and her Utah restaurant. Otherwise, you can see how the foodie fares when Arie's Bachelor season begins on Jan. 1.