The Company That Makes Candy Hearts Shut Down & '90s Twitter Is Upset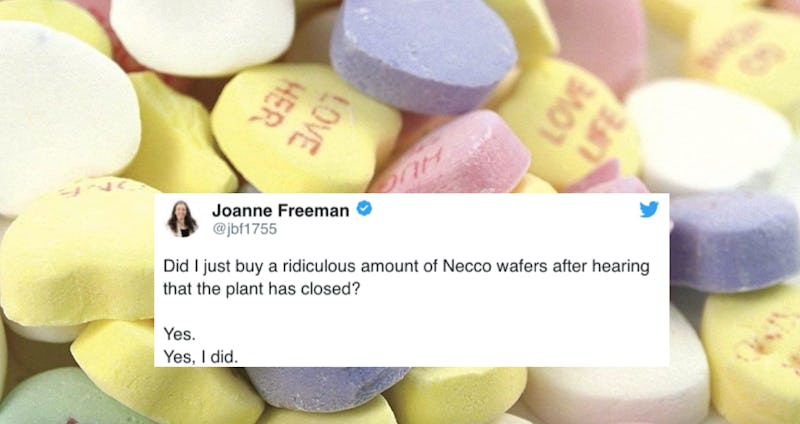 Amazon; Twitter
Pour a few chalky hearts out for your fallen candies: the NECCO candy factory has shut down suddenly. On Tuesday, the Boston Globe reported that the company had closed its Massachusetts plant, laying off 230 workers and leaving the internet to ask, "...but what about my strange, dusty sweets?" (Bustle has reached out to Necco for comment, and will update upon response.)
Back in May, Necco was bought out by Round Hill Investments LLC in a bankruptcy auction. With a $17.3 million bid (yes, those conversation hearts are worth literal millions), Round Hill Investments LLC appeared to save our weirdest and, perhaps, worst candies from going entirely extinct. The investment firm, run by billionaire C. Dean Metropoulos, is also responsible for saving such cultural goodies as Twinkies and Pabst Blue Ribbon.
However, the firm apparently sold Necco to yet another, undisclosed candy manufacturer. And now, Necco, the country's oldest continuously operating candy maker, has shut down its plant. In a statement made to the Globe, Round Hill Investments sold Necco less than two months after their $17.3 million acquirement.
"Round Hill Investments was very excited to acquire Necco's historic brands and to be part of their national resurgence," a statement from the company read. "After careful engagement and consideration, however, the firm decided to sell the brands to another national confection manufacturer and today announced the closure of the operations in Revere, Massachusetts."
Now, Twitter is wondering: who will save our sweets?
The 171-year-old candy company is known for such classic treats as Necco wafers, Sweethearts Conversation Hearts, and pretty much every candy you'd expect to find in a grandparents' pantry. Clark Bars, Mary Janes, Candy Buttons, and something called Squirrel Nut Zippers (??? but also !!!) are others creations of the Necco company.
Were Necco wafers the world's most favorite candy? I mean, probably not. How can a candy created in the 1800s compete with the cronuts and cotton candy burritos and ice cream-flavored Oreos of today? You're gonna tell me you'd take a chalky disc that tastes like "wintergreen" over a pink kit kat? Don't you dare lie to me like that. Necco wafers were actually sent to Union soldiers during the Civil War because of their "indestructible" nature. The wafers don't melt and rarely broke when transported. (But sure, kids, snack on these indestructible treats with your soft, baby teeth.)
Still, the nostalgia of these weird and wonderful Necco treats are leaving many to ask where they'd turn to now. "I don't like Necco Wafers," Twitter user @bethvillemayor posted. "But as an enjoyer of maple goodies and black licorice, I support all candy, those who enjoy the weird kinds, and the companies that make them." We need weird candy! If only so that we can appreciate the less weird, more palatable candies even more!
The news of the plant's closing wasn't just a shock to the internet. It also came as a surprise to 230 employees who expected to have a job until November of this year, when the factory's lease would expire. As the Boston Globe reports, CEO Michael McGee brought all the plant's employees together on Tuesday. McGee discussed severance pay, thanked them for their work, then told them to pick up their final paychecks on Friday.
Mayor Brian Arrigo, who represents Revere, Massachusetts where the plant was located, also expressed surprise at the announcement. "We received no word about the situation from any representative of the involved parties," Mayor Arrigo said in a statement. "Obviously, we would have preferred, at the very least, some fundamental notification."
It's not clear whether the unnamed company who bought Necco from Round Hill Investments intends to continue manufacturing the well-known candies. It appears much of the internet is hoping for a comeback.