Cara Delevingne's Terrifying Gollum Impression Will Haunt Your Dreams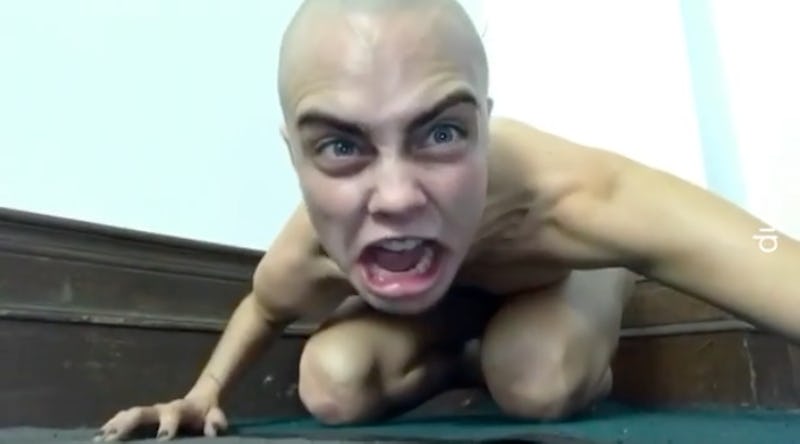 Cara Delevingne/Instagram
Maybe you know Cara Delevingne thanks to her roles in movies like Suicide Squad and Paper Towns. You could know her for her modeling work with houses like Chanel. Now, though, you're going to know her for a terrifying reason because Cara Delevingne's Gollum impression is about to haunt your dreams and have you scrambling to get back to your safe space of the Shire.
On Thursday, Delevingne posted a video of herself imitating Lord of the Rings' famous character Gollum (Smeagol if you prefer). The model and actor is crouched onto the floor seemingly naked with her face contorted into what can only be described as a Gollum-esque look. Then, what seems to be an audio recording of Andy Serkis' famous Gollum voice comes on, and Delevingne lip syncs in the most horrifyingly accurate way to the famous call of "My Precious!" Yes, it's just as terrifying as when Gollum did it himself in the Lord of the Rings films.
As for why Delevingne is not only seemingly naked but also bald, in the hashtags of the post she used the tag set life insinuating that she was filming something at the time. Next time you see the actor bald, it may have been when she filmed this video.
If the video surprises you, though, you may not have been following Delevingne for very long. Those who aren't familiar with her may expect a model and actor to have an Instagram full of glamorous photos of themselves. She certainly does have some stunning images from campaigns on her profile, but she uses her social media for all sorts of things. From social justice issues to her adventures on set, and yes, to the comical posts of herself.
Delevingne isn't afraid to be funny, and she is, in fact, very funny. She's done everything from wear a unicorn horn on her head to sit inside of a Dior bag and snore while getting her mascara done. Never think that this actor and model isn't afraid to be a little silly on social media. She is, and it's hilarious.
As for what Delevingne could have been filming in her flashback post, you may think you know but there are actually two options. The first is the most obvious and maybe the most high profile. It's her role in Amazon's upcoming Carnival Row. In the fantastical show, Delevingne plays a fairy refugee. There's a chance she could be wearing a wig at some point in the show, and she's simply got on a bald cap in the video.
According to Refinery29, though, it's not Carnival Row. It's actually her film A Year in the Life, where she plays cancer patient Isabelle opposite Jaden Smith. She shaved her head for the role.
While Delevingne isn't set to take on the role of Gollum in Amazon's Lord of the Rings adaptation (at least not yet), she certainly seems to know how to embody the part. A woman who can embody Gollum and then rock a Chanel dress is a woman we should all respect.