Cara Delevingne Joined The #WhyIDidntReport Conversation With This Moving Tweet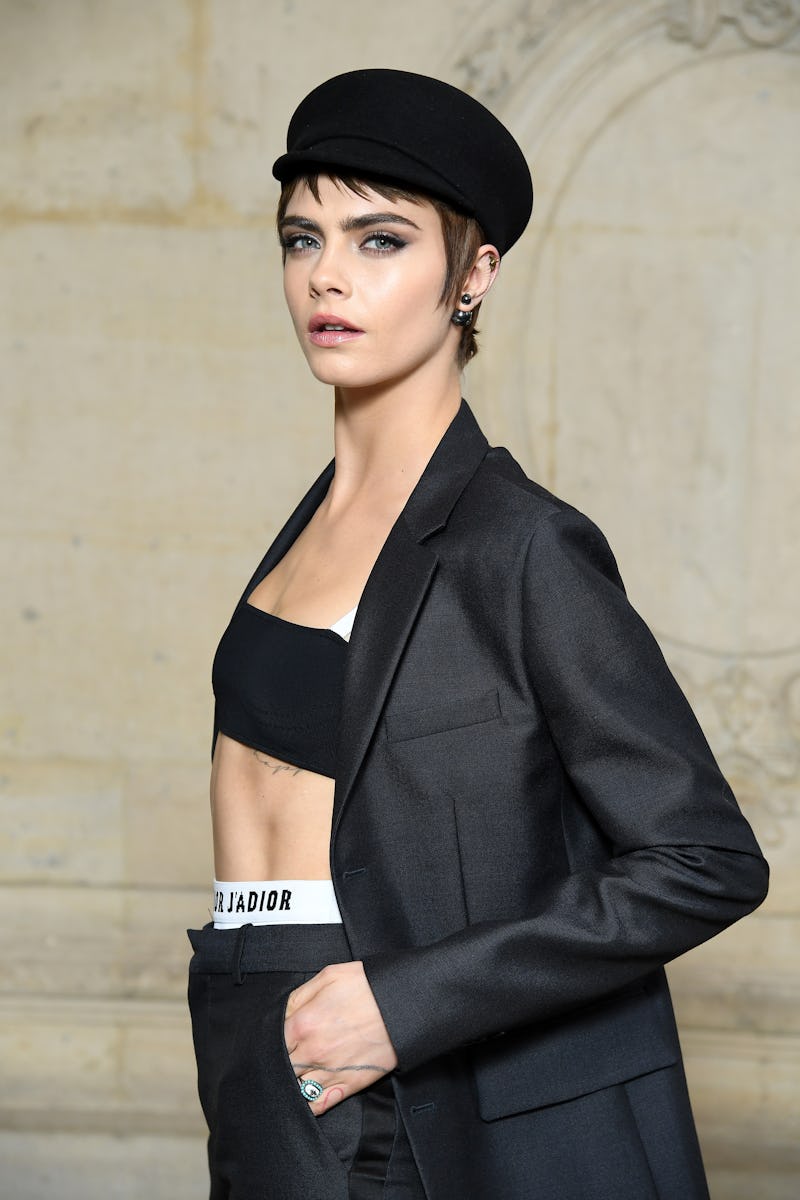 Pascal Le Segretain/Getty Images Entertainment/Getty Images
Cara Delevingne has added her voice to the hashtag #WhyIDidntReport, sharing the reason she didn't report her sexual assault. The actor, who's previously spoken about the sexual misconduct she experienced at the hands of disgraced producer Harvey Weinstein, joins celebrities including Padma Lakshmi, Mira Sorvino, Ashley Judd, and Karen Olivo in telling her story. Cara Delevingne's #WhyIDidntReport tweet employs a hashtag started after sexual assault allegations emerged against U.S. Supreme Court nominee Brett Kavanaugh. These allegations — which Kavanaugh denies — prompted President Donald Trump and others to question why they weren't reported at time.
"I felt ashamed of what happened and didn't want to publicly ruin someone's life, even though they privately ruined mine," Delevingne tweeted. Previously, she alleged on Instagram that producer Harvey Weinstein — who's since been charged with multiple counts of rape and sexual assault, as the BBC reports, all of which he denies — both attempted to kiss her and tried to make her kiss another woman in his hotel room. Prior to that, Delevingne alleged, he asked her "uncomfortable" questions on the phone. "He said to me that if I was gay or decided to be with a woman especially in public that I'd never get the role of a straight woman or make it as an actress in Hollywood," she wrote.
"I was so hesitant about speaking out," Delevingne added, "I didn't want to hurt his family. I felt guilty as if I did something wrong. I was also terrified that this sort of thing had happened to so many women I know but no one had said anything because of fear." According to the BBC, Weinstein admitted in the wake of the multiple allegations against him that his actions have "caused a lot of pain," but his spokesperson said "any allegations of non-consensual sex are unequivocally denied."
The #WhyIDidntReport hashtag began in the wake of Dr Christine Blasey Ford's allegations, reported by the Washington Post, that she was sexually assaulted by Kavanaugh when they were both in high school. He's since been accused by two more women: Deborah Ramirez, who said he assaulted her while they were both Yale University students, as reported by the New Yorker, and Julie Swetnick, who said she saw him participating in sexual misconduct at a high school party, the New York Times reports. Kavanaugh has denied all the accusations against him, saying on Fox News, "I have never sexually assaulted anyone, not in high school, not ever."
Trump said that Dr. Ford's allegations must be inaccurate because she didn't immediately report them, tweeting, "I have no doubt that, if the attack on Dr. Ford was as bad as she says, charges would have been immediately filed with local Law Enforcement Authorities by either her or her loving parents."
The hashtag #WhyIDidntReport spread to contest the myth, propagated by Trump, that all survivors of sexual violence report their assaults (whether directly after they occurred, or ever). Indeed, U.S. anti-sexual violence charity RAINN says, "Only 310 out of every 1,000 sexual assaults are reported to police," meaning that approximately two thirds are never reported. Charity Rape Crisis says that in England and Wales, "only around 15 percent of those who experience sexual violence choose to report to the police."
Other celebrities to share their experiences on Twitter include actors Mira Sorvino, Karen Olivo, and Ashley Judd:
Author and TV host Padma Lakshmi wrote in a New York Times op-ed that she was raped at 16 and didn't report it, saying that she blamed herself for the assault. "I have nothing to gain by talking about this," Lakshmi wrote. "But we all have a lot to lose if we put a time limit on telling the truth about sexual assault and if we hold on to the codes of silence that for generations have allowed men to hurt women with impunity."